Quick Answer: Is Clarins Cruelty-Free and Vegan?
Clarins isn't 100% vegan, and they're not cruelty-free. They do sell in countries where compulsory animal testing is necessary for foreign brands. Also, they don't have any form of cruelty-free certification from PETA or Leaping Bunny.
Clarins is a luxury skincare brand founded by Jacques Courtin-Clarins in 1954. The brand headquarters is in Paris, France.
It's a privately owned company, and they major in several skincare products, including moisturizers, face masks, cleaners, and toner.
Is Clarins Cruelty-Free?
Certain criteria need to be met before a brand is considered cruelty-free. The first is that they must not sell in countries where animal testing is compulsory by law.
The second is that they must not sell in China, and lastly, they should have a cruelty-free certification.
Clarins didn't meet any of the requirements mentioned above and why we can't consider them to be cruelty-free. Also, we didn't find any animal testing policy on their website, a common red flag among brands that sell in China.
Are Clarins products tested on Animals?
Well, just as we've mentioned earlier, Clarins doesn't have any animal testing policy on their site. Consumers have to look through review sites to clarify their cruelty status.
But it's always better to hear it from the horse's mouth, which is why some consumers make their inquiry directly via their customer support.
We stumbled on one of their numerous responses to an inquiry about their testing policy, and here's what it said.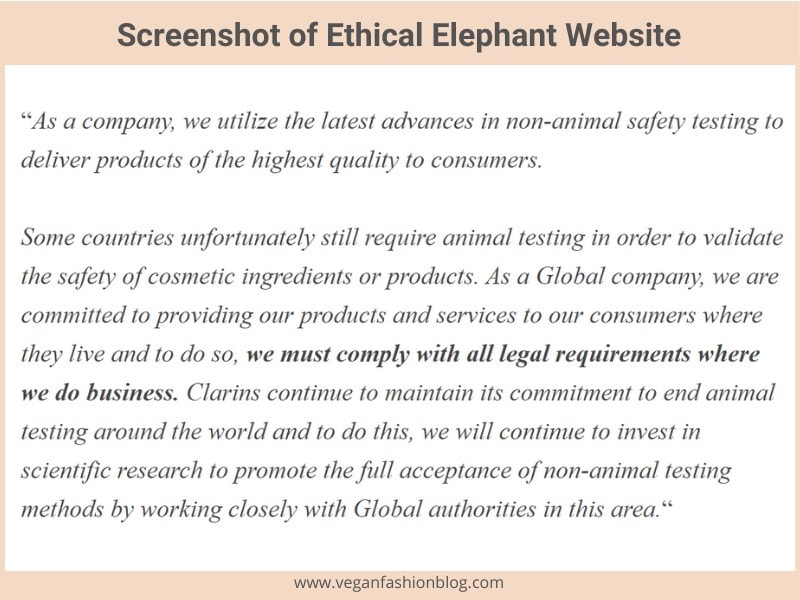 This all confirms that they carry out animal testing when the need arises.
Do they Test Animals when required by the Law?
Clarins are firm in their mission of providing their products to their consumers wherever they live.
This comes with the risk of complying with all of the requirements needed to do business in areas where the consumers reside. This includes animal testing as well.
The brand is willing to pass through every hurdle to ensure they meet their customers' demands, even if it means jeopardizing animals' safety.
Are Clarins products sold in China?
Clarins distribute worldwide and are listed in several stores all over the world, including Sephora. Apart from being listed on the Sephora Chinese site, Clarins also has a dedicated Chinese website for its customers.
They're one of few foreign brands who have managed to carve a niche for themselves in the Chinese market, and their sales tend to soar higher annually.
Does Clarins have Cruelty Free Certifications?
Clarins doesn't have any cruelty-free certification. This is due to their affiliation with the Chinese market. Despite their popularity in the US, they're not recognized by PETA or Leaping Bunny.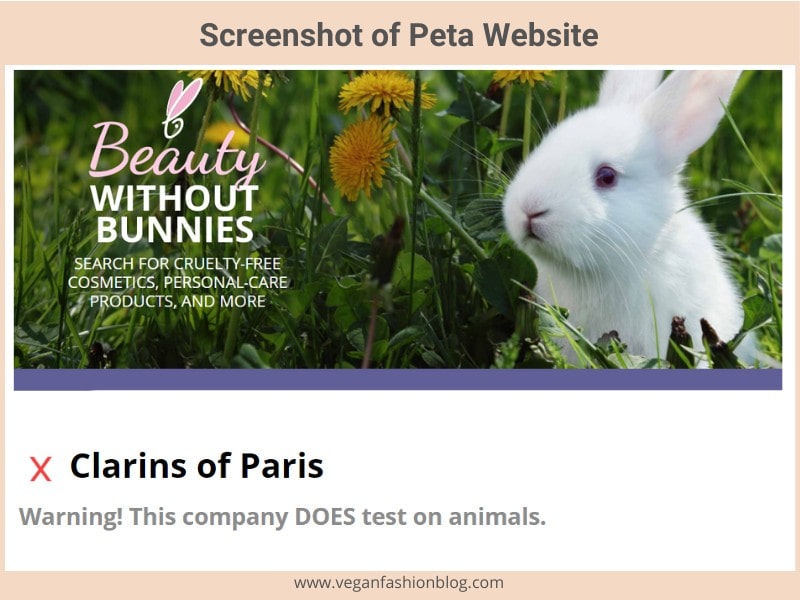 PETA mentioned them in their list of brands to avoid. The dreaded list also included cosmetic heavyweights like Estee Lauder, Maybelline, and L'oreal.
Clarins is one of the few brands indifferent to the idea of creating an animal-friendly production process.
Is Clarins Owned by another company?
Clarins doesn't have a parent company. They're an independent brand. All their operations, including manufacturing, marketing as well as distribution, are carried out by Clarins Group.
Is Clarins Products Vegan?
Clarins isn't 100% vegan, as their products contain animal derivatives such as beeswax and lanolin. Beeswax is an ever-present feature in their personal care products, while lanolin features heavily in their moisturizers.
Lanolin isn't entirely helpful. Their source isn't safe and poses a risk of side effects such as itching, redness, or swelling.
It's difficult to take these brands at their word, but Clarins have recently launched a complete vegan skincare range called "my Clarins".
They promise that the products only contain organic ingredients and that the formulation is perfect for vegans.
The list of products under this new skincare range includes:
Exfoliating powder
RE-boost hydrating cream
Matifying hydrating cream
Relaxing sleep mask
RE-fresh hydrating beauty mist
CLEAR-Out black spot extract
Poreless blur and matte stick
RE-move micellar cleansing milk
Summary
My Clarins skincare range is their first vegan-friendly product line and was widely received among the vegan community. It seems more like a complete skincare solution.
There's something to take care of blemishes and others to even your skin tone for a flawless look.