Quick Answer: Is Cleanwell Cruelty-Free and Vegan?
Yes, Cleanwell is cruelty-free and Vegan. The company does not test any products on animals and is certified by PETA as a cruelty-free company. From product development to ingredients and formulations, it is indicated that this company does not test its products on animals. Additionally, all the products from the brand are vegan. Thus, they do not come from any animal-based ingredients.
Cleanwell is a privately owned company with a focus on making botanical disinfectants.
The company makes antibacterial cleaning products that range from natural hand sanitizers to antibacterial soaps that are free of triclosan, as well as disinfectant wipes and sprays.
It provides customers in the US and other parts of the globe with safe household cleaning products.
Our readers have been recently asking if Cleanwell products are cruelty-free and vegan. We took an in-depth look at the company's products and analyzed them. Are Cleanwell products cruelty-free? Keep reading to find out.
Is Cleanwell Cruelty-Free?
Yes, Cleanwell is cruelty-free. For a company to have products that qualify as cruelty-free, certain criteria must be satisfied. The following are the criteria that Cleanwell has to satisfy before it can be declared a cruelty-free company:
No product from the company should be tested on animals
There should be zero animal testing, even if required by law
The company must not sell its products in China
Are Cleanwell Products Tested On Animals?
A look at the company's website shows that the company does not test any of its products on animals. This is keeping in line with the aim of the company to be an environment-centric company in the industry.
In the FAQ section, the company indicates that the facilities that process their ingredients process ingredients for some other companies.
Thus, while Cleanwell believes that no animal testing is done by these companies, they cannot guarantee that to be the case.
From their end, though, and as certified by PETA, all their products are vegan and cruelty-free.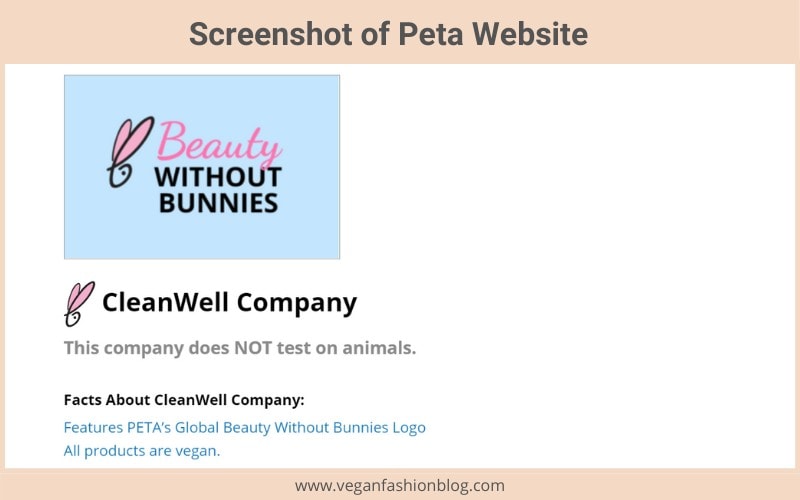 Does Cleanwell Test Their Products on Animals When the Law Requires Them To? Or Use Third Parties To Do So?
No. Cleanwell doesn't test any of its products on animals, even in regions where the law requires them to do so. Furthermore, as far as they know, their third-party affiliates do not carry out any animal testing.
In cases where a country's law requires animal testing on products or ingredients, Cleanwell does not sell any of its products in that country.
Does Cleanwell Sell Their Products In China?
From our research, there is no indication that Cleanwell sells its product in China.
This qualifies the company as a cruelty-free company because, for a product to be sold in China, the government requires testing on animals. These products can even be pulled off shelves just to test them on animals.
Companies that sell their products in China may have to adhere to animal testing, but thankfully, Cleanwell doesn't do that.
Does Cleanwell Have Cruelty-Free Certifications?
Some certifications indicate whether a brand or its products are cruelty-free.
Yes, Cleanwell has cruelty-free certifications. Cleanwell is certified by PETA. PETA has a Beauty without Bunnies program that is designed to note the companies that do not test their products on animals.
This certification means that Cleanwell has promised not to test their ingredients, formulations, or final products on animals anywhere in the world. This also includes a pledge not to test in the future.
Does Cleanwell Have a Parent Company?
Yes, Cleanwell was originally founded in 2005 but was acquired by Pinstripe Capital LLC in 2015. The parent company is known for manufacturing and distributing chemical products.
It also offers ingredients for soaps and cleansers. Pinstripe promotes the production of healthy cleaning ingredients.
Cleanwell believes in making quality products without harming any animals.

Is Cleanwell Vegan?
For a product or brand to be considered vegan, all of the ingredients used in production should not be animal-derived. In many cases, cruelty-free products are also vegan.
The products from the brand are manufactured in the United States and have ingredients sourced from all parts of the world.
None of their products contain any animal products or animal-derived ingredients. They are all certified cruelty-free and vegan.
Although the formulas used in making the products do not contain gluten, the products are made on shared equipment that might contain gluten. Either way, though, all the products from Cleanwell are vegan.
Some of the vegan products include:
Disinfectant Sprays
Botanical Disinfectant Bathroom Cleaner
Botanical Disinfectant All-purpose Cleaner
Disinfecting Wipes
Botanical Disinfecting Wipes
Summary
Cleanwell is a proven company that makes cruelty-free products for personal care and home cleaning. The ingredients are naturally sourced from all over the world without any testing on animals.
They are PETA certified as cruelty-free and vegan.