Quick Answer: Is Clove and Hallow Cruelty-Free and Vegan?
Clove and Hallow promotes itself as an award-winning vegan cosmetics brand. They also claim to be cruelty-free and have a couple of certifications to back up their claims. They don't carry out any form of animal testing and do their best to steer clear of animal-origin ingredients.
Clove and Hallow Cosmetics was started by Sarah Biggers in 2016. The founder is said to be a lover of animals, and the intention was to never venture into any activities that subject animals to cruel conditions.
Despite its short time in the industry, the founder has years of experience in the cosmetics world.
Clove and Hallow's products are affordable, but that doesn't mean they're lacking in quality. Their products are made from high-quality ingredients, and there are no cheap fillers that would harm the skin.
Some of their product catalogs include foundation, eye shadow, lipstick, and powder.
Is Clove and Hallow Cruelty-Free?
Clove and Hallow are widely regarded as a vegan brand. Their product formulation is made from 15 ingredients or less, and there are no animal derivatives or harmful elements, such as paraben and gluten.
In terms of animal cruelty, the brand and its founder have zero tolerance for such practices.
Under no circumstances do they test their products on animals, and they also ensure that the raw materials used for the formulation of their products haven't undergone any form of testing, as well.
They don't plan to sell in countries where animal testing is required by law, which is the reason why they're not a fan of the Chinese market.
Are Clove and Hallow Products Tested On Animals?
No, this brand doesn't test its products on animals, and it's not just a mere assumption. They've been confirmed as a "brand that does not test on animals" by PETA.
Even more impressive is the fact that they ensure their suppliers are also cruelty-free, as well.
This indicates that they don't use ingredients or raw materials that have gone through animal testing in their formulation.
Do They Test On Animals When Required By Law?
The brand doesn't venture into markets where animal testing is made compulsory. This is one of the reasons why they do not intend to explore the Chinese market.
Are Clove and Hallow Products Sold In China?
To answer this question, we will take you back to the answer the founder gave when questioned about the possibility of venturing into the Chinese market. Below was her reply:

This confirms that Clove and Hallow products are not sold in China, nor does the founder plan to expand to the region.
Does Clove and Hallow Have Cruelty-Free Certifications?
We can confirm that Clove and Hallow are 100% certified by PETA. PETA certification is offered to brands who have vowed never to engage in any form of practice that endangers the life of animals.
This includes using animal derivatives during product formulation, as well as carrying out tests.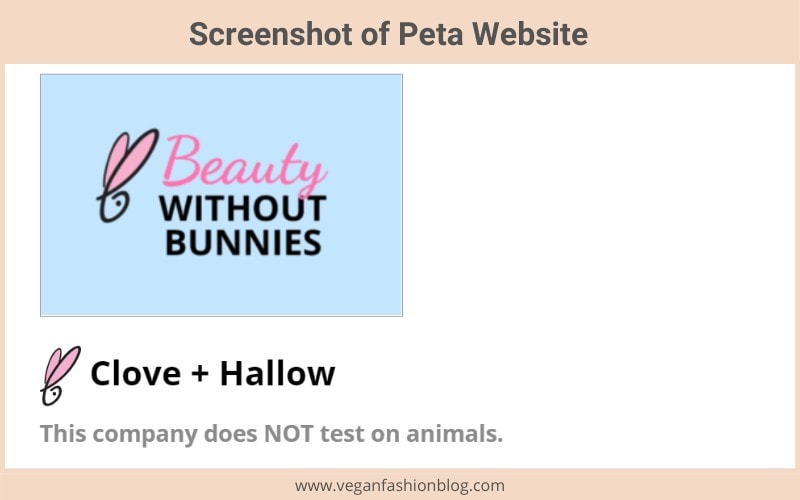 Is Clove and Hallow Owned By Another Company?
Clove and Hallow is an independent brand. They've witnessed immense growth over the last few years, and there's a possibility of catching the attention of a big company soon.
For now, the brand is owned by Sarah Biggers.
Are Clove and Hallow Products Vegan?
Clove and Hallow happens to be a certified vegan brand. All of their products are made from organic ingredients, especially plant derivatives.
The majority of their products contain 15 ingredients or less. For them, it's not about the number, it's about quality.
Plus, their products are free from honey, beeswax, or lanolin. Listed below is a full list of their vegan line, and we're sure you will find something that aligns with your pocket size.
Liquid skin tint
Lip glaze
Lip velvet
Flexlash mascara
Sunrise pressed pigment palette
Lip creme
Bronzing powder
Hydraglow
Hydratint blush serum
Daily essential
Makeup brushes
Everything oil
H2Glow
Glow + Go
Lip polish
Lip mask
Makeup melt
Summary
The number of cruelty-free and vegan brands are on the rise. This is good news for vegans, especially those whose lifestyle goes beyond their diet.
Despite the number of options to choose from, Clove and Hallow is unique in its own way.
First, their packaging is aesthetically pleasing, but what makes them stand out is their ability to cut down their ingredients list to the most effective ones. There is no room for fluff or fillers.