Quick Answer: Is Colgate Cruelty-Free and Vegan?
Colgate is not cruelty-free. They carry out animal testing when required by law and sell in countries with compulsory animal testing policies, such as China. The brand also features animal derivatives in their products but are looking to go vegan. They've since released a vegan line that consists of two products.
Colgate became a brand in 1806. It was founded by William Colgate. The brand's headquarters are in New York, and it is the number one producer of oral care products in the US and the world, in general.
Colgate has also acquired other brands during their time in the industry. They produce toothbrushes and mouthwash and have some subsidiaries that produce soap and laundry items.
Is Colgate Cruelty-Free?
Colgate-Palmolive, which happens to be the brand that manufactures Colgate products, admits that the brand tests their products on animals when required by law.
This isn't limited to Colgate's oral care alone, as it extends to other subsidiaries under the company.
We admire their transparency, however, the general rule for cruelty-free brands is that they must not sell in countries where animal testing is required by law in the first place.
Colgate has defaulted on this rule, and as such, we can't consider them to be cruelty-free since they test on animals when required by law.
Are Colgate Products Tested On Animals?
The last time anyone heard anything from Colgate about their animal testing policy was back in 2011, and here's what they had to say about it.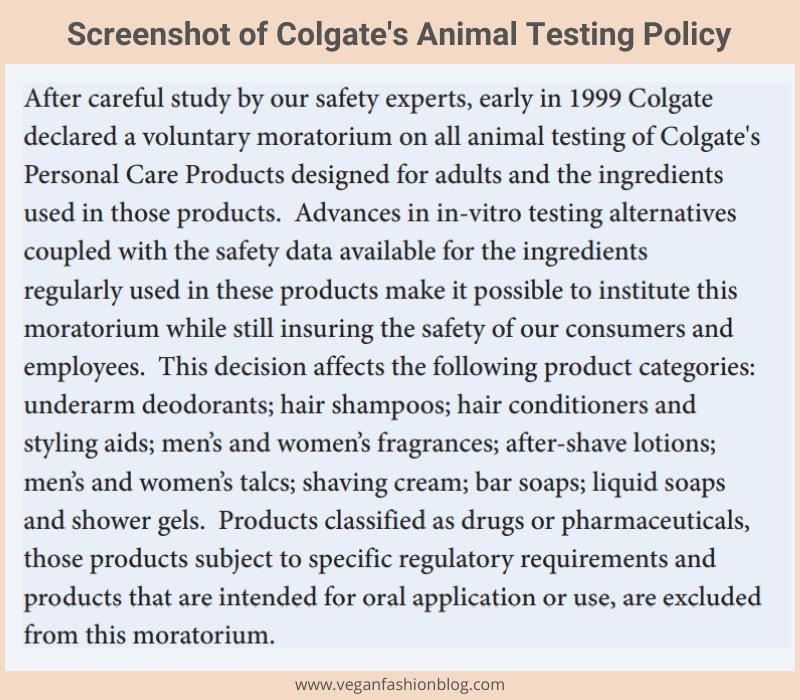 We understand that European nations banished animal testing in some industries back in 2013. Even after this, Colgate hasn't updated their testing policy.
Do They Test On Animals When Required By Law?
Yes, Colgate tests on animals when required by law. This fact has been confirmed by PETA as the reason they've been placed on their "working for regulatory change" category.
However, they've been making moves to ensure the Chinese government abolishes this law.
Are Colgate Products Sold In China?
Colgate is the most popular toothpaste brand in China. The company sells in China and has other brands that sell in the area, as well.
Their products were in the area long before the emergence of cruelty-free authorities like PETA and Leaping Bunny.
They still sell in the area to this day, and we doubt if they plan to pull their products off the market to become cruelty-free.
Does Colgate Have Cruelty-Free Certifications?
In 2013, PETA launched a new category termed "working for regulatory change".
Brands under this category are said to engage in animal testing when required by law but are working with the Chinese authorities to validate non-animal tests.
Colgate is the only brand in this category and made its way onto the list back in 2013.
However, looking at Leaping Bunny's database, Colgate hasn't yet earned a place on their cruelty-free list.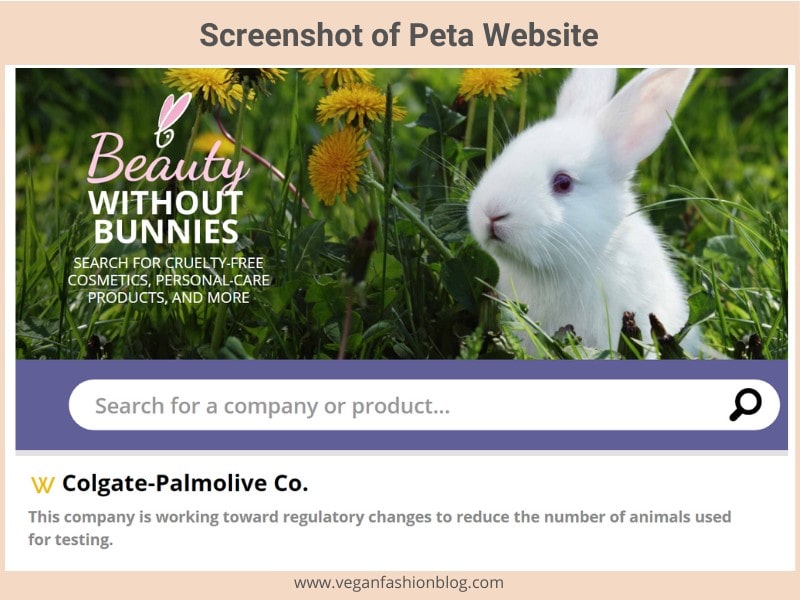 Is Colgate Owned By Another Company?
Colgate oral care is owned by Colgate-Palmolive. This is the brand that manufactures Colgate toothpaste and other oral care products.
Colgate toothpaste is their first oral care brand, but it has since acquired other lesser-known brands, such as Dearie. All of their products are sold in China.
Are Colgate Products Vegan?
Colgate is not 100% vegan because their products contain animal derivatives. The good news is that the brand is looking to produce a more vegan-friendly line.
They've kick-started that move by launching two purely vegan toothpaste products.
These toothpaste options are free from any form of animal byproducts. Every product under the Colgate Zero product line is 100% vegan with no artificial sweeteners, gluten, or animal-origin materials.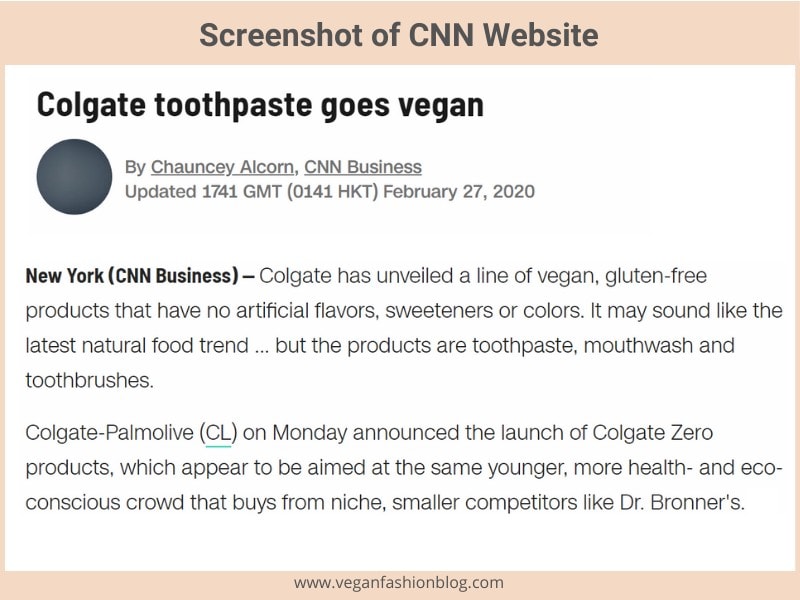 Summary
Colgate joined the long list of brands pressuring the Chinese government to abolish their animal testing policy. For now, the move hasn't been a success. Until a breakthrough is made, they can't be considered cruelty-free.