Is ColourPop Cruelty-Free and Vegan?
Yes, ColourPop is cruelty-free, but the majority of their products are not vegan. This is because they use animal-derivatives in their formulation. Nevertheless, the brand doesn't test their finished products on animals and don't use suppliers who default in their cruelty policy.
ColourPop is an American cosmetics brand with its headquarters in Los Angeles, California.
The brand was founded by the Nelson siblings – Laura and John Nelson. ColourPop is widely known for providing affordable beauty lines and happens to have the best products within the $5 – $20 price range.
ColourPop portfolio includes lip, eye, and face beautifying elements such as mascara, eye shadow, blush, and powder.
Is ColourPop Cruelty-Free?
ColourPop is known across the US as a cruelty-free brand. This is due to their affiliation with Seed Beauty, which happens to have a host of cruelty-free subsidiaries.
Hence, most customers assume this will also rub off on ColourPop.
Well, it doesn't work that way all the time. For this reason, we came up with a checklist that allows us to confirm whether a brand is cruelty-free or not.
The most important criteria say that a cruelty-free brand must not test on animals or sell in countries where animal testing is required by law.
Well, ColourPop didn't break any of these rules; hence, they are 100% cruelty-free.
Are ColourPop products tested on animals?
ColourPop doesn't test their final products on animals. At no point during their product formulation do they carry out testing on animals. The materials used for their formulation are also sourced from cruelty-free suppliers.
They don't encourage any action that poses harm to animals.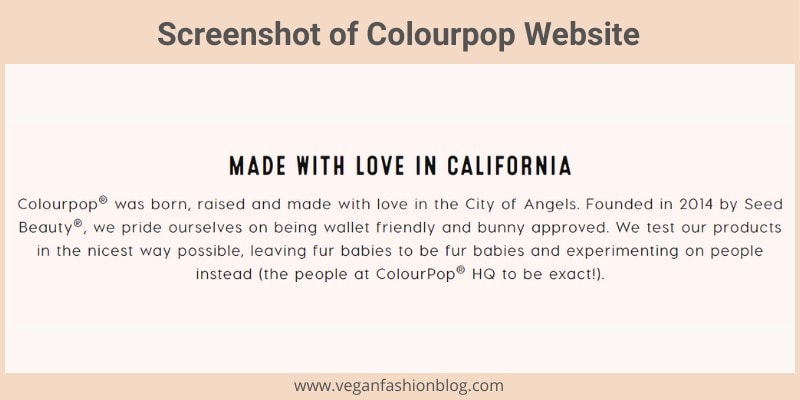 Do they test animals when required by the law?
Well, most of the time, when brands sell in other countries, they're required to comply with the testing law in such a country.
Fortunately, ColourPop only distributes its products in Europe, and European regulations don't make animal testing compulsory for cosmetics products.
Only brands who import their products into China are compelled to test their final product on animals before being approved for sale in the country.
Such is the fate of brands like Clairol, Calvin Klein, Maybelline, Estee Lauder, and Clinique when they sell in the area.
Are ColourPop products sold in China?
No, ColourPop does not market its products in China. Their goods are not listed for sale anywhere in the country. You won't find them in any store in the Chinese mainland, and neither are they offered on online retail portals.
Does ColourPop have cruelty free certifications?
Well, ColourPop is certified by PETA and their product features a seal from the authority.
PETA's certification implies that a brand has pledged never to engage in any form of animal testing in the present as well as in the future.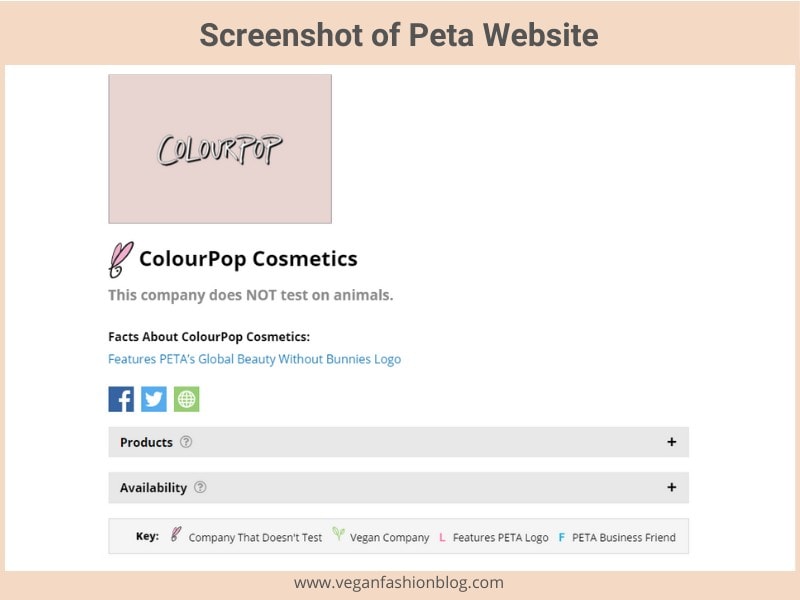 Unfortunately, the brand or their parent company has failed to obtain approval from Leaping Bunny.
It's unclear why they've not pledged to Leaping Bunny's program, which is by far, more acknowledged by consumers than that of PETA.
Is ColourPop Owned by another company?
ColourPop isn't an independent company. The brand is owned by Seed Beauty. Seed Beauty is a cosmetic company founded in 2014. They happen to be the owners of Fourth Ray Cosmetics and Sol body.
Seed Beauty is also responsible for producing a large chunk of products managed by Kylie Jenner beauty brand and Kylie Cosmetics. The majority of their products are listed on Ulta Beauty and Sephora.
Is ColourPop Products Vegan?
Just to be clear, cruelty-free shouldn't be confused for vegan. A brand can be vegan but not cruelty-free and vice versa. ColourPop doesn't test on animals, but their products do contain animal derivatives.
Luckily enough, they don't try to hold back any information from customers and are open about their vegan status.
On their website, they released a long list that revealed all their non-vegan line.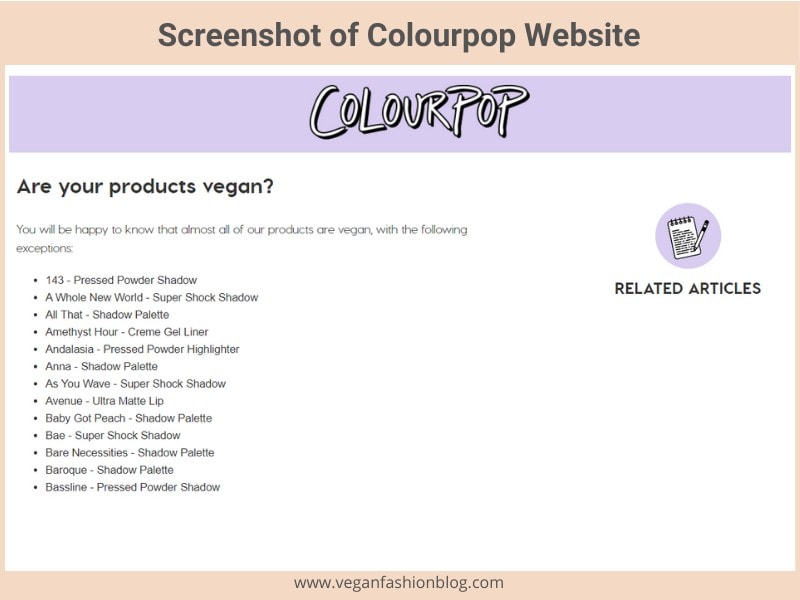 This move prevents buyers from making the wrong pick. Also, you should know that their products aren't entirely free from sulfate and paraben.
All this puts the safety of their products in doubt despite serving as a more cost-friendly option for those on a budget.
We've listed some of their vegan best sellers below.
Wild nothing shadow palette
Stone cold makeup brush
Grandeur shadow palette
Candy Castle shadow palette
Crazy Bff liquid liner
Red rock liner
Graceland bff beauty liner
Good as gold
Roll with it roller gloss kit
Out of bounds
Aura and out shadow palette
Whatever shadow palette
Lil ray of sunshine
Summary
It's easy to differentiate ColourPop's vegan line from their non-vegan line. This is because their vegan-friendly collection features a vegan icon.
However, you can always check through their list of vegan products to confirm if the product you intend to buy is listed there before placing an order. The list is updated after a new product launch.