Quick Answer: Is Coppertone Cruelty-Free and Vegan?
Coppertone carries out animal testing when required by law. They've also failed to give enough information about their animal testing policy to consumers. We discovered that they hoard vital information, so it's difficult to tell if they're vegan or not. In this piece, we aim to go into detail about their cruelty-free status.
Coppertone is a sunscreen manufacturing company founded in 1989. The brand's headquarters is in New Jersey, USA, but it has spread its wings around the world.
Under the management of its previous owner, Bayer Corporation, the brand extended its market reach to China, Canada, and Europe.
The brand provides sun protection products for both men and women. In addition to sunscreen, they also help with tanning.
Coppertone is presently owned by the German-based company, Beiersdorf. The company portfolio is very impressive, as it contains renowned brands like Nivea, Eucerin, and Aquaphor.
Is Coppertone Cruelty-Free?
There are obvious reasons to believe that this brand is not cruelty-free, and the common one would be because they don't have any certification or testing policy published on their site.
We honestly don't think the brand is transparent in their dealing with customers.
To cut the chase, here are three reasons why this brand hasn't earned a spot in our list of cruelty-free brands.
They test on animals directly and indirectly.
They're owned by a company that carries out animal testing.
They sell in areas where animal testing is required by law.
Are Coppertone Products Tested On Animals?
Coppertone hasn't let the public in on their animal testing policy. During our research, we stumbled upon a report that revealed how they test their products in the European market.
The report shows that they use human volunteers.
Every new formula is tested on the skin of the individual by carrying out a patch test. The test aims to determine how the skin reacts to the new product, as well as if the skin shows any sign of vulnerability after using it.
While this method produces a significant result, it's not accepted in places such as China. Every foreign brand that sells in the area must test their final products on animals directly or indirectly.
Since Coppertone sells in the area, we have to believe that they abide by this rule.
Do They Test On Animals When Required By Law?
If the brand sells its products in China, then they carry out animal testing when required by law. They do have an alternative non-animal testing method, but that only works when they sell in Europe.
Are Coppertone Products Sold In China?
Coppertone wasn't present in the Chinese market until it was acquired by Bayer Corporation. After the takeover, the company officially launched the brand's product in the Chinese market in 2014.
This was a long time ago, and their present parent company, Beiersdorf, confirmed their presence in the area after the takeover in 2019.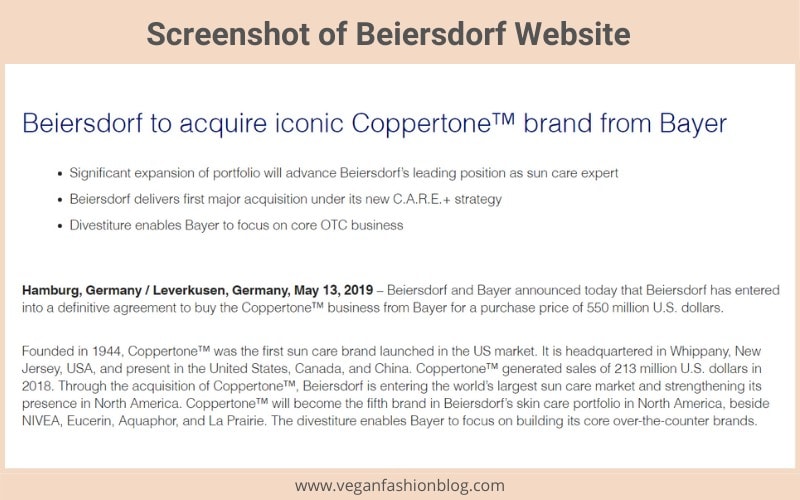 Coppertone is mostly available in physical stores in the area, but they do have a number of their products listed on less familiar online retail stores.
Does Coppertone Have Cruelty-Free Certifications?
It's difficult to find any cruelty-free authority or review site that considers Coppertone to be cruelty-free. They're confirmed as a brand that carries out animal testing by PETA, as well as review sites like Logical Harmony.
They don't have any track record with Leaping Bunny and have never taken part in any of their cruelty-free programs.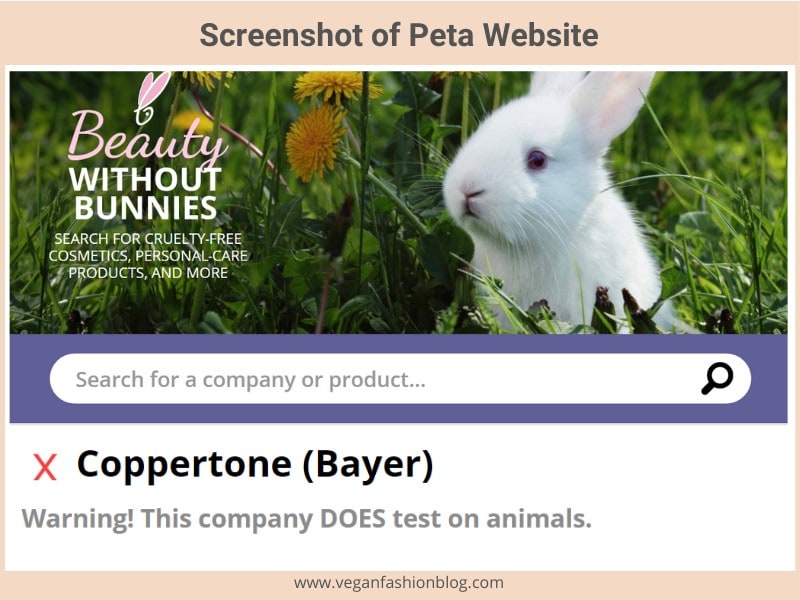 Is Coppertone Owned By Another Company?
Back in 2019, it was announced that Coppertone would be changing ownership.
Their previous owner, Bayer Corporation, announced that they were selling the brand to a German-based company named Beiersdorf in a deal worth $500 million.
The issue with this is that Beiersdorf is equally known for testing on animals.https://media.bayer.com/baynews/baynews.nsf/id/Bayer-completes-sale-of-iconic-Coppertone-brand-to-Beiersdorf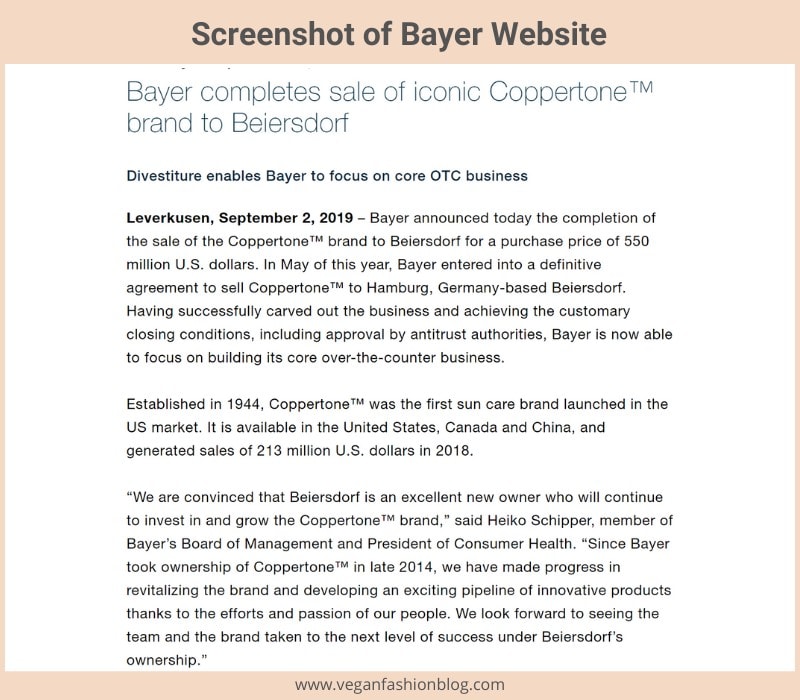 Are Coppertone Products Vegan?
Vegan and cruelty-free are two different things entirely. Vegan has to do with product formulation, while cruelty-free has to do with testing. A brand can test on animals but still eliminate animal derivatives from its formulation.
That fact doesn't cut it for vegans, though. Most vegans believe a brand that tests on animals doesn't have any right to be called vegan.
The logic is that if they're cruel enough to test on animals, it won't be a big deal for them to throw in a few animal byproducts.
In the case of Coppertone, we don't believe that the brand is vegan. They don't have any vegan seal on their products, and they keep their ingredient lists away from their consumers.
We're skeptical of brands who hoard information as they do, and as such, we can't add them to our list of vegan brands.
Summary
Coppertone is one of the pioneers of sun protection products in the US. The biggest dent in their cruelty-free claim is their affiliation with Beiersdorf, a parent company that tests on animals when required by law.