Quick Answer: Is Coty Cruelty-Free and Vegan?
No! Coty is not cruelty-free as it's not included in PETA's cruelty-free lists or Leaping Bunny. Many of their brands also sell in mainland China, where the law requires testing on cosmetic products shipping to China. Some Coty products are vegan with certifications, while some use animal-derived ingredients.
Coty is an American multinational beauty company founded in 1904 in France by Francois Coty. The beauty company has its headquarters in New York and sells its products worldwide.
Over the years, Coty has been leading giant steps. One of their latest achievements is acquiring all brands owned by the beauty manufacturer, Procter & Gamble.
It currently owns 77 famous brands across fragrance, cosmetics, skincare, nail, and hair care subsidiaries.
Some of the big names in its list are CoverGirl, LACOSTE, Adidas, RIMMEL London Max Factor, Miu Miu, Wella Professionals, BALENCIAGA, and tons more.
Many of our readers have been asking if Coty is cruelty-free and vegan. We have had our research about the company's products in detail. Is Coty cruelty-free and vegan? Keep reading to find out the details.
Is Coty Cruelty-Free?
After studying many brands and the policies of different cruelty-free certification organizations, we learned that any cruelty-free company should follow these criteria, which we will analyze one by one.
None of the company's products or ingredients should be tested on animals within and after production.
They should also not test on animals even when the law requires it or using a third party.
Their products should not be sold to mainland China where animal testing is mandatory by the law.
Are Coty Products Tested on Animals?
Yes. Coty tests on animals. Their animal testing policy is contradictory. It states that they do not test on animals, but they choose to sell in China, where all imported cosmetics are subject to animal testing.

Any company that selects to sell their products in China cannot claim to be cruelty-free, and as such, we can't verify that Coty is 100% cruelty-free.
Do They Test on Animals When Required by the law? Or Using a Third Party?
Despite Coty being a leading manufacturer in the cosmetics industry, it tests its products on animals when required by the law.
However, this does not stop the company from projecting an image of innocence of being a cruelty-free company to its customers.
Here is a screenshot of their animal testing policy.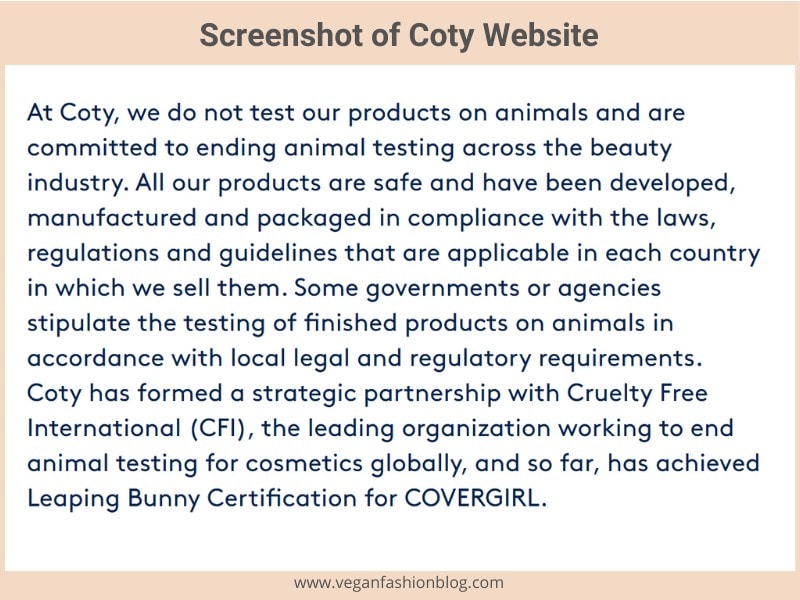 Coty has many of its cosmetic products selling in China, where the law requires testing. Coty is, therefore, ineligible for the cruelty-free list by this policy.
Are Coty Products Sold in China?
Many cosmetics by Coty have been found selling in mainland China, where post-market animal testing mandatory by the law.
China animal testing laws on pre-market testing were recently reviewed, but post-market testing on all products still hold.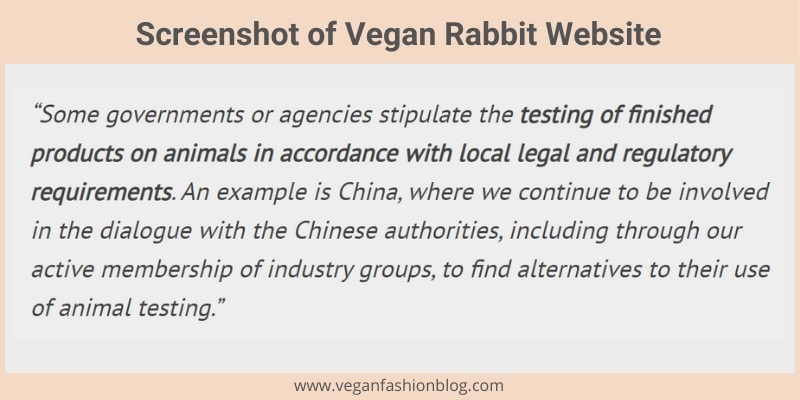 From its animal testing policy, it's evident that the company is still in dialogue with China to find alternatives to animal testing. China is a country that requires mandatory animal testing on cosmetic products.
Below is a screenshot of various Coty beauty products from Chinese suppliers on Alibaba, a Chinese online sales platform. Image Not Available
Does Coty Have Cruelty Free Accreditations and Certifications?
Various accreditations and certifications indicate that a company is cruelty-free. These include certificates from PETA, Leaping Bunny, or Free the Bunny.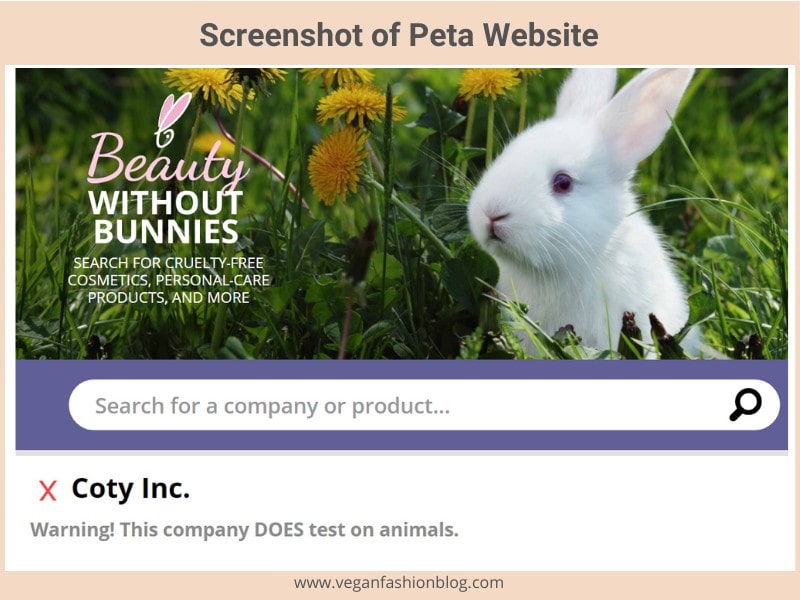 PETA especially has the laxest regulations for cruelty-free accreditations, and Coty is not found in their list of cruelty-free companies.
These certifications indicate that a company is free of animal testing; it doesn't test on animals even when the law requires it and does not sell to Mainland China. Coty is, therefore, not 100% cruelty-free.
Is Coty Owned by Another Company?
Coty is not wholly-owned by any other affiliate company. However, as of 2020, JAB Holding Company, a German conglomerate, is Coty's biggest shareholder, with a 60% stake.
Is Coty Vegan?
To be vegan, a company should not have sourced any of their ingredients from animals or animal by-products.
Coty is not 100% vegan, meaning some of its products are animal-sourced or from animal by-products.
There are no vegan certification companies tied to Coty currently. However, the company owns some brands that are certified by credible organizations.
Brands like CoverGirl, a Coty's possession, are Leaping Bunny certified, meaning it's cruelty-free. The brand is also vegan, although some of its products contain beeswax and lanolin, which are animal by-products.
Summary
It's a No for Coty being cruelty-free. Although they claim that they do not test on animals, they choose to sell their cosmetics in a country that requires animal testing on all imported cosmetic products.
Although they own brands like CoverGirl that are cruelty-free, Coty Inc in its entirety cannot be considered cruelty-free and will be added to the list of companies that do test on animals.