Quick Answer: Is Cover FX Cruelty-Free and Vegan?
Cover FX is cruelty-free. Its products are not sold in China, which prescribes animal testing for all imported cosmetics sold physically in the mainland. Cover FX does not use animal products and is 100% vegan.
Cover FX was founded in Ontario in 2000 as a skincare and makeup brand. It was created to bring together high performance and clean ingredients.
And stands by the belief that beauty means "taking care of yourself and the world around you."
The brand is known for custom coverage and offers customers an inclusive 40-shade foundation line. Before starting the business, founder Lee Graff worked alongside a dermatologist for several years.
She was dedicated to creating therapeutic and protective products that were also suitable for sensitive skin.
With a company so clearly dedicated to a one-size-doesn't-fit-all approach, our readers are keen to find out exactly how far they'd go.
They're asking whether Cover FX is cruelty-free and vegan. We have analyzed the brand and its products in detail.
Is Cover FX cruelty-free and vegan? Keep reading to find out the details.
Is Cover FX Cruelty-Free?
Cruelty-free means different things to different people. We define cruelty-free as satisfying these three criteria, which we will analyze here:
None of the products should be tested on animals. Neither the company nor its suppliers must test on animals at any product development stage, pre-market, or post-market.
They should not test on animals even when required by law. Even if there is a legal requirement for animal testing, it still must not. Nor can it pay a third party to test on its behalf.
The products should not be sold in China. The company must not sell its products in mainland China or any other country that enforces animal testing.
Are Cover FX products tested on Animals?
Cover FX and its suppliers do not test on animals. Products are tested with the help of volunteer panels.
Cover FX take consumer safety seriously and is an ardent supporter of in-vitro testing and other non-animal testing methods. (In-vitro testing exposes cultured human cells in laboratory environments to products to test for toxicity.)

Do they test on Animals when required by Law? Or use a third Party?
Cover FX don't use third parties to animal test for them. They do not sell their products anywhere where animal testing is mandatory.
Are Cover FX products sold in China?
Cover FX products are not available for sale in China. China makes pre-market animal testing of imported cosmetics compulsory.
And at any stage, animal testing can be performed on products that receive customer complaints.
The only exception to this regulation is online purchases – where imported goods are delivered directly to the consumer. Therefore, any brand currently selling through retail outlets in China is not cruelty-free.
However, on 1 January 2021, the new version of the Cosmetics Supervision and Administration Regulation (CSAR) came into effect.
It allows an application to be made for safety assessments to replace animal testing for "ordinary cosmetics."
Regardless of whether they are produced locally or imported. "Special cosmetics," which include children's products and products used for hair and skin treatment, will still require animal testing.
The new regulations do not extend to post-market animal testing in response to customer complaints or product recalls.
Does Cover FX have Cruelty-free Accreditations or Certifications?
PETA has awarded Cover FX their Beauty without Bunnies logo. This is awarded to companies that have met the requirements to be PETA-certified as cruelty-free.
They must satisfactorily respond to PETA's questions and sign a statement of assurance that they don't currently perform or commission animal testing. And that they won't in the future.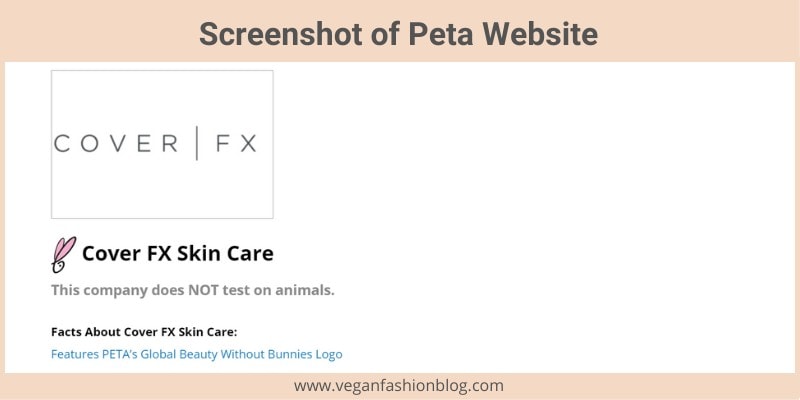 Is Cover FX owned by another company?
Cover FX doesn't have a holding company. It is independently owned and has been backed by private equity firm L Catterton since 2011.
Is Cover FX Vegan?
To qualify as vegan, Cover FX products must not contain any animal parts or anything derived from animals. We have assessed the brand and conclude that all Cover FX products are 100% vegan.
Cover FX is free of honey, beeswax, or any other animal by-products. Cover FX has no official vegan certifications.
What else do we need to know about Cover FX?
Cover FX products contain no parabens, fragrance, gluten, mineral oil, or talc.
Cover FX uses mica, a shimmery mineral composite that takes hundreds of years to form under the ground to replace talc. It is one of the most common ingredients used in makeup and is responsible for the sheen in lipstick, the shimmer in eye-shadow, etc.
However, it is estimated that 22 000 children are involved in the mica industry across India. Some of them as young as five years old. Cover FX uses only ethical sources of mica that can guarantee no use of child labor.
Summary
Cover FX is a brand you can look good in and feel good about wearing. It is a company that takes its responsibility to the planet seriously and sets the bar for competitors.