Quick Answer: Is Crazy Rumors Cruelty-Free and Vegan?
Crazy Rumors is cruelty-free and 100% vegan. They don't test on animals, and their products are made from organic ingredients. They're also certified by PETA and Leaping Bunny.
Crazy Rumors is a vegan lip balm brand that originated in the USA. The brand was launched more than a decade ago and is credited as the largest producer of lip balm in the beauty world.
Their catalog is quite huge, and it's even more impressive if you consider the fact that they're handmade.
The balms taste of tropical fruits, such as watermelon, and this is an even bigger clue that they're free from animal derivatives. There's something for everyone, and there are a variety of flavors to choose from.
Is Crazy Rumors Cruelty-Free?
By the standard set by PETA and Leaping Bunny, we can confirm that Crazy Rumors is cruelty-free.
This is because they don't engage in any form of animal testing, nor do they fund this type of testing to be performed by third parties.
They also keep their products away from countries with strict testing laws, which is the reason that the company is not registered in China.
Usually, a certification from PETA or Leaping Bunny shows that the brand has vowed never to engage in any sort of production process that will cause harm to animals.
This includes testing, as well as using animal derivatives among its ingredients.

Crazy Rumors has not put up a testing policy on their website. They claim not to test their products on animals, but it would have been much more believable if they had specified the alternative testing methods they use.
We're aware that most cruelty-free brands use human volunteers to test their products, so we're assuming that Crazy Rumors does the same. However, with no official clarification, it remains a mere assumption.
Are Crazy Rumors Products Tested On Animals?
Crazy Rumors does not carry out animal testing, nor do they finance tests. They utilize non-animal testing alternatives. We aren't sure what the alternative methods are, though, as they failed to specify on their website.
Nevertheless, they've been able to obtain a couple of certifications from both local and international organizations.
Do They Test On Animals When Required By Law?
Crazy rumors doesn't sell in countries with compulsory animal testing policies. This is the reason they have failed to register their brand in China.
They don't carry out testing under any condition and avoid any scenarios that will put them in a compromising situation.
Are Crazy Rumors Products Sold In China?
No, Crazy Rumors products are not available in China. Their main distribution locations are the US, the UK, Canada, and other parts of Europe.
This makes it compulsory for them to stick to all European regulations on cosmetics products. Fortunately, European authorities deem it unnecessary to carry out animal testing on cosmetics products.
Does Crazy Rumors Have Cruelty-Free Certifications?
Crazy Rumors has a couple of certifications to back their "cruelty-free" claims. They're accredited by PETA and have been featured in some of their articles.
They're categorized as a brand that does not test on animals in their database, and their products have the global Beauty Without Bunnies logo.
Also, they are well recognized by Leaping Bunny and have met all the requirements for their CCIC program, which certifies a brand as cruelty-free.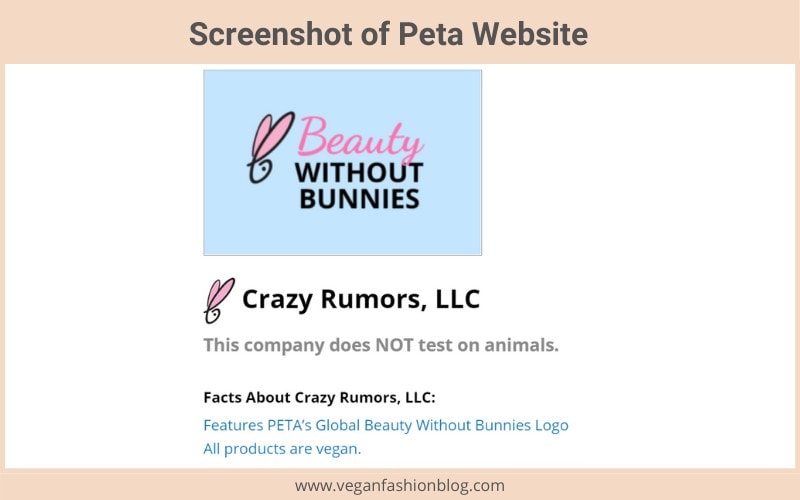 Is Crazy Rumors Owned By Another Company?
Crazy Rumors has a big personality in the industry, but it's possible that the big boys haven't looked their way just yet. Until that happens, they remain an independent brand, and they handle all manufacturing processes in their factory.
Are Crazy Rumors Products Vegan?
Crazy Rumors is certified as vegan by PETA and Leaping Bunny. This is because most of their ingredients are organic. They also went a step further to publish a full list of the ingredients they use in their production process.
Taking a closer look at the list, they were dominated by plant derivatives, like shea butter, jojoba oil, virgin olive oil, Candelilla wax, and natural stevia.
It also contains naturally occurring gluten extracted from sunflowers. There are no traces of lanolin, beeswax, or carmine.
Here is a list of their most popular vegan products.
Festive mix
Barrister mix
Adventurous mix lip balm
Aloha mix balm
Amaretto balm
Au naturale balm
Banana split balm
Leaping bunny plum apricot
Hot cocoa balm
Ginger ale balm
French vanilla balm
Grape jelly balm
Dragon fruit balm
Summary
Crazy Rumors has a huge catalog, and they're the largest producers of balms on the market. Most of their products are free from artificial flavors, and they taste of tropical fruits.
They will smoothen your lips and minimize dryness. The ingredients won't make your lips chapped or increase dryness. No allergic reactions have been recorded from past users, so you can apply them with total confidence.