Is Deck of Scarlet Cruelty-Free and Vegan?
Deck of Scarlet is cruelty-free and 100% vegan. Their products are free from animal derivatives, and their ingredients are sourced from suppliers that don't carry out any form of animal testing.
Deck of Scarlet is a mid-range makeup brand founded by Mariya Nurislamova in 2017. The brand started in New York but has been able to spread its distribution chain to parts of Europe.
They don't have a huge product portfolio. However, every product has a unique formula that delivers a clean finish.
Is Deck of Scarlet Cruelty-Free?
Deck of Scarlet claims to follow a clean production process. They claim not to include any form of animal-origin ingredients during production. At the same time, they don't test their products on animals.
We do our best to carry out research to determine if the claims these brands make are true before adding them to our cruelty-free database.
We qualify a cruelty-free brand as one who meets all of the requirements listed below.
The brand doesn't test on animals. By this, we mean that none of their products should be tested on animals, not should they finance animal testing when they sell in other countries
They should not sell in countries with strict animal testing policies, nor should they patronize suppliers who test their ingredients on animals.
Their product should not be sold in China, nor should they be available in Chinese retail stores like Sephora or Watson.
After carrying out a detailed analysis on our end, we can confirm that Deck of Scarlet meets every requirement and is 100% cruelty-free.
Is Deck of Scarlet Products Tested On Animals?
Deck of Scarlet does not test their products on animals. They're committed to a clean production process that leaves no room for any form of cruelty.
Apart from that, they ensure that they only source their ingredients from suppliers who are cruelty-free, as well.
Here's an image from their page that confirms this.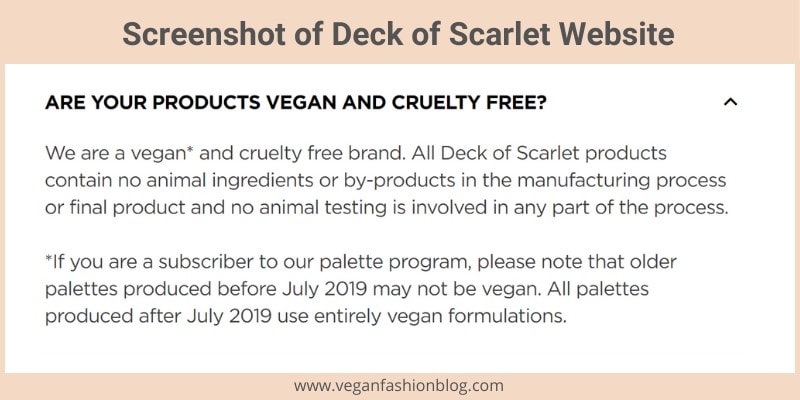 Do They Test Animals When Required By Law?
No, Deck of Scarlet doesn't use third parties to test their products. This is the reason they boycott countries with strict testing policies.
One such country is China, which is the reason why the majority of brands who sell in the country are not considered cruelty-free.
Is Deck of Scarlet Products Sold In China?
Deck of Scarlet products are not present in China, and they don't distribute to any part of Asia.
This is because the Chinese government has enacted a strict testing policy that subjects foreign brands who sell in the country to submit their products for animal testing.
Deck of Scarlet doesn't intend to follow this route. Presently, their main areas of distribution are the USA, the UK, Canada, and a few countries in Europe.
Does Deck of Scarlet Have Cruelty-Free Certifications?
Deck of Scarlet is recognized as cruelty-free in the database of several cruelty-free authorities. The brand is certified by PETA, as well as Leaping Bunny.
Both certifications indicate that the brand has pledged not to indulge in any form of animal testing in the future.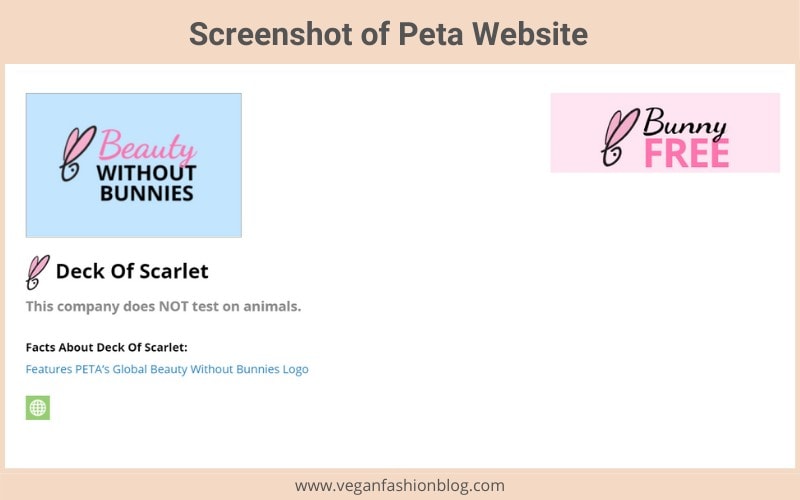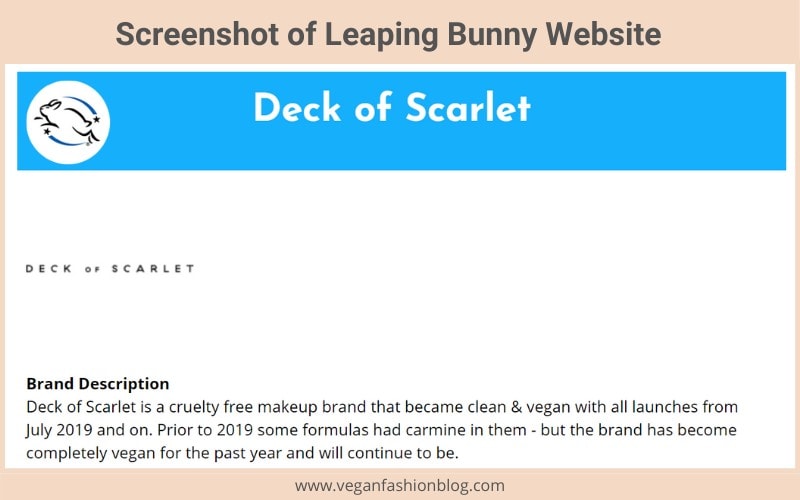 Is Deck of Scarlet Owned By Another Company?
Deck of Scarlet doesn't have a parent brand. The brand is new in the beauty world and still trying to find their feet in the industry. They have not yet been acquired by any multinational company.
Is Deck of Scarlet Products Vegan?
Deck of Scarlet is a vegan-friendly brand. Their products do not contain any form of animal derivatives.
We arrived at this conclusion after taking a look at the ingredient list published along with the products listed on their site.
A vast majority of the products featured organic compounds, such as castor oil, mica, and tin oxide.
Aside from this, we also observed that some of their makeup line, such as the all-over highlighting stick frozen rose, contained what they term "synthetic beeswax".
The synthetic beeswax is derived from a different combination of ethylene polymers and not real bees.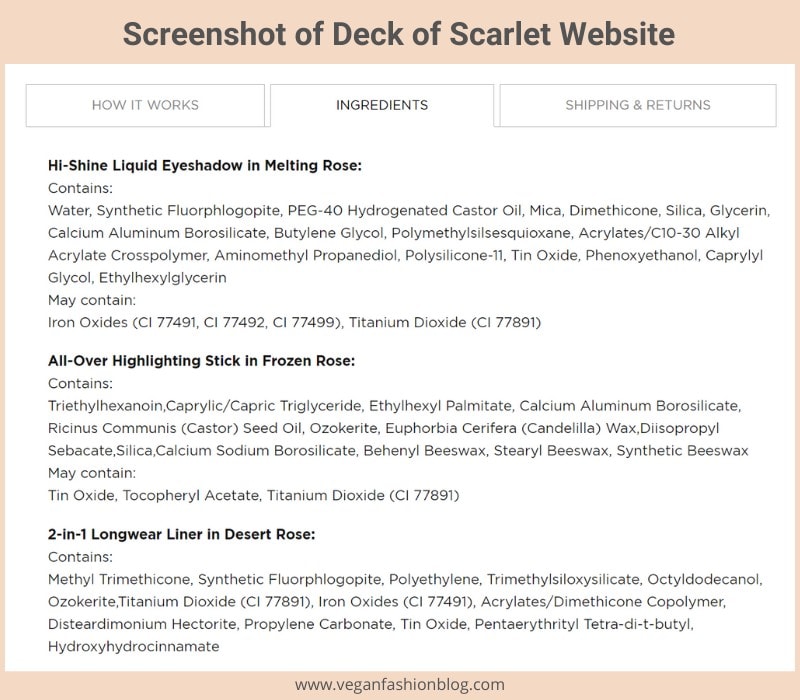 What we love about this brand is that they've backed their cruelty-free claim up by publishing a list of some of the ingredients used in their production process.
To their credit, we didn't find a single ingredient of animal origin.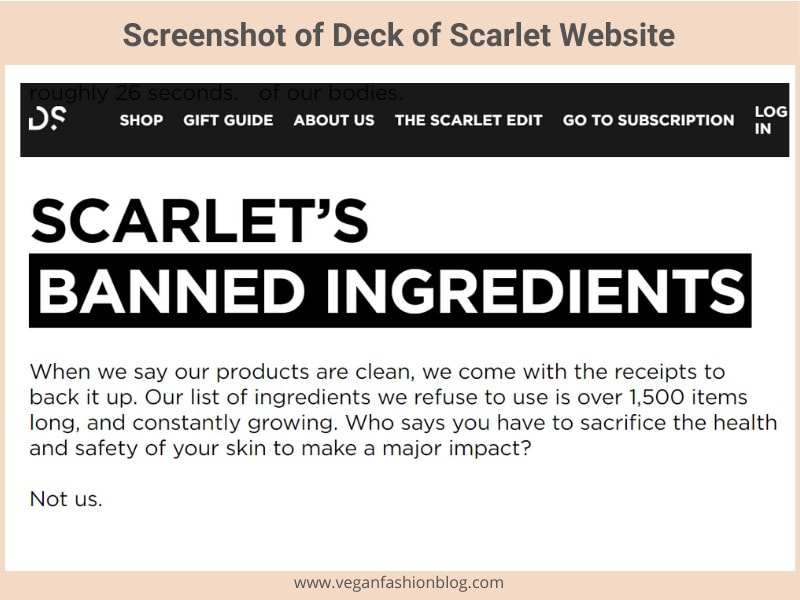 Some of their 100% vegan products include:
Lips
Three-way solid lip oil
Three-way solid lip oil vault
Naughty nice nude lip trio
Scarlet spirit lip trio
Tools and accessories
Double-take face brush
Mist AKE proof bronzer
Mist AKE proof blush
Summary
Deck of Scarlet doesn't have the largest product line. Their catalog is quite limited, but they have the cleanest production process.
They have zero tolerance for substances, such as lanolin, that might cause some sort of allergic reaction in users. All vegans can pick up any of their products with total confidence.