Quick Answer: Is Dimension Nails Cruelty Free and Vegan?
Yes, Dimension Nails is cruelty-free and vegan. They are certified by Logical Harmony, CCIC, and PETA. All of the products from Dimension Nails including gels, nail art, and lacquer, are vegan and cruelty-free. The company believes in slaying nails, not animals. Their products are also not sold in China.
Dimension Nails specializes in nail care and distributes their product online to Canada, the United States, and other countries. It has its headquarters in 2686 Beaumont Ct, Clearwater, Florida, in the United States.
The company does not have a parent company. Most of our readers have been asking if Dimension Nails are cruelty-free and vegan.
We have analyzed the company and its products in detail to see whether this is the case. Read on to find out.
Is Dimension Nails Cruelty-Free?
We looked at the products offered by Dimension Nails to find out if they are cruelty-free. To be cruelty-free:
The product should not have been tested on animals
They should not test on animals even when the law requires them to
Their products should not be sold in China
Are Dimension Nails products tested on Animals?
No Dimension Nails are not tested on animals.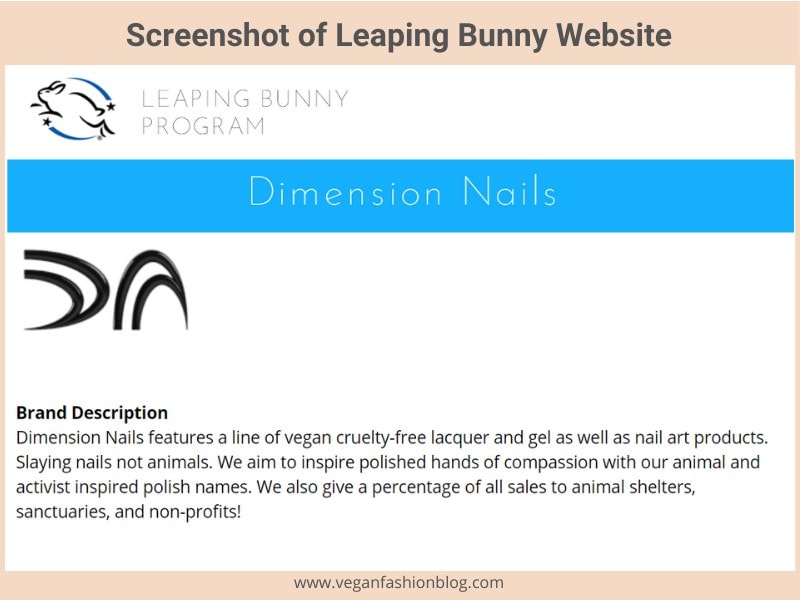 Leaping Bunny has a standard to which companies give a voluntary pledge that personal care, cosmetic, or household products are free from animal testing in all development stages.
The ingredient suppliers also adhere to this and use ingredients that are not animal-derived.
The statement below is found on the Leaping Bunny Website:
"Dimension Nails features a line of vegan cruelty-free lacquer and gel as well as nail art products. Slaying nails not animals. We aim to inspire polished hands of compassion with our animal and activist inspired polish names. We also give a percentage of all sales to animal shelters, sanctuaries, and nonprofits."
Dimension Nails products are all vegan and cruelty-free. Their products are not tested on animals.
Do they test Animals when required by the law?
In the United States, the U.S Food and Drug Administration (FDA) does not require animal testing for household or cosmetic products, and neither does the U.S Consumer Product Safety Commission.
There is already existing data to make animal testing for most of these products unnecessary.
In countries where products require animal testing, Dimension Nails does not market their products.
Are Dimensional Nails products sold in China?
Dimensional Nails products are not available in China. This is because the People's Republic of China has a specific law regarding cosmetic and personal care products.
They require them to be tested or be a party to the testing of the cosmetic products or ingredients on animals. Companies that sell or market their goods in China are not cruelty-free.
Does Dimensional Nails have Cruelty free Certifications?
Yes, Dimensional Nails are certified by PETA. Companies that are accredited with PETA do not conduct any animal tests on formulations, the finished products, and even the ingredients and pledge never to do so ever.
The Company is also certified by the CCIC. These are 8 animal protection organisations that came together with the aim making animal friendly products easy to find and purchase.
They have a standard and globally recognized logo which is the Leaping Bunny logo. This logo can be found on Dimension Nail's products
Is Dimensional Nails Owned by another Company?
No Dimensional Nails is not owned by another company. They are a single company and adhere to a vegan and cruelty-free policy.
You can find some of their policies on the Leaping Bunny website below where they are registered and certified.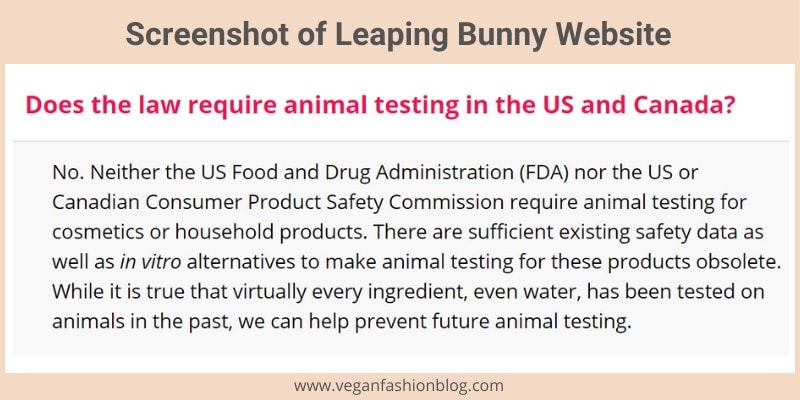 Is Dimensional Nails Vegan?
When a product is vegan, the ingredients used in making it are not derived from animals.
Vegan-friendly products also mean that they are cruelty-free because using ingredients derived from animals is a form of animal cruelty. This is how we will judge Dimension Nail's products.
All dimension Nails products are 100 percent vegan. They are verified by Logical Harmony. This includes the ingredients at the beginning, to the finished products sold in shops, all of it is vegan and cruelty free.
Below is a list of the vegan products that are sold by Dimensional Nails and do not contain any animal-based by-products or ingredients.
Nails
Kale Yeah I'm Vegan Premium Nail Lacquer
Vegan Gains Premium Nail Lacquer
Vegan Gang Premium Nail Lacquer
Vegan Unicorn Premium Nail Lacquer
Gel Polish and Builders
Green Sea Slug
Green Tree Frog 3D Gel
Greenland Shark
Halloween Moon Crab
Harlequin Dart Frog
Horseshoe Crab
Hyacinth Macaw
Irish You Were Vegan
Key Deer
Kookaburra
Lilac-Breasted Roller
Lion's Mane Jellyfish
Love Is The Answer
Mangrove Cuckoo
Mangrove Pit Viper
Mangrove Tree Crab
Meerkat
Mimic Dart Frog
Mini LED Lamp
Moon Jellyfish
Mudskipper
Musk Ox
Ochre Starfish
Open the Cages
Orange Newt 3D Gel
Oval Brush with Builder Tool
Pacific Purple Sea Urchin
Pasco Dart Frog
Peale Dolphin
Phantasmal Dart Frog
Pink Arctic Salmon
Pink Cockatoo
Pink Fairy Armadillo
Pink Flamingo
Pink Katydid
Plant Based Babe
Plants Have Protein
Polar Bear
Portable LED Lamp
Portuguese man o' war Jellyfish
Prevent Forest Fires
Puffin
Purple Finch 3D Gel
Pygmy Hippopotamus
Rattlesnake
Red Medusa Jellyfish
Red Sea Star 3D Gel
Nail Powders
Caracal
Caribou
Fire Ant
Galapagos Land Iguana
Kea
Lemming
Narwhal
Pika
Red Fox
Roadrunner
Sally Lightfoot Crab
Brushes
5mm Painting Brush
9mm Liner Brush
6mm Daisy Brush
7mm Flat Brush
7mm Angular
Oval Brush with Builder Tool
Summary
Dimension Nails products are made cruelty-free and vegan with the main aim of promoting a lifestyle of health, love, and compassion.
Stephanie Warren, the founder of Dimension Nails, does not believe in harming animals for any reason, whether for safety testing, makeup, or food.
The company believes in slaying nails, not animals. They also help out sanctuaries, non-profits, and animal shelters with a percentage of their sales.