Quick Answer: Is Dior Cruelty-Free and Vegan?
Dior is not cruelty-free nor vegan. They test their products on animals when required by law and are guilty of withholding vital information from customers. They've also failed to provide clarity about their product formulation.
Dior is a luxurious fashion brand founded by Christian Dior in 1946 in Paris, France. The brand has been in the industry for over 70 years and is known all over the globe.
Dior is known for its innovative design, especially when it comes to ready-made wear. Dior's catalog includes footwear, leather goods, accessories, perfumes, and make-up items.
Is Dior Cruelty-Free?
Before we declare a brand cruelty-free, they must meet all of the following requirements, which states that a cruelty-free brand must not:
Test their products on animals or use suppliers who test their raw materials on these furry creatures
Sell in places where animal testing is required by law
Use third parties or government officials to test their products
We can confirm that Dior didn't meet any of these requirements, and we will go into details about each of them as you continue reading below. The bottom line is Dior is not cruelty-free anywhere.
Are Dior products tested on Animals?
So this is where it gets really interesting for the so-called big brands that sell in China.
They shy away from answering questions about their testing policy by publishing a one-line sentence on their FAQ session. Convincing the public will take something more than that.
Even though Dior is a multimillion-dollar company, they've failed to give full details about their testing policy.
Things we would love to find out from the brand include if their ingredients are tested on animals, use suppliers or carry out animal testing, and bend their rules when required by law.
Dior hasn't done any of this; avoiding the topic is unprofessional. Also, most customers are itching to know about their alternative testing method since they claim not to test on animals.
Do they Test Animals when required by the Law?
Yes, they carry out animal testing when required by law. A typical example is when they sell in China.
Some transparent brands do mention that even though they don't normally test on animals, they have to bend their rules when required by law.
Dior didn't say any of that, and as such, we're suspicious of their market activities.
What we can confirm is that since they sell in China, they do test when required by law.
Are Dior products sold in China?
Well, any brand that wants to remain cruelty-free won't put up their products for sale in China.
We're aware that most of the brands who sell there have no control over when government authorities decide to carry out post-market testing.
In the case of Dior, there's no doubt that they do sell in China. They have stores in several locations across the country.
As you can see in the snippet attached, they do have a separate Chinese site where they attend to the needs of the Chinese market altogether.
Dior products are also listed on Sephora China. There's no argument when it comes to selling in the area.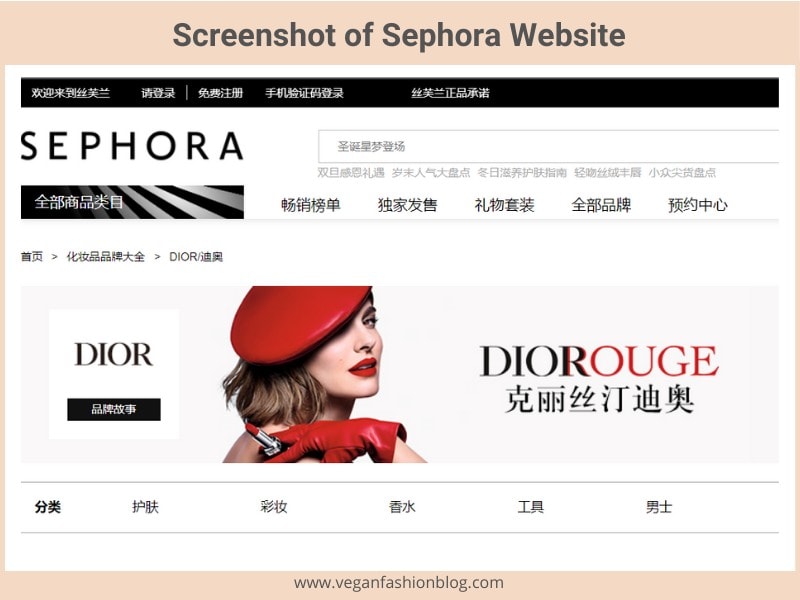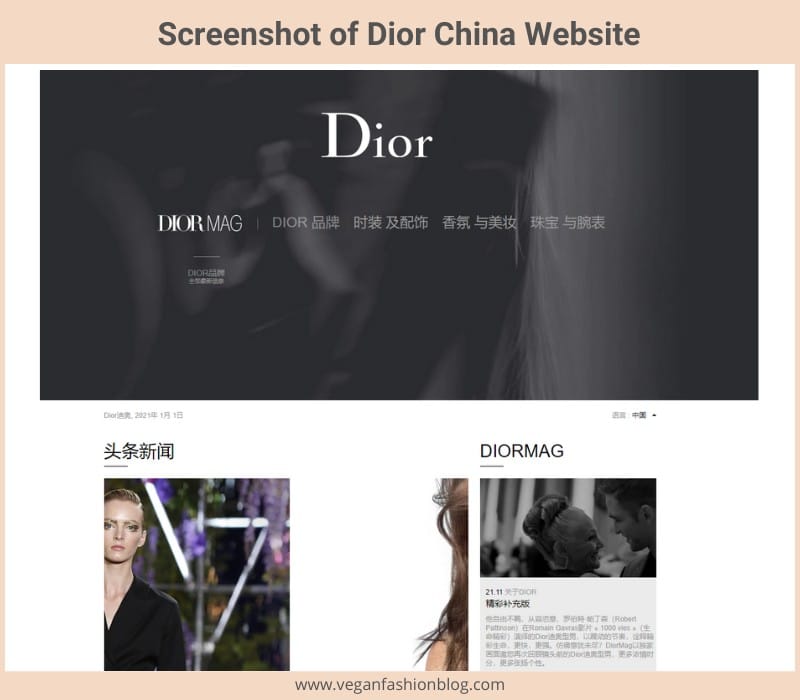 Does Dior have Cruelty free Certifications?
Dior will have to do a lot to convince customers that they're cruelty-free. Every clue points to the fact that they do test on animals.
They're not certified cruelty-free by PETA and Leaping Bunny. The brand absolutely prioritizes profit over its ethics.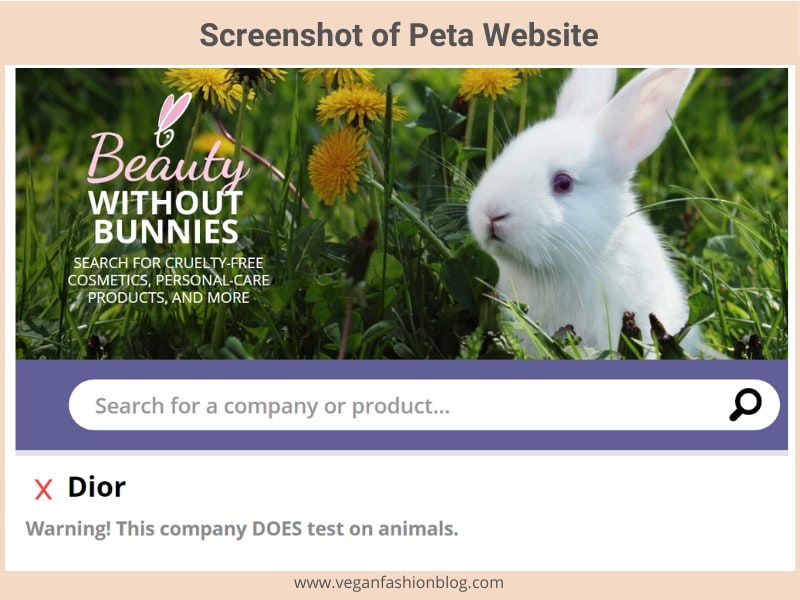 Is Dior Owned by another Company?
Dior has seen a change in ownership. The brand does have a parent company.
They've been acquired by LVMH – the same company that owns Givenchy and Acqua Di Parma. LVMH is a brand that tests on animals when required by law.
The conglomerate is also the owner of other non-cruelty-free companies like Kendo and Olie Henricksen.
Is Dior Products Vegan?
Dior is not a vegan brand, either. It's rare to find a brand that tests on animals but still maintains a vegan policy.
In Dior's case, none of their products come with vegan labeling, and just the way they failed to provide details about their testing policy, they've also kept the ingredients of their formulation a secret.
The general rule of thumb is that if a brand does not claim to be vegan or use any vegan labeling, they most likely use some raw materials that are sourced from animals.
Summary
If you're a big fan of Dior but living a cruelty-free life is the priority for you, you might need to boycott and find an alternative that doesn't carry out animal testing or use animal derivatives.
Dior obviously can't provide you with that. Fortunately, you won't have to search for long hours before you stumble on worthy alternatives.