Quick Answer: Is Donna Karan Cruelty-Free and Vegan?
Donna Karan is not cruelty-free nor they are vegan. They've failed to meet every required set for a cruelty-free brand. They do sell in China and pay third-parties to test their products when required by law. The brand was condemned in the past for using fur in their design.
Donna Karan, New York, popularly known as DKNY for short, was founded in 1989. The brand adopts the name of its founder, Donna Karan, who happens to be a big player in the fashion world.
Donna Karan was founded on the principle of "seven easy pieces".
This was a revolutionary brand that attended to the fashion needs of women. Donna Karan's catalog also consists of women's garments, suits, skirts, undergarments, and jackets.
The brand has joined the illustrious list of fashion icons to have ditched the use of fur in their designs. This, however, came after years of consistent pressure from PETA.
Is Donna Karan Cruelty-Free?
Donna Karan hasn't spoken in public about being cruelty-free. The brand was deceptive about their vegan claim in the past, making the public believe they don't use fur in their designs even when they do.
They've since back-tracked but still haven't done anything to kill the uncertainty surrounding their cruelty-free status.
For the record, we do know that they sell in China, a country where animal testing is required by law. The label has also been acquired by a parent company notorious for testing on animals.
To crown it all, they're not certified cruelty-free by PETA or Leaping Bunny. All these facts led us to the conclusion that they are not cruelty-free.
Are Donna Karan Products tested on Animals?
Donna Karan doesn't have an animal testing policy. The public only discovered that they use fur in their collection after a revelation by PETA surfaced. The brand is in the habit of keeping vital information away from consumers.
What we do know, however, is that they're owned by a parent company that tests on animals. It's therefore highly likely that they adopted their parent company's testing policy. Should that be the case, they likely test on animals.
Do they test Animals when Required by the law?
Well, every brand that sells in China does partake in animal testing. Their parent company, G-III, decided to expand the brand's reach to China in 2019. The company products are listed on China's largest retail store – JD.com.
Considering the fact that they're one of the most popular fashion brands in the area, they do have to comply with Chinese testing laws. The only way Donna Karan can be cruelty-free is if they pull out of the Chinese market.
Are Donna Karan products sold in China?
There are different publications online that documented Donna Karan's activities when they launched in China. These products are available on JD.com and it seems the Chinese always had a high demand for their apparel.
China World Boutique also has some of their products listed for sale. This change came after the takeover by G-III Apparel. Under LVMH, the brand didn't sell in the area.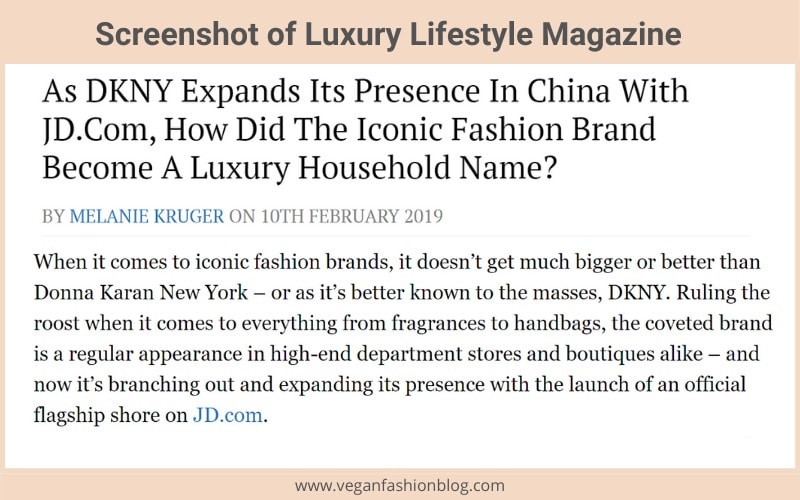 Does Donna Karan have Cruelty free Certifications?
Donna Karan is present on PETA's database but they're not in their good books.Donna Karan is mentioned there as a brand that tests on animals.
This shows that they've not taken part in their Beauty without Bunnies program. The same applies to Leaping Bunny and Choose cruelty-free.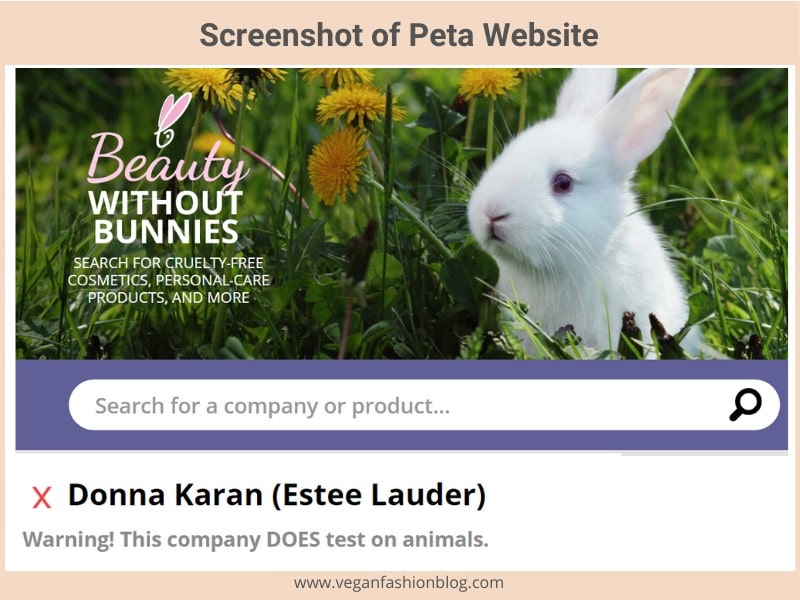 Is Donna Karan Owned by another Company?
Donna Karan is no longer owned by its founder Donna Karan. The brand was acquired by LVMH after witnessing immense growth and popularity among fashionistas in the '90s.
Sales stalled, and they had to move the label on. Today, G-III owns Donna Karan, and in addition to Calvin Klein, makes an impressive portfolio of fashion labels.
Is Donna Karan Products Vegan?
PETA went hard on Donna Karan back in the days after footage was recorded where she was saying she uses animal fur for her designs.
Well, that didn't go down well with their customers who had come to trust them. A protest began where consumers came hard on the founder.
Well, after decades of pressure from PETA, Donna Karan decided to go furless in 2018. Ditching fur did earn them some accolades back then, but two years is a long time for a brand to make changes.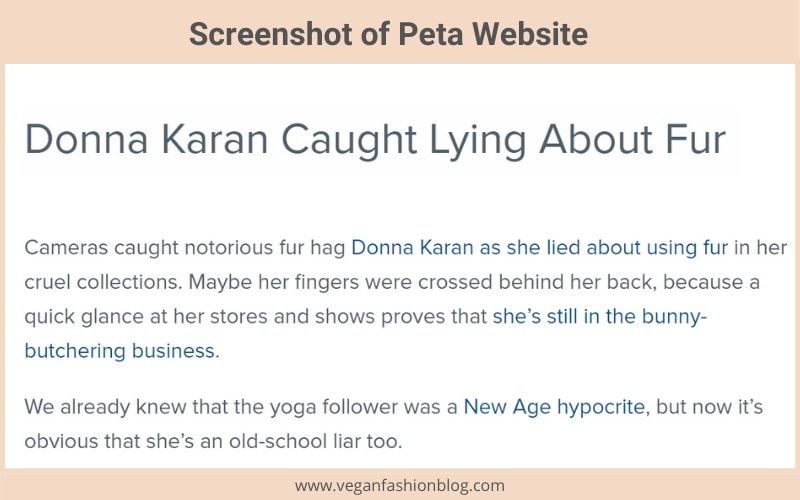 Hence the question on most consumers' lips is – does Donna Karan use animal byproducts in 2020? Well, that's still uncertain.
They've failed to let the public in on their product design, especially when it comes to the use of animal-derivatives. Hence, we can't declare them Vegan.
Summary
Donna Karan and its sister label Calvin Klein are quite shady in their dealings. We can't give them any vote of confidence due to their habit of hoarding information.