Quick Answer: Is Dose of Colors Cruelty-Free and Vegan?
Dose of Colors is cruelty-free but not 100% vegan. This is because they don't carry out any form of animal testing at any stage of their production process. However, their products contain traces of animal derivatives, such as beeswax.
Dose of Colors is a beauty brand that was launched by Anna Petrosian in 2013. This came after 10 years of experience as a makeup artist.
The brand is her first beauty brand, and she used her knowledge to create a brand that focuses on excellence and creativity. A list of their product catalog includes eye shadows, foundation, mascara, and lipstick.
Is Dose of Colors Cruelty-Free?
A cruelty-free brand must do more than just publish a "one-sentence" claim on their FAQ page. Certain standards need to be met. Brands that are cruelty-free steer clear of any form of animal testing.
By this we mean, they must not sell in countries where animal testing is required by law, neither should they finance this kind of test.
It's impossible for a brand that does any of the two listed above to be considered "cruelty-free". Fortunately, Dose of Colors isn't guilty of any of this.
Their production process is friendly towards animals, and they've pledged not to harm animals at any stage.
Are Dose of Colors Products Tested On Animals?
Dose of Colors does not test on animals, and their cruelty-free claim has been verified by some authorities. We assume that they use an alternative non-animal testing method for their end products.
It would have done a lot of good if they had specified what testing method they use currently. Unfortunately, we were left to guess, as we didn't find any testing policy on their site.
All we found was a short claim on their FAQ page.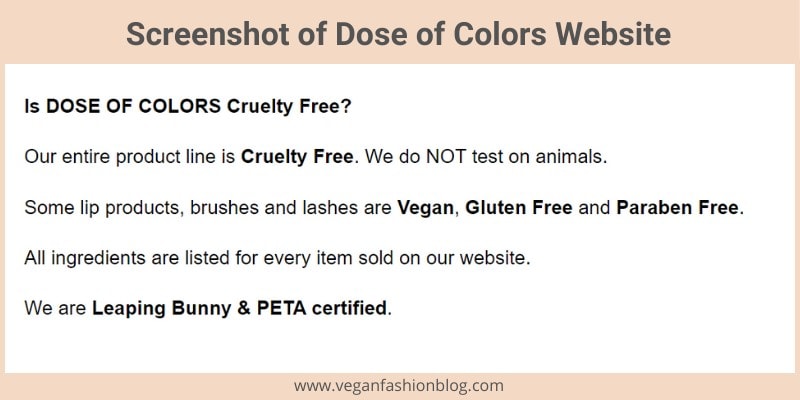 Do They Test Animals When Required By Law?
Some countries require compulsory animal testing for foreign brands that sell there. A familiar example is China, which is notorious for its strict animal testing policy.
Selling your product in China automatically means giving the Chinese authorities the go-ahead to test your products at any point.
Brands who sell in China don't carry out the test by themselves. Instead, they pay third parties to do so on their behalf. Failure to adhere to the law means their products will be taken off the shelf.
Since Dose of Colors doesn't sell in the country, they're not compelled to do so.
Are Dose of Colors Products Sold In China?
No, Dose of Colors is not sold anywhere in China. Their market base isn't as large as brands like Clairol or Maybelline. They're still relatively new in the industry, so their customer reach is still limited.
Currently, their products are largely distributed in the US, the UK, and Canada.
They don't have any physical stores in China, and their products are not listed for sale on other privately owned cosmetics stores in the country.
Here is an image below that shows that they're missing from Sephora's shelf in China.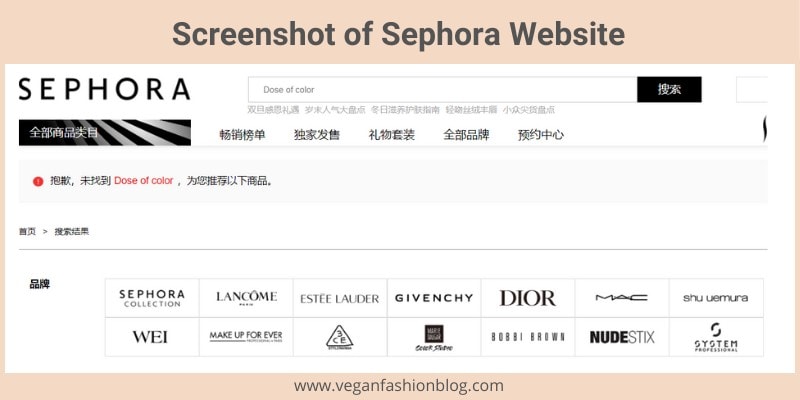 Does Dose of Colors Have Cruelty-Free Certifications?
Dose of Colors has been endorsed by several cruelty-free authorities. PETA considers them to be a brand that "does not test on animals". They also have a seal of approval from Leaping Bunny.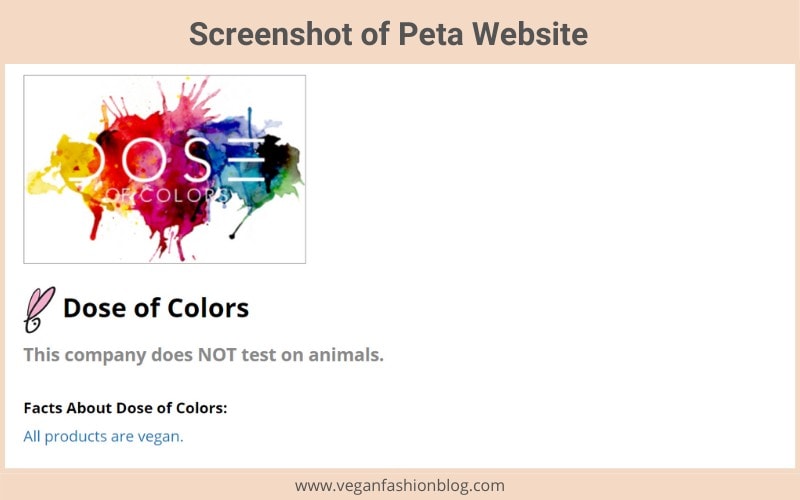 This is an indication that they have completed the CCIC Leaping Bunny program that requires all brands to never test on animals at any stage of their production process.
Before you're approved, the authority also investigates your claim of "cruelty-free" and might withdraw their approval at any point if they discover that a brand tests on animals.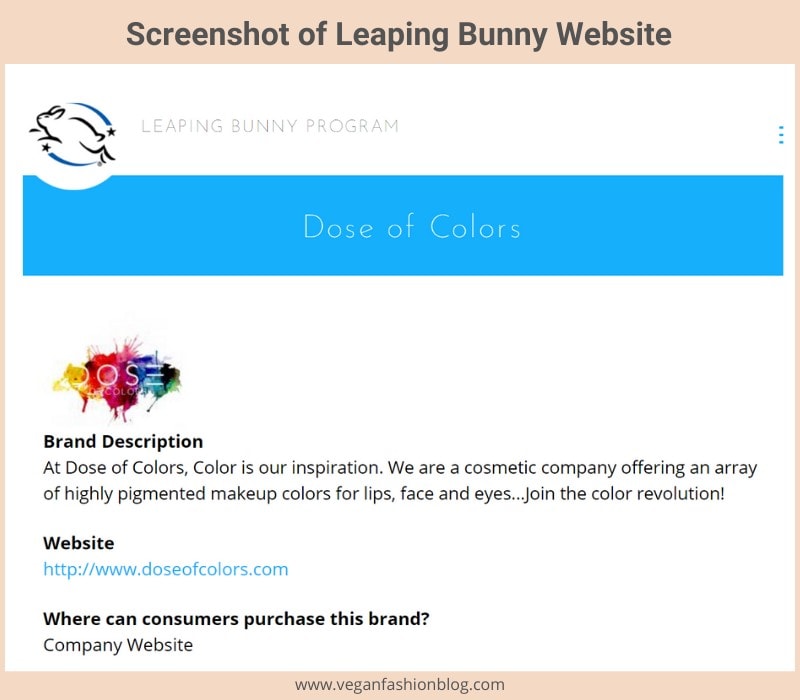 Is Dose of Colors Owned By Another Company?
Dose of Colors isn't owned by another company, and they are not in any form of joint partnership. The brand is owned by Anna Petrosian, and she's done an incredible job over the last few years.
Are Dose of Colors Products Vegan?
Dose of Colors is considered 100% vegan. They do use some animal derivatives in their products, such as beeswax, which leaves some users on the fence.
But here are their certified vegan products that you can purchase with complete peace of mind, knowing full well that they don't contain any harmful ingredients.
Classic Lipstick
Glitter Eyeliners
Highlighter
Bathe
Chasing the Sun
Mírame
Sol Mate
Lip Gloss
Liquid Matte Lipstick
Meet Your Hue Concealer
Meet Your Hue Foundation
Satin Lipstick
Velvet Matte Lipstick
All Makeup Brushes & Lashes are Vegan
Summary
Dose of Colors has excelled in the cosmetics world despite its short stay. Within just 7 years, they've made their way into the kit of top makeup artists.
We love the fact that they're transparent and tried to separate their vegan and non-vegan line to make it easier for customers to make the right choice.