Quick Answer: Is Downy Cruelty-Free and Vegan?
Downy is a subsidiary of P&G, and just as their parent company does, they also test on animals. Downy also uses some animal byproducts. Hence, they're not 100% vegan. You will get more details about the cruelty-free status of the brand as you continue reading below.
Downy is a manufacturer of laundry products based in the US. The brand goes by Lenor in Europe, Russia, and a few parts of Europe.
Downy is owned by P&G, and the brand was launched in 1960. So far, they're available all over the world, including less familiar places like Singapore, Egypt, Canada, Malaysia, and Kenya.
Downy is a major force in the Chinese market, and their fabric softener has become a major favorite for consumers in the area.
Is Downy Cruelty-Free?
Because a brand is owned by a parent company that's not cruelty-free doesn't automatically mean they're not themselves.
Some of these companies might have several brands under them that have an independent policy that allows them not to test on animals.
In the case of P&G, it's a grey area. We can say 90% of their brands do market in China and comply with the country's strict testing law.
Downy is no different. They've failed to meet every requirement that makes a brand cruelty-free.
This includes not selling in China, trading in areas where animal testing is required by law, and hiring a third party to test on their behalf.
For this reason, Downy is out in our league of cruelty-free brands.
Are Downy products Tested on Animals?
Downy has failed to put up a testing policy on their site. The closest they've come is a one-line sentence on their FAQ page, which begs more answers.
For this reason, customers have to judge them with the policy on their parent company's site. We tried our best not to follow that path without researching the brand.

Our research showed that they do involve themselves in animal testing when they sell outside Europe. Specifically, when they sell in China.
To back this claim up, we can show that PETA does categorize them on their database as a brand that tests on animals.
Do they Test Animals when required by the Law?
Since they sell in China, the answer is that they do.
Some brands which originated and manufacture in Europe don't have to carry out animal testing, but to sell in places like China, they have no option than to subscribe to their testing laws.
It's the only way you can get your product to the Chinese market.
Are Downy products sold in China?
A lot of P&G brands sell in China, but we were not going to rush into any assumption that Downy does the same without any evidence.
For that reason, we had to do a little digging and discovered that they do sell in the country. The brand has been selling in the area since 2017.
The brand equally uses Chinese celebrities for commercials when they sell in the area.
Even though they don't have a Chinese site, the clue from what we've gathered so far is that they're available in both online and physical stores in the area.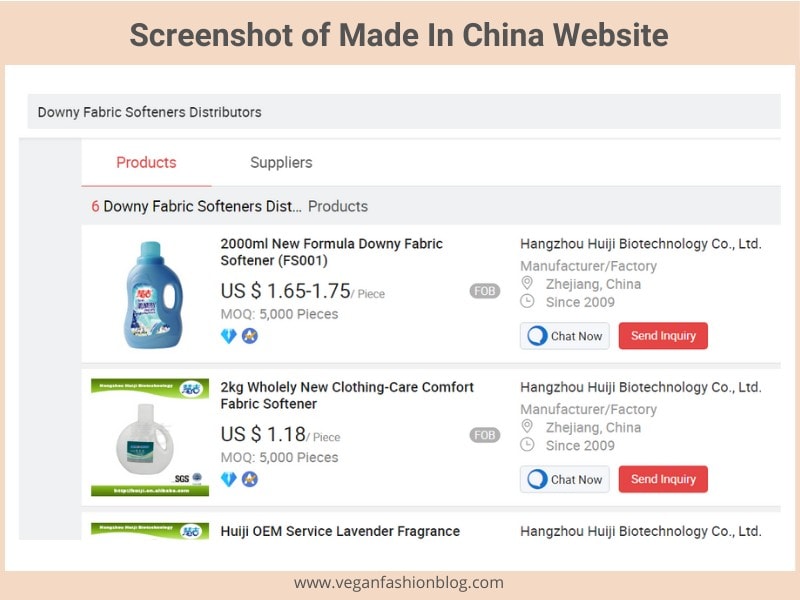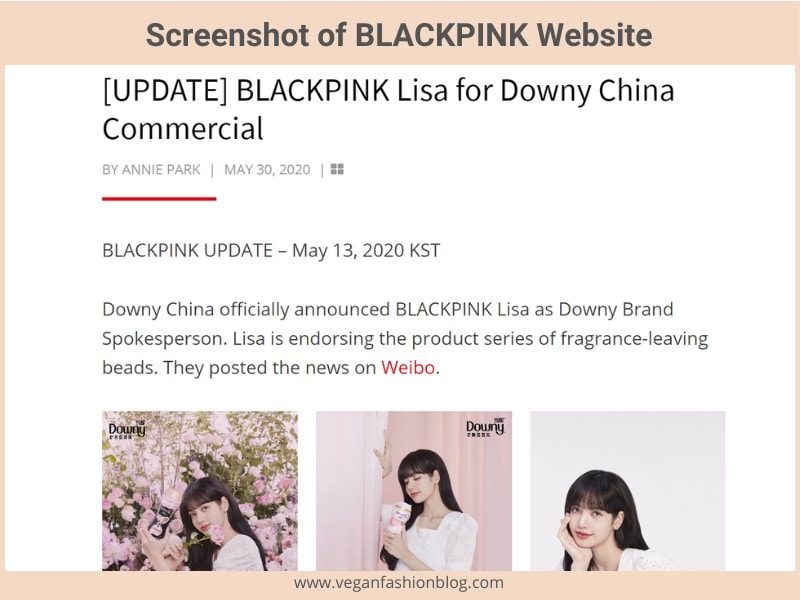 Does Downy have Cruelty free Certifications?
Downy and its parent company, P&G, aren't a friend of these cruelty-free authorities.
A vast majority of P&G subsidiaries are not considered cruelty-free due to their markets in China and their willingness to bend their testing rules when the need arises.
In the case of Downy, we're 100% sure that they're not considered cruelty-free by PETA and international authority, Leaping Bunny.
A lack of certification is always an indication that they've failed to pledge their commitment to adopting non-animal testing in place of animal tests.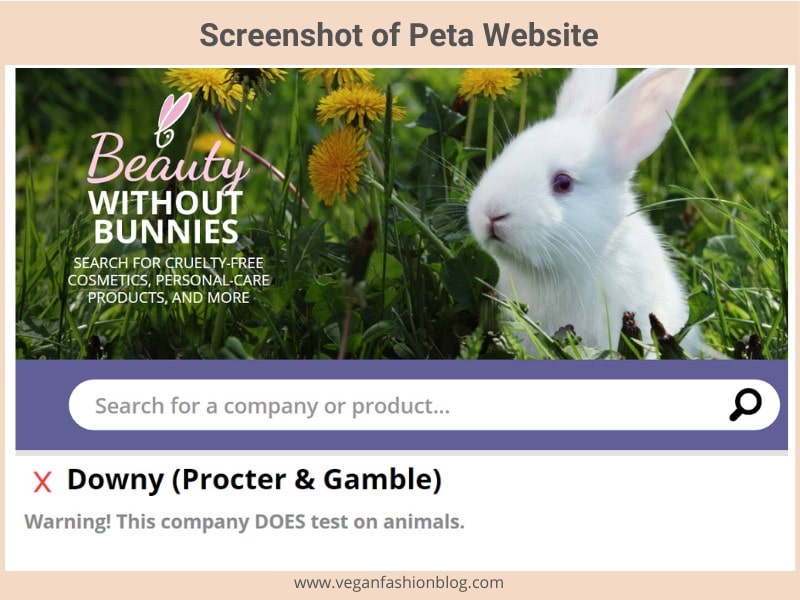 Is Downy Owned by another Company?
Downy is a subsidiary of P&G. P&G has some subsidiaries. This is no surprise given the fact that they've been in the industry for more than a century. P&G was founded in 1837 by James Gamble and William Procter.
They've also spread their wings across several industries during this period. They have brands in the cosmetics, laundry, personal, and healthcare industry.
Some of their most popular subsidiaries known all over the globe include Oral-B, Gillette, Ariel, Olay, and Braun.
Is Downy Products Vegan?
The majority of brands that produce laundry items, especially detergents, do use animal byproducts in their formulation.
It's no surprise that many detergents used today harbor animal-origin ingredients such as stearic acid, which is derived from the fatty cells of animals.
In the case of Downy, the red flag for them is that they don't have a vegan policy and do not claim to be vegan in the first place.
Their ingredient list is thin, and we suspect that they hide some of their formulations from customers. For this reason, we can't consider them vegan.
Summary
Downy's cruelty-free status is up in the air, considering their affiliation with P&G. A certification would have helped to separate them from their parent company if they're cruelty-free.
Fortunately, there are several alternatives to Downy, and these alternatives are cruelty-free as well. This includes ECOS and Mrs. Meyers.