Quick Answer: Is Dr. Alkaitis Cruelty-Free and Vegan?
Dr. Alkaitis is cruelty-free and 100% vegan. This is because they don't carry out any form of animal testing at any stage of their production process. Their products are made from plant derivatives and are sourced from the field directly.
Dr. Alkaitis is a high-quality beauty brand based in the US. The company was founded in 1996 and their motto is, "If you can't eat it, don't put it on your skin."
This indicates the foundation on which the company was built. It also reflects in their mostly organic ingredient list. Their catalog consists of face masks, serum, cleansers, and treatment oil.
Is Dr. Alkaitis Cruelty-Free?
Dr. Alkaitis does have a seal of approval from PETA. However, PETA's certification isn't quite convincing nowadays, considering the whole saga with Wet n Wild.
For that reason, top review sites such as ours came up with a checklist that helps us identify a cruelty-free brand.
Our requirements include the following:
A cruelty-free brand must not test their products on animals or finance the tests
They must not sell in countries that require animal testing by law
They must not sell in China
Fortunately, Dr. Alkaitis meets all these requirements. This, in addition to PETA's certification, is a huge plus. Hence, we've added them to our list of cruelty-free brands.
Are Dr. Alkaitis Products Tested On Animals?
Dr. Alkaitis maintains that they do not test their final products on animals. They claim to use alternative non-animal procedures to test their final products.
Although they failed to specify what that alternative method is, our guess that they use human volunteers.
Consumers always want to hear from the horse's mouth when it comes to their cruelty status. Not having an animal testing policy is a red flag that will arouse a lot of suspicions.
Even though it's been confirmed that Dr. Alkaitis is cruelty-free, it won't hurt for them to publish a comprehensive animal testing policy to put all doubts to bed.
Do They Test On Animals When Required By Law?
To answer this question, the president of top review site Ethical Bunny enquired via email. Some of the questions asked were if they sell in China and if they test on animals when required by law. Look at the image below to see their response.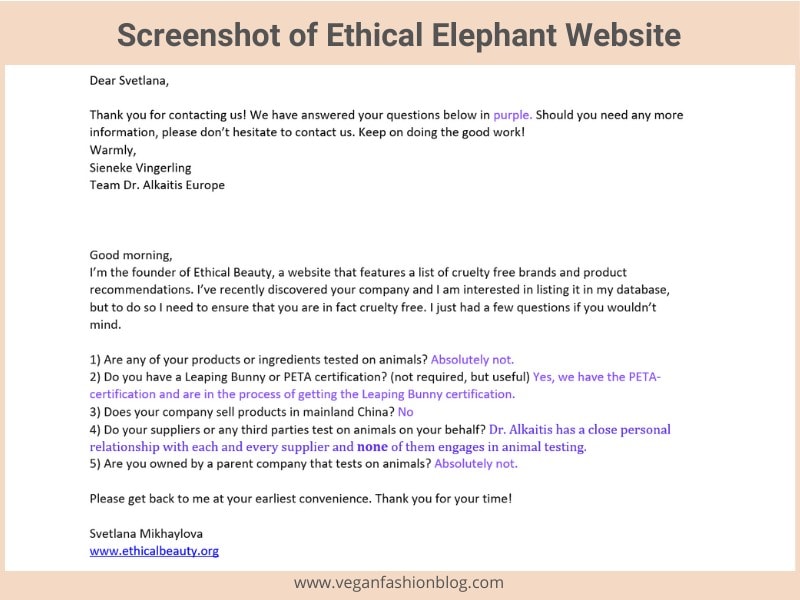 Most of the questions returned with a negative response. With this, we can confirm that they don't carry out testing when required by law.
To prove this fact, you will observe that their products are mostly absent in countries with strict testing laws, such as China.
Are Dr. Alkaitis Products Sold In China?
No, Dr. Alkaitis is not sold anywhere in China. We took a stroll through several Chinese portals, and they were not listed for sale on any of them. They do not have a store in any physical location in the country.
This is partly due to the strict testing policy in the country, as well as their customer base being centralized in Europe.
Does Dr. Alkaitis Have Cruelty-Free Certifications?
Dr. Alkaitis is certified by PETA. We searched through their database and discovered that they are listed on PETA's site as a brand that "does not test on animals".
It remains unclear whether they've attained a certification from Leaping Bunny.
The previous response indicated that the plan was in process, but there has been no confirmation whether they got it or not.
Since their brand doesn't feature Leaping Bunny's logo, we assume that they have not completed the CCIC program.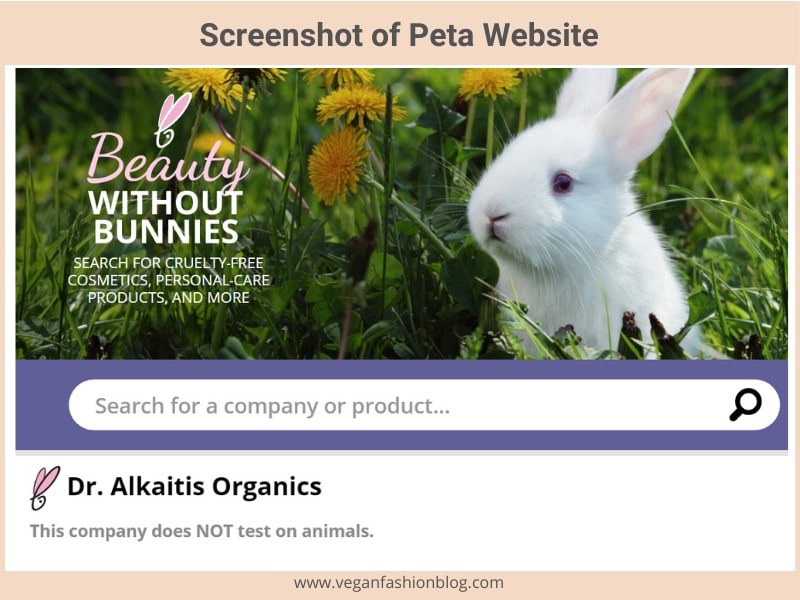 Is Dr. Alkaitis Owned By Another Company?
Dr. Alkaitis isn't owned by another company, nor are they in any form of joint partnership. The brand is 100% independent and cruelty-free.
Are Dr. Alkaitis Products Vegan?
We can say that 90% of their product line is vegan. The only exception is the Love Your Lips treatment, which happens to contain beeswax.
A majority of Dr. Alkaitis products feature naturally acquired mushrooms. It's widely believed that it can improve the skin's hemostatic.

What makes this brand different from the rest is that its ingredients are carefully selected and examined. They do not partner with suppliers whose ingredients are tested on animals.
Also, they ensure they pick up most of their plant-based ingredients during their harvest season. This way, they're able to get the best quality.
Listed below are some of their vegan products:
Organic purifying facial cleanser
Organic herbal toner
Organic soothing gel
Organic nourishing treatment oil
Face makeup remover
Organic facial mask
Organic beautifying mask
Summary
Most of their products are organic, and the ingredients are sourced from plants. This means they're harvested from the field and utilized in their raw form.
This way, they're never heated beyond the ideal temperature that will be suitable for the body.