Quick Answer: Is Dragun Beauty Cruelty-Free and Vegan?
Dragun Beauty is cruelty-free and 100% vegan. Cruelty-free products are known to be void of products of animal origin and/or animal by-products. Dragun's products are PETA (People for the Ethical Treatment of Animals) certified and are not sold in China.
Dragun Beauty is a very new makeup brand from Nikita Dragun, a YouTuber. The brand is unique because it is a trans-owned beauty brand for all genders, shapes, and sizes.
The brand is located in Los Angeles. Its products are meant to make consumers feel safe and allow them to be themselves.
When the brand was launched, it almost sold out instantly due to the influencer's transformative beauty tutorials.
Some benefits of the products include concealing facial hair, creating round feminine faces, removal of blemishes and discoloration, and concealing dark circles under the eyes.
The majority of our readers have been wondering whether or not Dragun Beauty is cruelty-free and vegan. We have analyzed the company and its products in detail. Read on to learn more.
Is Dragun Beauty Cruelty-Free?
Some criteria must be met by companies to determine their status of being cruelty-free or not. We will assess Dragun Beauty to see if they comply with the criteria listed below.
All ingredients and manufactured products should not be tested on animals
Testing of products/ingredients should not be carried out on animals even when required by law
No manufactured products of a company should be sold in China
Are Dragun Beauty Products Tested On Animals?
No, these products are not tested on animals. This brand is on PETA's list of companies that do not test on animals.
All the brand's products are certified as vegan, and they work hand in hand with their suppliers to ensure that their ingredients are not tested on animals.

Do They Test Animals When Required By Law?
It is not stated or mentioned on their website if they carry out tests on animals when required by law. Based on their policy of not testing on animals, we believe that they do not test on animals even when required by law.
Are Dragun Beauty Products Sold In China?
Dragun Beauty products are not sold in China, where tests are carried out on animals. China insists on mandatory testing of imported products on animals, even if the company does not test on animals.
We looked at some websites where China sells products online, but Dragun Beauty products were not seen on any of them, including alibaba.com.
Does Dragun Beauty Have Cruelty-Free Certifications?
Yes, Dragun Beauty has cruelty-free certification from PETA. Their products also have PETA's logo, implying that they are certified cruelty-free.
The brand can be seen on PETA's list of brands that do not carry out tests on animals. This creates opportunities for vegans to use this product and feel transformed.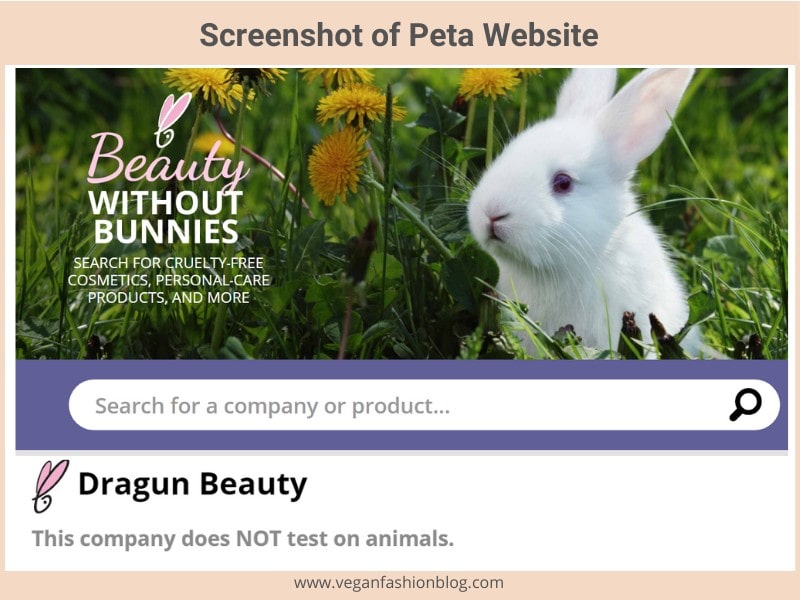 Is Dragun Beauty Owned By Another Company?
No. Dragun Beauty is not owned by another company. It is owned by an Asian-American YouTuber who shared her story of being transgender.
She is an influential voice for the transgender community worldwide. The product label was launched in March 2019.
She graduated with a degree in beauty business and marketing, after which she was able to use her assignments and studies to further her work on Dragun Beauty.
The company was first launched with two products. These were the Dragunheart transformation face powder and Dragunfire skin perfection portion for all skin tones.
The brand's products all come encased in a plastic dragon egg that appeals to her customers. The brand empowers people to transform, brighten, and correct skin tones, enabling consumers to love themselves.
Is Dragun Beauty Vegan?
Yes, Dragun Beauty is 100% vegan. Vegan products are defined as having no ingredients or products that contain animals and/or their by-products.
This applies to this brand, as its products are certified cruelty-free by PETA, all the way from the ingredients to the finished products.
Below is a list of vegan products from Dragun Beauty.
Dragunheart transformation face powder (brighten and blur)
Face palette (contour, blush, and highlight pressed powder)
Dragunglass full fantasy matte liquid lip bundle
Lip job full fantasy (lip contour bundle)
Dragunfire full fantasy skin-perfecting proton bundle
Dragunglass 3 – way liquid lip minis
Summary
Dragun Beauty acts as a transformative product that people need and is specifically designed to meet the needs of not only transgender consumers but all consumers.
Their products are easy to use, with directions on effective ways to produce the best results when applied. This brand tends to brighten and transform everyone who uses it.
New products are anticipated from the young brand, as it has proven to be a hit with all ardent beauty lovers.
The brand has also gained a reputation for having highly innovative and unique products in the beauty market. Most importantly, it is definitely cruelty-free and vegan.