Is Drunk Elephant Cruelty-Free and Vegan?
Drunk Elephant is cruelty-free but not 100% vegan. While they do not test on animals or source from suppliers who test on animals, not all of their products are free from animal derivatives.
Drunk Elephant is a cosmetic and beauty brand based in Texas, USA. The brand was founded in 2012 by Tiffany Masterson. Later in 2019, the Drunk Elephant brand was acquired by Shiseido.
The items in Drunk Elephant's product line include face cleansers, serum, facial oils, and other skincare products.
Before the deal with Shiseido, Drunk Elephant sold its products in the United States, Canada, and different parts of Europe. However, with this new deal, the brand is introducing its products into mainland China.
Is Drunk Elephant Cruelty-Free?
Drunk Elephant claims that animal testing is something they would never do. They claim to be a clean beauty brand, meaning that they only use products that benefit the user's skin and the environment.
However, there is no claim from Drunk Elephant that they don't use animal derivatives in making their products.
Before we add brands to our list of cruelty-free companies, we do our research. For a brand to qualify to be on our list, it must meet these 2 requirements.
The brand doesn't carry out animal testing – This means that none of the brand's products were tested on animals.
This could be either while the product was being made or after its completion. It also means that the brand does not finance a third party to carry out animal testing.
The brand does not sell in countries that require animal testing by law. Neither should they work with suppliers that test on animals.
Does Drunk Elephant Meet These Requirements?
Drunk Elephant avoids animal testing. However, considering its deal with Shiseido, the brand has now extended operations to China and now sells there. Does this dismiss Drunk Elephant as a cruelty-free brand? Not at all.
This image screenshot from the Drunk Elephant website perfectly explains the company's stand on animal cruelty, even though it sells its products in China.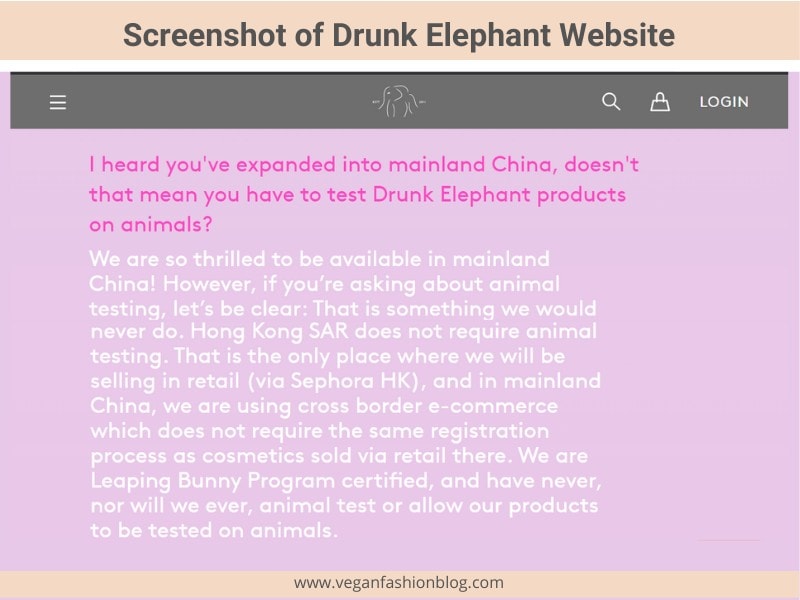 Are Drunk Elephant Products Tested On Animals?
No, Drunk Elephant does not test its products on animals. They are termed as a clean company and are committed to creating products that employ no use of animal cruelty.
The brand also makes sure not to work with any suppliers that perform tests on animals.
Do They Test On Animals When Required By Law?
No, Drunk Elephant doesn't use third parties to test its products. Many countries around the world make it compulsory for brands to test on animals before they can sell to their citizens.
A brand that wants to sell in such a country would normally have to carry out animal testing per the law.
One such country is China. Although Drunk Elephant sells in China, it still does not test on animals.
Are Drunk Elephant Products Sold In China?
Yes, Drunk Elephant sells its products in China. Ever since it was acquired by Chinese conglomerate Shiseido, Drunk Elephant has had to extend its product line to China.
How does the brand stay cruelty-free even though it sells in China, though? First off, the brand only sells in Hong Kong SAR, where there is no need to conduct animal testing even when selling from a retail store.
For other parts of China, the brand uses cross-border e-commerce, which does not require any testing – unlike retail stores in mainland China.
Aside from selling in China, Drunk Elephant also sells in the United States and across Europe.
Does Drunk Elephant Have Cruelty-Free Certifications?
Yes, Drunk Elephant has certifications from cruelty-free organizations. Although they are missing one from PETA, the brand has a certification from Leaping Bunny.
This certification goes to show the brand's commitment to being cruelty-free.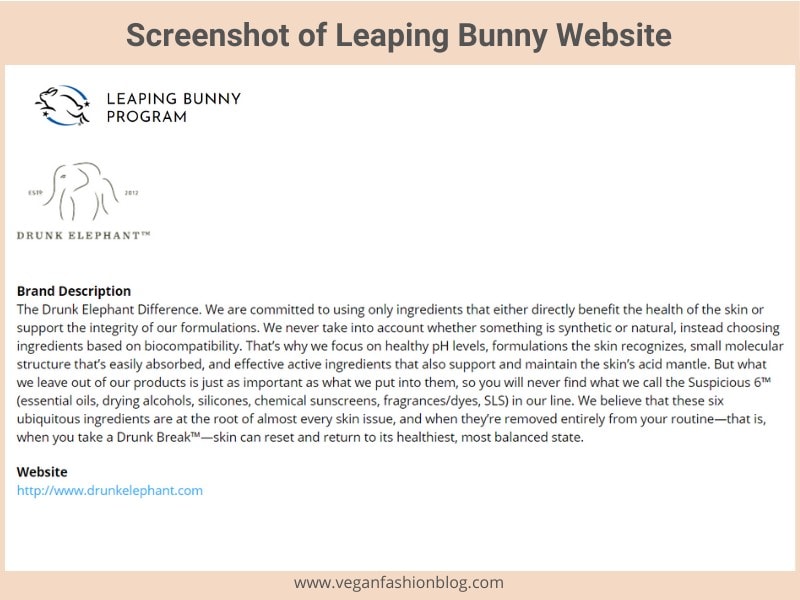 Is Drunk Elephant Owned By Another Company?
Drunk Elephant has a parent brand. The brand was acquired in 2019 in a deal that was almost worth a billion dollars.
Shiseido is the name of the company that acquired Drunk Elephant. They are a Chinese-based business with subsidiaries all over the world.
Are Drunk Elephant Products Vegan?
Drunk Elephant is not entirely vegan-friendly. They make some products that contain some form of beeswax and seashell derivatives.
Despite this, they still have an impressive lineup of vegan products that do wonders for the skin.
For easy identification, the vegan products are labeled as so.
Summary
Drunk Elephant is not new and is one of the biggest skincare brands in the world. Being acquired by Shiseido shows proof of this. The brand does all it can to remain cruelty-free.
This means that they do not test on animals, even though they sell in China.
They sell only online in mainland China (where items sold in retail stores need to be animal tested) and in Sephora's store in Hong Kong (where no form of animal testing is required).