Quick Answer: Is EOS Cruelty-Free and Vegan?
EOS is not cruelty-free because its products are sold in Mainland China. China has mandatory animal testing performed on imported cosmetics. It is not a 100% vegan brand but some products are vegan.
EOS, U.S. Evolution of Smooth (more commonly known as EOS) beauty and skincare company was founded in 2006 by Jonathan Teller and Sanjiv Mehra.
It launched with shaving cream but is best known for its moisturizing, colorful egg-shaped spherical lip balms. The brand also makes a variety of lotions.
The company is based in New York City but has offices in London, Berlin, Shanghai, Mexico City, and Stockholm.
As of 2019, it employed about 150 people. It has not operated without controversy – in 2015, one of its rivals, Oralabs, settled out of court and agreed to stop producing their copy-cat spherical lip balm.
And in 2017, the Kind Group (the holding company of EOS) settled a class-action lawsuit claiming the EOS lip balm caused reactions including rashes and blisters around the lips.
The big question many of our readers want answers to, though, is whether the brand is cruelty-free and vegan.
Is EOS cruelty-free and vegan? Keep reading to find out the details.
Is EOS Cruelty-Free?
Cruelty-free is defined differently by different organizations and individuals. It is not a legally binding term, unfortunately. So what do we regard as cruelty-free?
Well, for the EOS brand to be considered as cruelty-free, it needs to satisfy these criteria:
None of the products should be tested on animals
They should not test on animals even when required by law
The products should not be sold in China
Are EOS products tested on Animals?
On its website, EOS claims not to test on animals or ask anyone to do it on its behalf. It does not, however, enforce that its suppliers do not test on animals.
In email correspondence, it replied that it was not aware of suppliers testing on animals.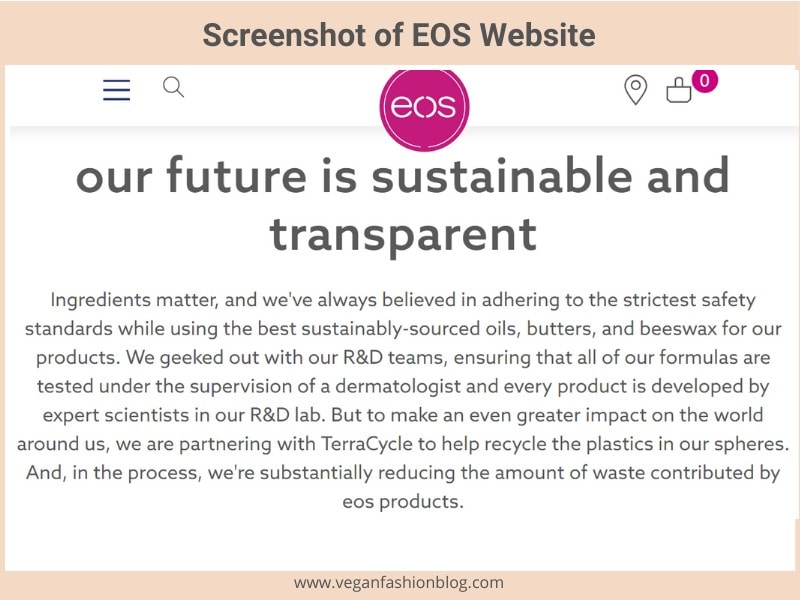 Do they test Animals when required by Law? Or use a Third party?
EOS doesn't respond to this publically apart from what is highlighted above.
Are EOS products sold in China?
EOS is sold in Mainland China, where mandatory tests on animals for all imported cosmetics are still required by law.
The only exception to this regulation is online purchases – where imported goods are delivered directly to the consumer.
Therefore, any brand currently selling through retail outlets in China is not cruelty-free. Domestic cosmetics are not required to undergo animal testing, but it is not clear that EOS manufactures in China.
To break into the Asian market, EOS partnered with pop sensation Taylor Swift, who has a massive following in China.
The star featured in a series of original content alongside the brand in China, Hong Kong, and Taiwan leading up to her 2015 Asian tour.
Does EOS have Cruelty-free Accreditations or Certifications?
EOS does not have any official cruelty-free status.
Is EOS owned by another Company?
No, EOS is owned by its founders through The Kind Group.
What is EOS's Animal Testing Policy?
EOS has not published an animal testing policy.
Is EOS Vegan?
To qualify as vegan, EOS products must not contain any animal parts or anything derived from animals. We have assessed the brand's products based on this definition.
Not all of EOS's product ingredients are vegan. Some of them contain animal derivatives such as beeswax. EOS does not have any vegan certifications.

As per the company's website:
EOS Crystal lip balms, as well as EOS Shave Creams, Hand and Body Lotions, do not contain animal products and are vegan.
EOS Organic, Visibly Soft, Active, Medicated, and Shimmer lip balms are not vegan because they contain beeswax but do not contain any other animal products.
All EOS Aqua products are vegan except the Exfoliating Lip Scrub and Deep Hydration Lip Mask, which contain beeswax, but no other animal products.
What else should we know about EOS?
EOS products are paraben-free, petrolatum-free, gluten-free, and free of mineral oils. EOS supports sustainable Shea butter production and launched its Shea Butter Sustainability Program in Burkina Faso in 2019.
EOS is a signatory to the Civic Alliance campaign for U.S. democracy in the 2020 elections.
Summary
EOS is a conscientious brand that looks to be well on its way to being fully cruelty-free and vegan. If you like EOS products, be selective.
You can help speed up the journey by respectfully making contact with the company and telling them how important it is to you to buy products that are fully cruelty-free and vegan.