Quick Answer: Is Erno Laszlo Cruelty-Free and Vegan?
Erno Laszlo is not a cruelty-free brand even though they've argued continuously that they don't test on animals or use suppliers who carry out animal testing. The brand doesn't self-promote as a vegan brand; hence, we don't believe they're one. Continue reading below to find more details about this brand as well as their testing policy.
Erno Laszlo is the name of the founder of the brand. Erno Laszlo was a Hungarian dermatologist who majored in skin pathology.
He was known for coming up with impressive solutions that cured the acne-prone faces of celebrities in Hollywood.
However, his products shot into prominence after his formulation was able to vanish the scar on a young lady inflicted by her ex-lover.
Erno Laszlo products are said to be the secret to the late actress Marilyn Monroe's natural glow while she was on screen.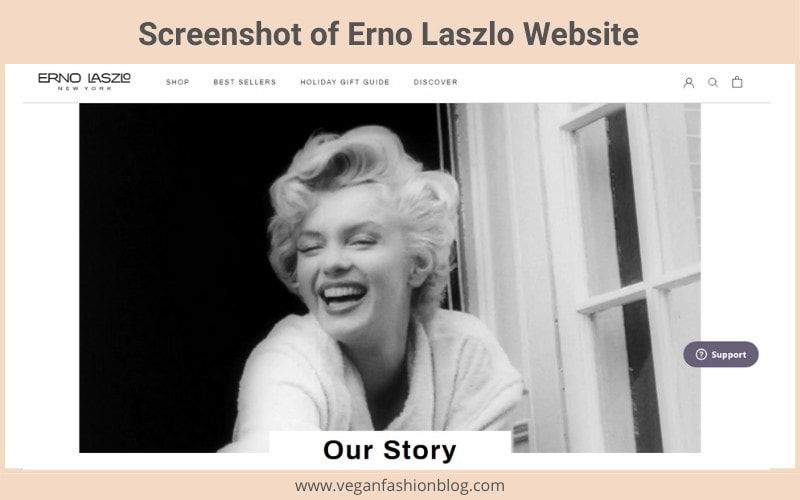 Erno Laszlo officially became a brand in 1927, and they operated from New York. Today, Erno Laszlo cosmetics is the #1 choice of celebrities in Hollywood. They distribute to several countries in Europe and Asia.
Their products are on the high-end, but they're effective against skin blemishes such as acne, scar, and aging effects like wrinkles or dark circles. Their catalog includes a face mask, serum, and lotion.
Is Erno Laszlo Cruelty-Free?
Erno Laszlo claims they've never tested their formulation on animals. Well, even with such claims published on their site, we still didn't add them to our list of cruelty-free brands for the following reasons:
The brand sells in China
They let third-parties and government authorities carry out animal-testing on their behalf
They don't have any certification from PETA or Leaping Bunny
For this reason, Erno Laszlo is not cruelty-free.
Are Erno Laszlo products tested on Animals?
Erno Laszlo, as at the time of writing, does not have a comprehensive animal testing policy. However, they did provide some answers about their cruelty-free status in a fraction of their FAQ session, and here's what they have to say.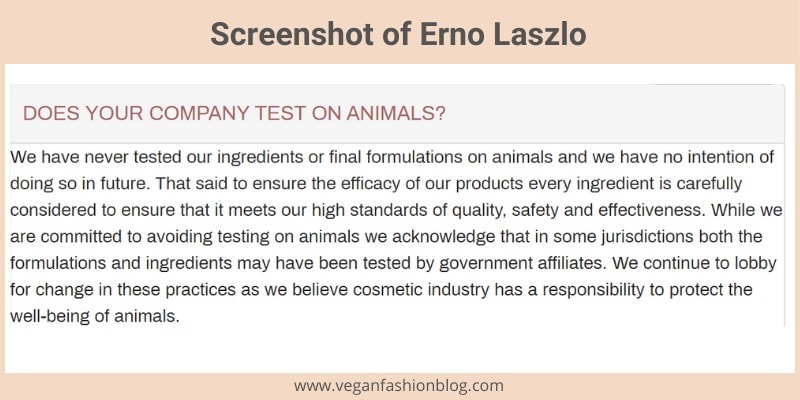 Alright. We love the fact that they acknowledged that their products might undergo tests from government authorities.
However, that fact alone implies that the brand sells in countries where animal testing is required by law; hence, they're not cruelty-free.
Do they test Animals when required by the Law?
Erno Laszlo maintains in their FAQ session that they don't test their product on animals but do admit that some of their formulations have undergone third-party testing from government authorities.
This is a clue that they test when required by law.
When the brand sells in Europe, they use alternative non-animal testing procedures. According to them, human volunteers are used to testing the safety of their items.

Are Erno Laszlo products sold in China?
We did a little digging and discovered that the brand has been selling in China since 2014.
Their products are listed in cosmetic stores in China, especially around Shanghai and Shanxi. It seems the products are also sold in online stores.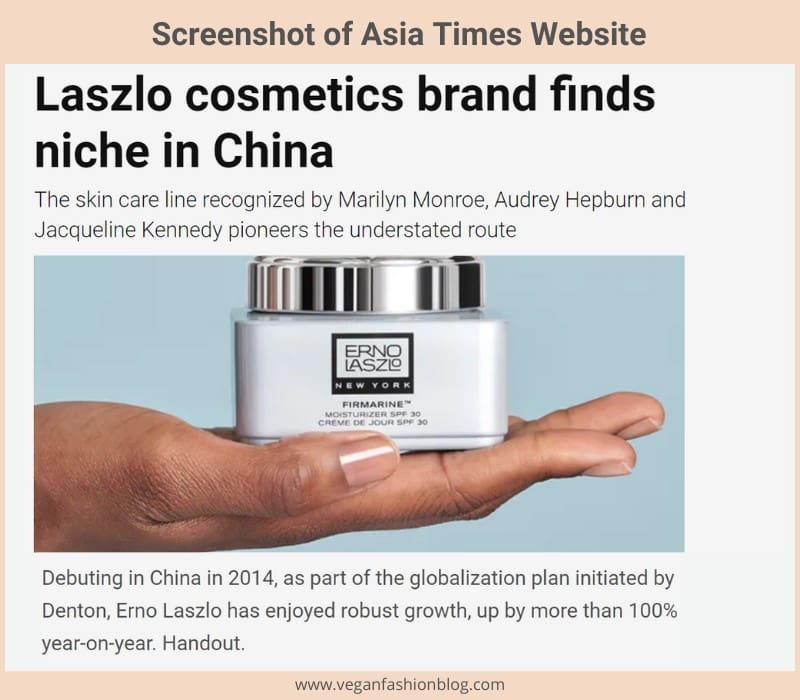 Does Erno Laszlo have Cruelty free Certifications?
It's a surprise that despite spending almost a century in the cosmetic world, this brand is still not recognized on both PETA and Leaping Bunny's database.
They've not taken part in any of their cruelty-free programs. This is a big red flag for us and more reason why we can't add them to our database of cruelty-free brands.
Is Erno Laszlo Owned by another company?
Erno Laszlo has had some changes in ownership since the original owner died years back. The brand was first acquired by Fox Paine of Cradle holding in 2002 before selling to Charles Denton in 2011.
Is Erno Laszlo Products Vegan?
Erno Laszlo does use clean ingredients in its formulation. It's the only reason why they've been able to eliminate 51 potentially harmful ingredients like paraben from their formulation.
The flip side, however, is that they've failed to state whether their products contain animal derivatives or not.
Without any clarification, we can't confirm that they're vegan. Also, their products don't display vegan seals. Hence, it's safe to say they're not vegan-friendly.
Summary
Erno Laszlo products undoubtedly work for the purpose they're meant for, but they're not vegan-friendly.
They've failed to give more details about their formulation apart from saying they're free from harmful toxins such as parabens.