Quick Answer: Is Escada Cruelty-Free and Vegan?
Escada is not a cruelty-free brand and not vegan either. They feature on PETA's list of brands that test on animals and have been caught using animal fur on their products in the past. Continue reading below to find out more about this brand.
Escada is a Spanish word that somehow translates to elegance. The brand was founded by Margaretha and Wolfgang Ley in 1978. Escada's product line comprises fashion items like bags, jewelry, eyewear, footwear, and fragrances.
It operates in 80 countries, including America, Europe, and Asia. They have up to a thousand sales locations all over the world.
Escada is based in Munich and is owned by Regent. L.P, a company owned by German businessman Micheal Reinstein.
Is Escada Cruelty-Free?
There are so many criteria that make us believe that Escada is not cruelty-free.
A cruelty-free brand by every standard must not test on animals, use third-parties to test their formulation, or sell in countries with compulsory testing policy.
Escada has failed to adhere to any of this. The brand does sell in China, and as such, we can't add them to our list of cruelty-free brands.
Are Escada products tested on Animals?
Just so you know, Escada fragrance is produced by Coty. As such, you would expect some of Coty's policies to equally rub off on them. We do know that their perfumes undergo animal testing since they're sold in China.
For other items distributed by Regent L.P, there is no clarification from that end, but we do have evidence that shows that they sell in China. As such, our guess is that they undergo animal testing as well.
Do they test Animals when required by the Law?
All brands that sell in China are required to carry out animal testing before their products are allowed for sale in the country. Any foreign brand that sells in the area has no means of bypassing this law.
This is why Olay, Calvin Klein, and entire multinational corporations like Coty are not considered cruelty-free.
Since Escada follows this path, they're not cruelty-free.
Are Escada products sold in China?
Escada has a wide market reach, and they're present in 80 countries across 1000 store locations. We know that they do distribute to some parts of Asia, especially Tokyo.
Considering their market reach, most people are quick to say they sell in China, but we're not one to jump to such a conclusion without evidence.
We looked through their distribution page, and China was missing. We couldn't find them listed on popular retail stores like Alibaba. They don't also have a Chinese site.
However, we did stumble on an interview their past CEO – Bruno Salzer, had with Fashion Network UK in 2012, and here was the answer he gave when questioned about selling in China.

That's a long time ago, but the brand didn't deny the claim at any point even now. Hence, we have every reason to believe they sell in China.
Does Escada have Cruelty free Certifications?
Given the lack of substantial information about their testing policy, we would be surprised if they made it into Leaping Bunny's good books.
Well, they didn't, and the same applies to PETA. They're on PETA's blacklist which consists of brands that test on animals.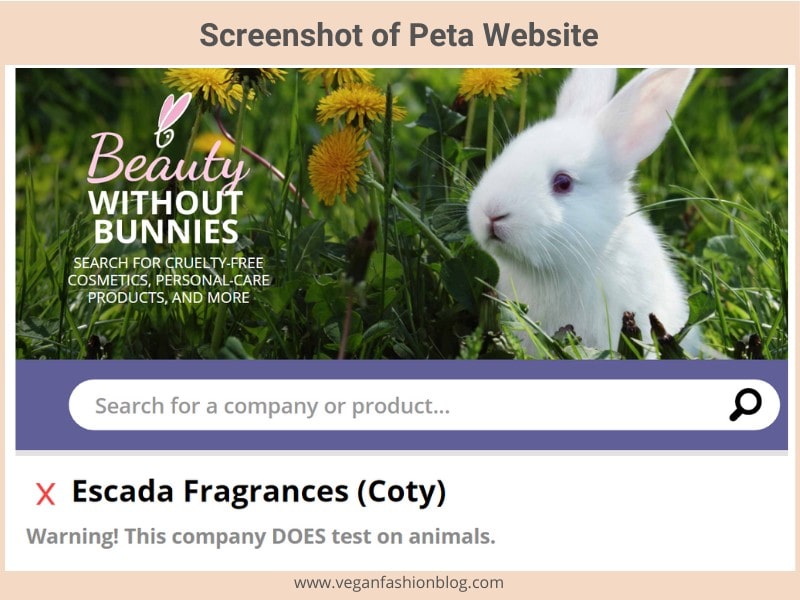 Is Escada Owned by another Company?
Escada is owned by a German company called Regent L.P. Regent L.P acquired the brand from Meghan Mittal, who had previously acquired it from its original owners.
Is Escada Products Vegan?
Escada has had a long history of using fur and other animal byproducts in their production.
Back in 2007, they found themselves at loggerheads with several authorities, including the Global Network Against The Fur Industry, for their excessive use of fur.
There were petitions from several people in 14 countries, all trying to prevent the brand from selling and using fur.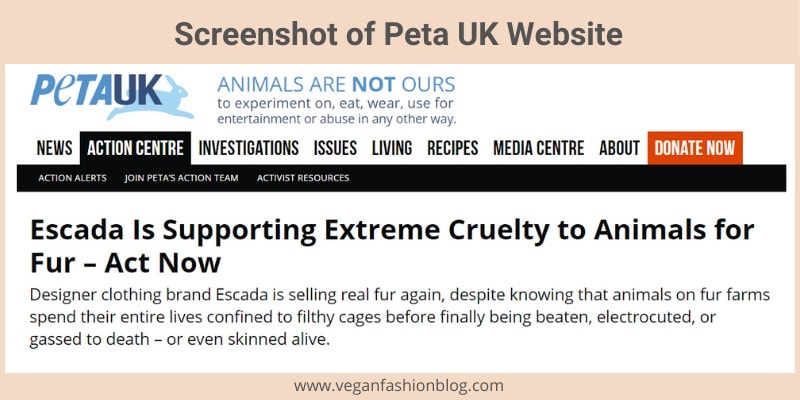 In 2011, Escada announced that they were embracing a fur-less approach, which was well received by the vegan community. However, the question on everyone's lips is, do they use animal-derivatives in 2020?
Well, it seems they've gone back in their words judging by the call out by PETA sometime ago. In terms of their clothing line, the only product the brand claims to be vegan is the feminine vegan down jacket.
Their fragrance, on the other hand, does not make the cut.
Summary
Escada is another one that withholds information. The brand appears to be more of production and distribution than feeding buyers in on what goes on in the company.
We don't trust such brands, and we advise you shouldn't either.