Quick Answer: Is Farmacy Cruelty-Free and Vegan?
Farmacy is an American-based skincare and beauty company that is dedicated to providing ethically made products that are both cruelty-free and largely vegan-friendly. None of their products are tested on animals, which is compliant with the EU animal testing ban. Also, all but one line of their products are vegan-friendly, as per their own claims.
Farmacy is based in the US, and it has two main farms – one in southern California and another in northeast Brazil.
Like other beauty product manufacturers, they are dedicated to providing healthy, alternative beauty products for those who are vegan, gluten-intolerant, and prefer cruelty-free products.
The brand was founded by Mark Veeder and launched at Sephora in 2015.
Many of our readers are curious about whether or not they are genuinely cruelty-free and vegan-friendly, so we've done some digging and researched their products to see whether they are telling the truth.
If you're wondering for yourself as to whether or not Farmacy Beauty is cruelty-free and vegan, then keep reading to see our analysis.
Is Farmacy Beauty Cruelty-Free?
To be considered cruelty-free, a brand or company needs to meet three criteria. These are:
None of their products are to be tested on animals. This is quite self-explanatory, as to test any product or ingredient on an animal immediately renders the company as not cruelty-free.
A trickier criterion for companies to meet is not to have any of their products tested on animals, even when required by law.
This is a test of the company's ethical values, as a company that genuinely values being cruelty-free will not operate and deal with countries that require this practice.
Finally, the brand's products must not be sold in China.
This fits with the previous point, as China requires any products that are manufactured out of the country and that may be imported to be tested on animals beforehand.
Should a company sell its products in China, they are not cruelty-free.
Are Farmacy Beauty's Products Tested On Animals?
Under their FAQ section, one of the frequently asked questions is whether or not they test on animals. They claim that none of their products or ingredients are tested on animals and that they are compliant with the EU's animal testing ban.

As per this ban, they are entirely cruelty-free, so there is no fine print or technicalities that they exploit, nor do they allow third parties to test their products.

Do They Test On Animals When Required By Law Or Use Third Parties?
As per the above policy, not even third parties can test their products. This extends to a country's laws, as they do not sell or deal with countries that require animal testing.
Are Farmacy Beauty Products Sold In China?
Farmacy does not sell any of it's products in China.
Does Farmacy Beauty Have Cruelty-Free Accreditation Or Certifications?
Farmacy Beauty is not certified by any cruelty-free organizations.
Is Farmacy Beauty Vegan?
Before we look at Farmacy Beauty, let us first clarify the definition of veganism that we will be assessing and judging their products by.
For the purpose of this analysis, a product will be deemed vegan-friendly when there are no animal parts, products, or by-products used in the manufacturing of Farmacy Beauty's products.
Now, let us turn our attention to their actual products. As per their own mentioning, all but one line of Farmacy Beauty products are vegan-friendly.
This product line is their honey-based products, which include but aren't limited to the Honey Halo, Honey Potion, Honey Drop, and Honey Butter.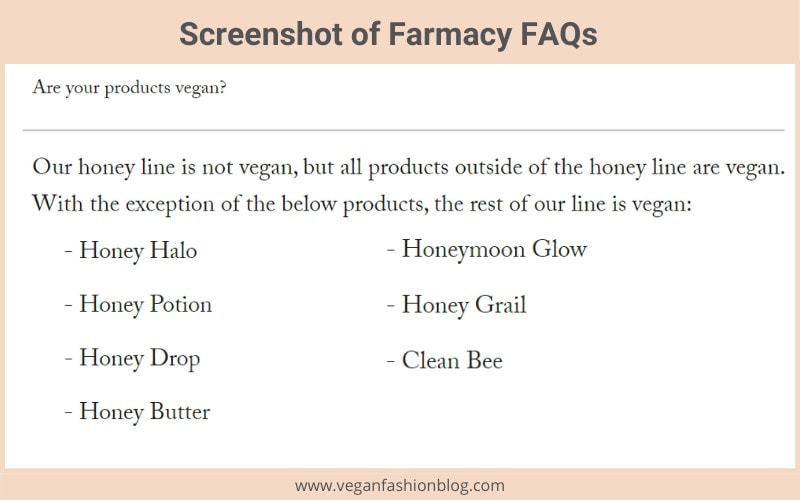 It is also worth mentioning that they do not have any certifications verifying that they are indeed vegan-friendly. They only have their word to confirm this.
As we stated earlier, all of their products are vegan-friendly, aside from their range of honey products. This includes everything from creams and face washes to cleansers and masks.
Therefore, we shall instead list the products that ARE NOT vegan-friendly in the interest of time.
Honey Halo
Honey Potion
Honey Drop
Honey Butter
Honeymoon Glow
Honey Grail
Clean Bee
Summary
To give a quick summary of our review of Farmacy Beauty, we can tell you that they are 100% cruelty-free and mostly vegan-friendly.
None of their products are tested on animals, nor do they allow them to be tested by third parties. They also do not sell any of their products in China.
Most of their products are vegan-friendly, with only one range of items that are not. Be aware that they have not had any third-party certifications to verify this, but as this company has been operating for some years now, you can be sure that they are at least loyal to their word.