Quick Answer: Is Farsali Cruelty-free and Vegan?
Yes, Farsali is a 100% vegan and cruelty-free brand that doesn't test on animals. The skincare making company doesn't sell in countries where foreign brands are required to do animal testing, and it is not owned by any parent company that does animal testing. However, according to the brand, Farsali is not yet approved by leading cruelty-free certification organizations, PETA and Leaping Bunny.
Farsali was founded in 2014 by Farah Dhukai, a beauty blogger of Indian descent. While Farah is based in Toronto, Farsali also produces its products from this provincial capital of Canada.
Farsali is not owned by any parent company which may be conducting animal testing.
A lot of our readers have expressed interest in knowing whether Farsali is an animal testing company or not. Continue reading to find out.
Is Farsali Cruelty-Free?
Since Farsali sells internationally, many would like to know if it sells to China, and, therefore, tests on animals, as required by the country's law. Also, many would like to know if Farsali is vegan.
To see if a skincare and beauty product making company is cruelty-free, we always try to answer the question by putting it through the following checklist:
Is the company testing its finished products, ingredients, or byproducts on animals?
Does it finance third-party companies to do the above, or do its suppliers test on animals?
Is the company selling in countries where animal testing is required by law?
Considering the above, we can confirm that Farsali is cruelty-free as the brand, its suppliers, or other third parties do not test on animals. The company doesn't sell to China either.
Are Farsali Products tested on Animals?
No, according to Farsali and various online reviews, Farsali doesn't test its final products and formulations on animals to see its efficiency or potency. It doesn't sell in markets where animal testing is mandated.
The brand is owned by a private individual and not by an animal testing parent company. The company doesn't pay testers to test its products and formulations on its products.
Do they Test on Animals when the Law requires this?
Although many countries worldwide, as of 2020, have eliminated animal testing, as advocated by animal rights organizations, there are still a few countries where this practice is still in place.
China recently stopped animal testing, but it still does, for example, when it receives reports of complaints about a particular product or brand.
So, operating in China is seen as risky or as a compromise by any brand which has commitments to animals, animal rights organizations, and good, ethical production practices.
As for Farsali, they don't test on animals when they are required to do this as they don't sell or do cross border shipping to China.
Are Farsali products sold in China?
No, as explained above, Farsali doesn't sell to China, where authorities still subject foreign companies to animal testing practices.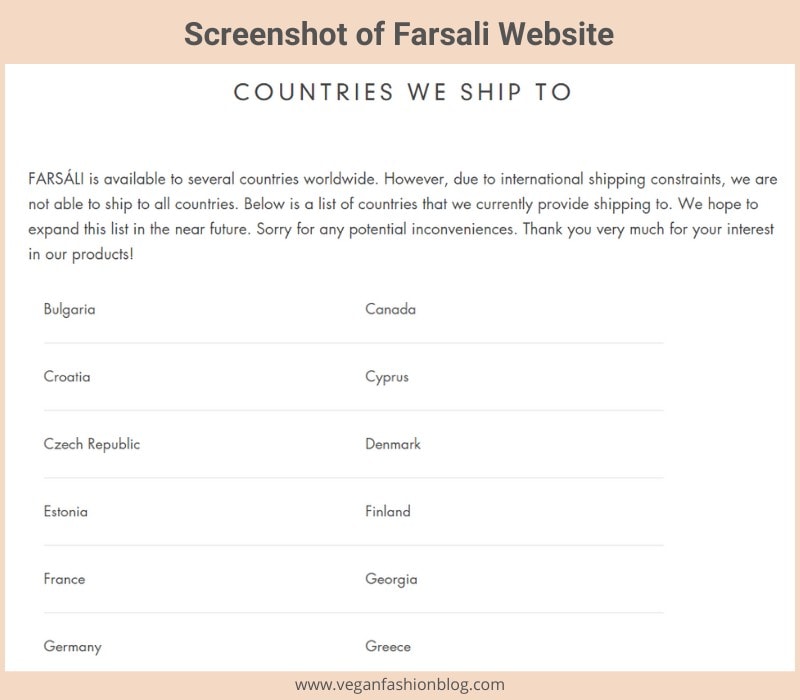 According to the company's website, they ship to 61 countries around the world, but not to China. Neither does it have stores in China.
Does Farsali have Cruelty-Free Certifications?
As confirmed by Farsali, the brand doesn't have certifications with any accrediting animal rights organization. It's not yet certified by PETA or Leaping Bunny.
This, however, doesn't imply they are not cruelty-free despite not yet being certified.
According to the Beauty Without Bunnies program by PETA, as can be seen in the screenshot below, Farsali is not included in the list of testing companies.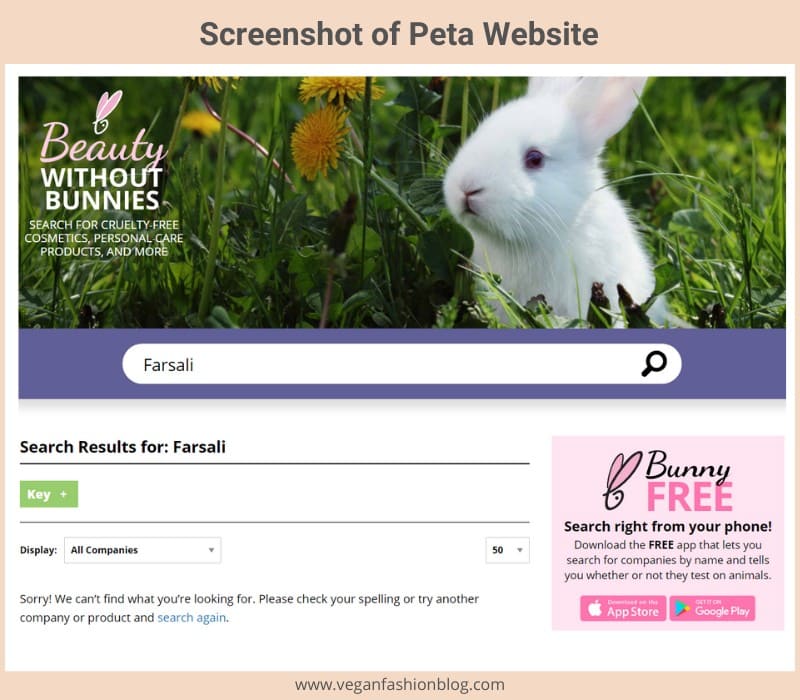 Hopefully, Farsali will register for a certification program with PETA and/or Leaping Bunny soon.
Is Farsali Owned by another company?
No, Farsali is not owned by a parent company that may be testing on animals. It is wholly owned by Farah Dhukai, and there has been no acquisition since the company started.
Is Farsali Products Vegan?
Yes. Farsali products are completely vegan. Its products do not contain formulations or ingredients from animals such as honey, beeswax, lanolin, or animal-based protein.
Farsali is 100% committed to producing products that are suitable for vegans. Vegans can get completely vegetarian products that have no animal derivatives from Farsali. Some of the best are:
Farsáli Rose Gold Elixir.
Farsáli Volcanic Elixir.
Farsáli Unicorn Essence.
Farsáli Skintune Blur.
Farsáli Rose Gold Skin Mist.
Summary
Farsali is a 100% vegan and cruelty-free brand. The company is not owned by a foreign company that may be testing on animals, neither does it have third parties or suppliers that do.
It doesn't produce, sell in, or ship to mainland China. Farsali doesn't have cruelty-free certifications with Leaping Bunny or PETA yet, but, hopefully, they will consider this soon.