Is Glossier Cruelty-free and Vegan?
Yes, Glossier is a cruelty-free brand that doesn't test its products on our furry friends. Although the brand is not completely vegan, it is certified by Leaping Bunny, a trusted program that grants certifications to cosmetics and personal care brands for their cruelty-free production and aftermarket processes.
Glossier is a big cosmetics-making brand founded by Emily Weiss, the Into The Gloss blogger who was included in Time's "Next 100" list.
Established in 2014, it took Emily just 5 years to turn Glossier into a multinational company with an estimated value of $1.2 billion, according to the Wall Street Journal.
Glossier is not owned by any parent company which may be testing on animals. The success achieved at the firm was solely under the leadership of CEO and founder, Weiss.
Is Glossier Cruelty-Free?
Because of how big it has grown within a short period, Glossier is a model to many budding companies in the industry, and many would like to know how it has managed to gain so much ground on the market.
Among the frequently asked questions about the brand is if it sells in China, being a big market for cosmetics brands (although this country seems inaccessible for foreign companies).
In principle, many users, animal rights advocates, and skincare enthusiasts would like to know the status of the brand, specifically, it's animal testing policy.
For a brand to be considered cruelty-free, we usually put it through a checklist. This includes that it must not:
Test its ingredients, byproducts, and final products on animals
Have vendors, suppliers, or third parties which test on animals on its behalf
Sell in countries where animal testing is required by law
Based on the criteria for qualification above, we found out that Glossier is indeed cruelty-free as it doesn't test on animals in any form and all countries of operation.
Are Glossier products tested on animals?
Again, Glossier doesn't test its ingredients, byproducts, or final products on animals. It's a brand that ensures its users get beauty within and without.
It doesn't sell in China, where animal testing is required, neither does it pay third parties to do this on its behalf.
In reply to inquiries about its cruelty-free status, Glossier gave its response, as can be seen in the screenshot below:

Do they Test on Animals when the law requires this?
When the law requires that foreign companies' final products be tested on animals to determine their side effects, efficiency, and/or potency, Glossier doesn't.
This is understandable as the company doesn't produce, pack, or sell in countries that have regulations like these in existence.
A landmark has been reached over the last decade to eliminate animal testing regulations in the laws of many countries.
However, China is exempted as it still tests on animals in the case of consumer complaints on a product. This places China as one of the most unlikely countries for cruelty-free brands.
And Glossier likes to put the welfare of our furry friends into consideration.
Are Glossier products sold in China?
No, Glossier doesn't market its products in China for the reasons mentioned in the previous section. It doesn't have stores in the country.
Neither does it make cross-border sales there (for fear of compromise), even though a brand can still keep its cruelty-free status if it does cross border shipping to China.
Glossier, however, sells to all 50 US states, including Puerto Rico, and also to the UK, Canada, Ireland, Sweden, France, and Denmark.
Does Glossier have cruelty-free Certifications?
Yes, Glossier has a cruelty-free certification to its name. Although it's not yet certified by Beauty Without Bunnies, Glossier is fully accredited by the Leaping Bunny Program as a cruelty-free company. https://www.leapingbunny.org/content/glossier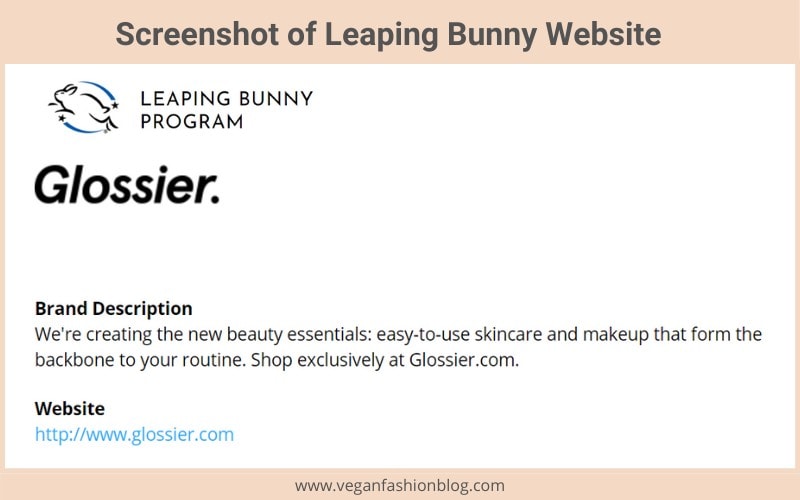 Is Glossier Owned by another company?
No. Glossier used to be 100% vegan, but that ended in 2019 when it announced that it uses derivatives from egg to make its serums, Super Glow and Super Bounce.
And since just a single non-vegan product can render a brand with a catalog of 1,000 vegan products as non-vegan, Glossier is no longer a vegan brand.
To know whether a product is vegan, watch out for the logo on the label.
Some of the best vegan skincare products from Glossier are:
Zit Stick
Generation G Lip Color
Wowder Brush
Wowder
Milky Jelly Cleanser
Lip Gloss
Soothing Face Mist
Super Pure
Summary
Although Glossier is not yet certified by PETA, it is certified by Leaping Bunny. The company doesn't do animal testing; neither does its vendors or third parties on its behalf.
It doesn't sell to China, where animal testing is required by law.
The brand has a few products which include animal ingredients and are not vegan. Finally, Glossier is not owned by a parent company that may be testing on animals.