Quick Answer: Is Hempz Cruelty-Free and Vegan?
Hempz is a cruelty-free brand that has been approved by Leaping Bunny. None of its products are tested on animals anywhere in the world. Hempz products are also not available for sale in stores in mainland China, nor are they sold anywhere animal testing is required by law. Also, all Hempz products are vegan, meaning they contain no animal-origin ingredients.
Hempz was founded in 1998 and is owned by entrepreneur Rick Hough. It makes several beauty products by harnessing the power of hemp seed.
However, Hempz products do not make consumers "high" but might give you a "rush," according to the brand. All its products are free of tetrahydrocannabinol (THC).
The company has products in the hair category, like shampoos and conditioners, as well as in the face category, like cleansers, toners, moisturizers, sunscreen, & self-tanners.
It also sells CBD products for the face, hair, and skin. Hempz has a partnership with the parent company, TSG Consumer Partners. TSG is a private equity company with no animal testing policy.
Is Hempz Cruelty-Free?
For a company to be cruelty-free, it must ensure strict compliance with non-animal-testing methods of performing clinical trials.
Animal testing has been well-documented as obsolete, unreliable, ineffective, and unsafe for both the animals and human consumers of the products.
To validate the cruelty-free status of any company in question, such a brand must ensure that it does not and will not:
Test its products on animals
Test on animals when the law requires such
Sell in mainland China for as long as there are still animal testing requirements
Pay third-party companies to test its products on animals
Given the above, we are happy to inform you that Hempz is indeed cruelty-free, as confirmed by Leaping Bunny and the brand itself.
According to Hempz, all its products are free of gluten, THC, animal cruelty, parabens, and they are completely vegan.

Does Hempz Test Its Products On Animals?
Hempz does not test any of its products, raw ingredients, or supplements on animals. According to the brand, all its products are made "without causing suffering or pain to animals."

Does Hempz Test Its Products On Animals Even When Required By Law?
Hempz is fully against animal-testing practices. It doesn't consent to regulations that require animal testing. This is why it does not sell in mainland China, where animal testing is required by law.
Also, its suppliers do not test any of their products or ingredients on animals.
Does Hempz Sell Its Products In China?
Hempz products are not available for sale anywhere in stores in China.
Originally made in the USA and available for sale on the internet, Hempz products may still find their way into the hands of Chinese consumers through cross-border shipping.
However, that doesn't in any way present risks or requirements for animal testing.
Is Hempz Cruelty-Free Accredited?
Although Hempz has yet to be accredited by PETA, the company has official ties with Leaping Bunny, another cruelty-free organization.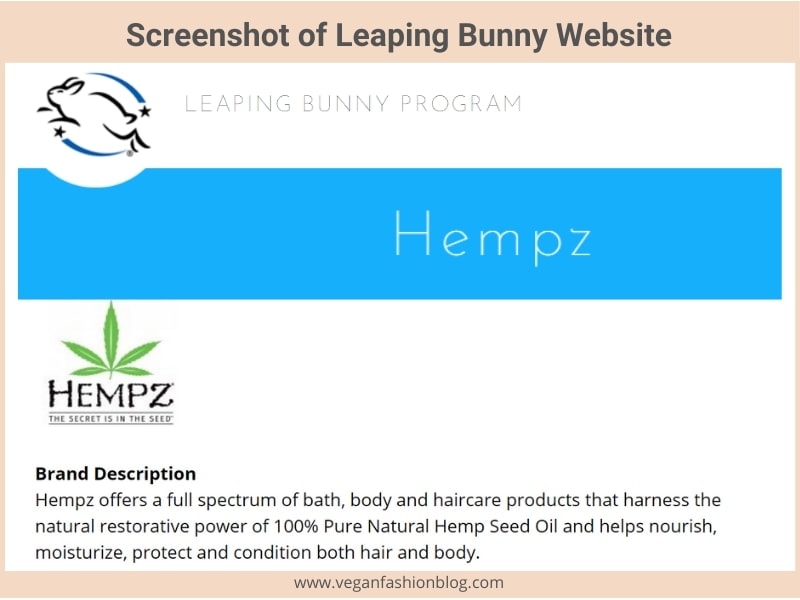 The company also states officially that it is approved and has a cruelty-free certification from Leaping Bunny.

Is Hempz Owned By a Parent Company?
Hempz is mainly owned by American entrepreneur, Rick Hough, but the company also has a major partnership with private equity company, TSG Consumer Partners.
There are no reports that TSG Consumer Partners supports or conducts animal testing, but there is also no animal testing policy published by the company that states their status.
Is Hempz Vegan-Friendly?
A vegan-friendly brand is a brand whose final products and formulations contain no animal ingredients. That is, the ingredients should be predominantly plant-sourced, with no formula derived from any living or dead animal.
That seems impossible, but Hempz ensures this. All Hempz products in its conditioner, shampoo, and body categories are 100% vegan!
Some of its most popular vegan-friendly products are:
Original Herbal Body Moisturizer (Body)
Sweet Pineapple & Honey Melon Herbal Body Moisturizer (Body)
CBD Aromatherapy Lavender Oil Herbal Body Moisturizer (Body)
Triple Moisture Herbal Crème Body Scrub (Body)
Triple Moisture Herbal Body Crème (Body)
Triple Moisture Herbal Shampoo (Shampoo)
Sweet Pineapple and Honey Volumizing Conditioner (Conditioners)
Sweet Pineapple and Honey Volumizing Shampoo (Conditioners)
Triple Moisture Conditioner & Hair Mask (Conditioners)
CBD Seeing is Be Leave-In Conditioning Mist (Conditioners)
You may check out their vegan offers on the Hempz website, www.Hempz.com, or at www.Hempz.com/collection.
Summary
It's rare to find a truly vegan and cruelty-free brand in a market where most companies are sacrificing planetary responsibilities, good ethics, and responsible practices for financial gains.
However, we are happy to find that Hempz is cruelty-free. Its products are devoid of parabens, THC, and gluten.
Plus, it has chosen to steer clear of markets where animal testing is required by law. All its products are vegan and don't contain any animal by-products or ingredients.
They are a brand to watch out for and are the favorite of vegans, animal lovers, and caregivers!