Quick Answer: Is Hurraw! Cruelty-Free And Vegan?
Yes, Hurraw! is cruelty-free as they do not test on animals even when compelled by law, and none of their products are sold in China where testing on animals is a requirement. They are also completely vegan and very appealing to users.
The Hurraw! brand was officially launched in the United States in January 2010, after being started by Corrie Colbert and her husband, Neil Stuber, in 2008.
Corrie started the brand after a lengthy but unsuccessful search for a suitable product to care for her lips when they moved to Montana and experienced the dry climate.
The name Hurraw! was birthed from their passion for a vegan and raw lifestyle.
After going through lots of our readers' requests, we discovered they wanted to know if Hurraw! is a cruelty-free brand. So, we researched everything about this brand, and this is what we discovered.
Is Hurraw! Cruelty-Free?
To be cruelty-free, a brand must pass specific criteria, and this is also the case with Hurraw!. Hurraw! was checked against the criteria listed below to ascertain if it is cruelty-free or not.
Are products, either finished, in-process, or raw, tested on animals?
When the law requires testing, are they compelled to test?
Are their products sold in China?
Are Hurraw! Products Tested On Animals?
Hurraw! is not a brand that tests its products on animals. The brand is extra careful to the extent of making sure that even its third parties and suppliers do not test on animals.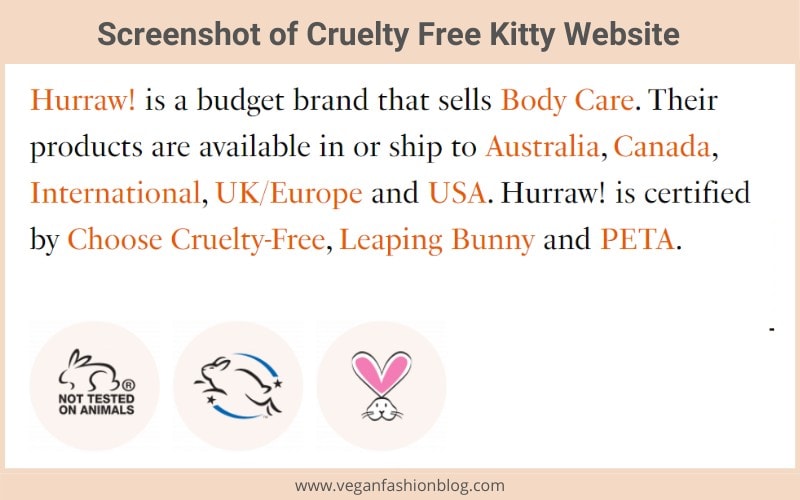 Do They Test Animals When Required By The Law?
Hurraw! does not test its products on animals even when required by law.
This is so because it is a brand committed to not harming animals in any way and so avoid all countries or areas that require testing on animals by law.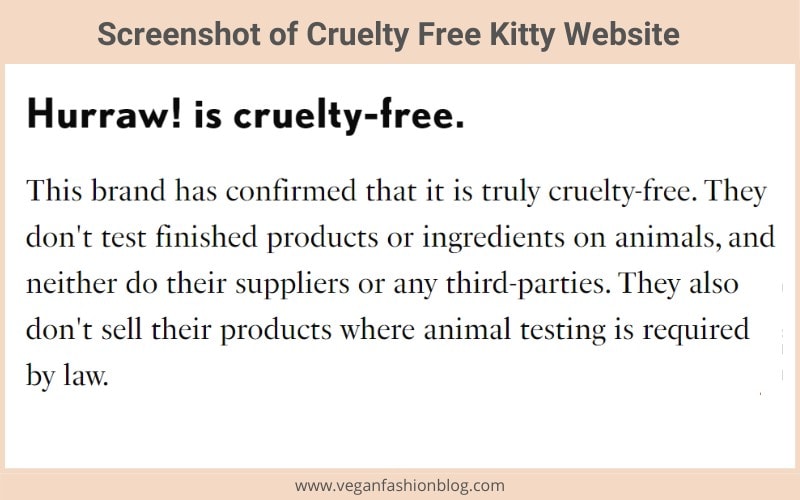 Are Hurraw! Products Sold in China?
Hurraw! does not sell any of its products in China as the country requires animal testing for cosmetics to be sold there.
Online sites such as m.alibaba.com, https://en.yiwugo.com, https://m.made-in-china.com, were searched to see if any of the brand's products were being sold there, but none was seen.
This tells us their claims of being cruelty-free are certainly true.
Does Hurraw! Have Cruelty-Free Certifications?
Hurraw! is certified by cruelty-free bodies such as Leaping Bunny, Choose Cruelty-free, and PETA.
This indicates strongly that the brand takes the issue of animal cruelty seriously and is ensuring that it does not compromise the standards of creating completely cruelty-free products.
You can confirm the certifications via the pictures and sites below.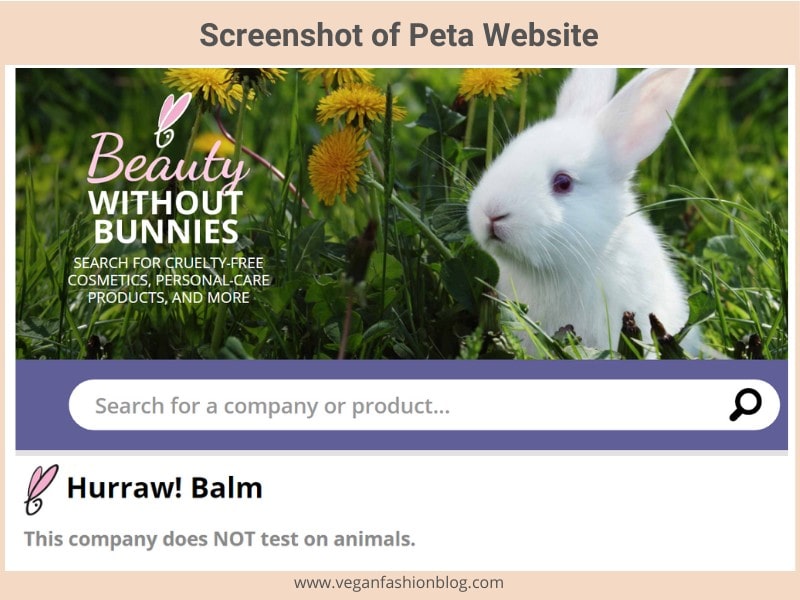 Is Hurraw! Owned by another Company?
Hurraw! is an individual company and has no parent company under which it operates. It was founded sometime in 2008, though launched fully in 2010 by a couple, Corrie Colbert and Neil Stuber.
It started from Corrie's inability to find a product that suited her needs and desires for an eco-friendly, animal-free lip balm after they moved to a highly dry region.
Not wanting to compromise on values which they both held dear, they began work on inventing products that would meet their needs and those of others.
In formulating their products, they were very intent and clear on what the products should be like. They desired that the products must be organic, composed of cold-pressed, high-quality oils, and contain no preservatives.
The products also had to be appealing and long-lasting, and this has been maintained over the years.
Is Hurraw! Vegan?
Hurraw! is a hundred percent vegan. A brand is said to be vegan only if there are no animals or animal derivatives in any of its products.
This is the case with this brand. Products from Hurraw! is certified to be vegan by Vegan Action (vegan.org) and by the Vegan Society (vegansociety.com). Some products from this brand include:
Tinted Lip Balm, Black Cherry
Lip Balm, Vanilla Bean
Night Treatment Balm, Blue Chamomile Vanilla
Lip Balm, Chocolate
Lip Balm, Grapefruit
Lip Balm, Coffee Bean
Lip Balm, Unscented
Lip Balm, Earl Grey
Pitta Lip Balm, Coconut Mint Lemon Grass
Sun Protection Balm SPF 15, Tangerine Chamomile
Vata Lip Balm, Almond Cardamom Rose
Kapha Lip Balm, Grapefruit Ginger Eucalyptus
Summary
Eco-certified, completely vegan, and entirely cruelty-free, Hurraw! is one that holds dearly to the values of creating top-notch lip balms without animals or animal derivatives.
The brand is extremely transparent, and all ingredients used in product formulations are clearly stated on all of the products, making it easy for you to pick up any information you need.
Using completely raw and organic vegan products, the products from this brand may be a little higher in price compared to others, but it is worth the extra spent on it.
If you live in an area that is extremely dry and you regularly experience dry and cracked lips, then this is definitely a brand for you.