Quick Answer: Is Ilia Cruelty-free and Vegan?
Ilia is truly a cruelty-free company that does not test its products, bi-products, and ingredients on animals. Ilia Beauty cosmetics has a clear animal testing policy, which confirms that none of its products and ingredients are tested on animals. The brand has a cruelty-free certification from Leaping Bunny. Although the brand has a lot of vegan products, a few of its products contain beeswax, which makes Ilia not completely vegan.
Established in 2011, Ilia Beauty is the product of Sasha Plavsic. She launched this company just after turning 30, returning to Vancouver, leaving her guy and her job, and was looking for something new.
Ilia specializes in making facial beauty serums, concealers, powders, lip oil, eye care products, and make-up accessories.
Although the brand currently has no parent company, many of our readers would like to know what its status is. Is it a clean cruelty-free brand or otherwise?
Is Ilia Cruelty-Free?
We measure non-cruelty to animals of cosmetics/beauty brands by their pre-production, production, and after-market procedures. To be cruelty-free, such company under question must ensure it doesn't in any way:
Test on animals anywhere in the world
Sell in countries where animal testing is required by law
Sell in stores in China mainland
Pay third party companies to test on animals
Reviewing the checklist above, we can confirm that Ilia is indeed a clean beauty brand that doesn't test on animals.
As can be officially found on the certification page of its website, the brand has a huge statement on its commitment to being cruelty-free.
Does Ilia Test Its Products On Animals?
Ilia does not test any of its products or raw ingredients on animals. This information comes from both its website and the Leaping Bunny.
Does Ilia Test Its Products On Animals Even When Required By Law?
Ilia is fully against animal-testing practices, and as such, neither they nor their suppliers test any of their products on animals.
To keep its commitment to protecting animals, remaining ethically responsible in the corporate world, and maintaining its reputation, Ilia doesn't do business in China mainland, partly because of the existing regulation on animal testing for foreign cosmetics brands there.
Does Ilia Sell Its Products In China?
Ilia products are not available in China. However, you may still find their products there via e-commerce, which, nonetheless, is not subject to animal testing.
Is Ilia Cruelty-free Accredited?
Ilia is yet to be accredited by PETA. The company's details are not found on the organization's database.
What this means is not that it's not cruelty-free, but perhaps, they are yet to sign the necessary agreements with PETA to be listed. However, Ilia is fully accredited as cruelty-free by the Leaping Bunny program.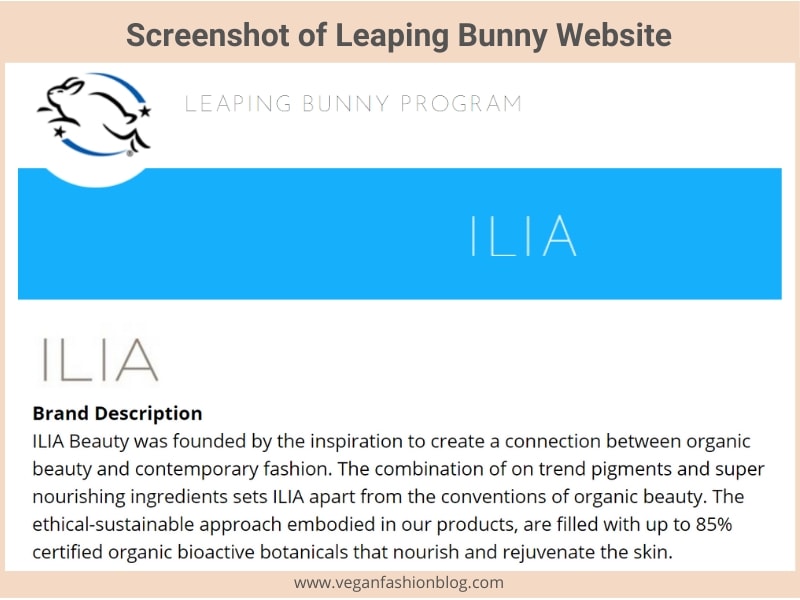 Is Ilia Owned By a Parent Company?
Ilia is currently not owned by any other company that may be testing on animals.
Is Ilia Vegan-Friendly?
Being vegan-friendly means a lot to animals, animal rights organizations, and vegans.
Although many companies find it hard to make the vegan commitment, it simply implies steering clear of animal furs or any product, ingredients derived from the blood, sweat, fluid, flesh, organs, formulated substances of animals.
So, do Ilia products contain any animal ingredients or parts? Well, unfortunately, Ilia isn't entirely vegan! The brand uses a few animal ingredients such as beeswax in the production of some of its beauty products.
However, they still have a large offering of vegan products in the Lip, Eye, Face, and Multi categories on its online shop. Some of these vegan products include, but are not limited to:
True Skin Serum Concealer (Face)
True Skin Serum Foundation (Face)
NightLite Bronzing Powder (Face)
NightLite Bronzing Powder (Face)
Soft Focus Finishing Powder (Face)
DayLite Highlighting Powder (Face)
Color Haze Multi-Matte Pigment (Multi)
Balmy Gloss Tinted Lip Oil (Lip)
Color Block High Impact Lipstick (Lip)
Natural Brightening Eye Primer (Eye)
Liquid Powder Chromatic Eye Tint (Eye)
Clean Line Liquid Liner (Eye)
Essential Brow Gel (Eye)
Clean Line Gel Liner (Eye)
You may check out their vegan offerings on the Ilia website www.Iliabeauty.com or https://iliabeauty.com/collection/
Summary
Ilia is a completely cruelty-free brand. Since its inception about one decade ago, the cosmetics company has remained so since it doesn't look to be changing its animal testing policy soon.
As it stands, the brand currently has no parent company that may be forcing it to make new market pushes beyond the horizon where animal testing clinical methods are allowed.
Ilia doesn't sell in the mainland of China and thus, is not testing on animals. The brand is certified by Leaping Bunny.
However, most of its products are vegan, except for a few ones, which contain beeswax, an ingredient from honeybees.
So, Ilia is definitely a good cosmetics brand to watch out and buy from, considering its commitment to animals and against all forms of cruelty.