Quick Answer: Is Inika Cruelty-free and Vegan?
Yes, Inika is cruelty-free, and vegan; They do not test their products on animals. Inika is certified by PETA and Choose Cruelty-Free. Their products are not sold in China because they require all cosmetic products to be animal tested. The company aims at producing vegan mineral makeup derived from natural ingredients.
Inika specializes in making cosmetics like eyeshadow, foundation, lip gloss, and lipstick. The company is owned by Total Beauty Network, and it is located at 813 Springvale Road Mulgrave, Victoria, Australia 3170.
Our readers have recently been asking if Inika Organic products are cruelty-free and vegan. We had an in-depth look at the company's products and analyzed them. So are Inika products cruelty-free? Keep reading to find out.
Is Inika Cruelty-free?
Yes, Inika is cruelty-free. For a product to be cruelty-free, there are some criteria they should satisfy first. The following are the mentioned criteria, which we will analyze one by one:
None of the products should be tested on animals
The company should not test on animals even if the law requires them to
None of their products should be sold in China
Are Inika Products tested on Animals?
No, Inika products are not tested on animals. The company also prohibits third parties from animal testing them on their behalf.

Inika products are 100 percent against harming animals or their habitats for the production of their products. They make their products of high quality and derive their ingredients from natural sources.

Does Inika test their Products on Animals when the law requires them to? Or through Third Parties?
No, Inika does not test their products on animals even when the law requires them to. They also don't allow animal testing from third parties.
If a country's law requires animal testing, Inika does not sell its products in the country.
Does Inika sell their products in China?
No Inika does not sell its products in China. This is because for a product to be sold in China, it needs to be tested on animals, and Inika does not allow their products to be sold on animals.
Companies that sell their cosmetics in China are not cruelty-free.
Does Inika Have Cruelty-free Certifications?
Inika is certified by PETA. PETA has a "Beauty Without Bunnies" program, which promotes cruelty-free and is against animal testing.
Being certified by PETA means that the company has pledged not to test their formulations or final products on animals. They also promise not to do so in the future.
Choose Cruelty-Free Australia has also certified Inika. This means that their products are not and will not be tested on animals, nor will they contain any animal-based ingredients acquired through animal cruelty.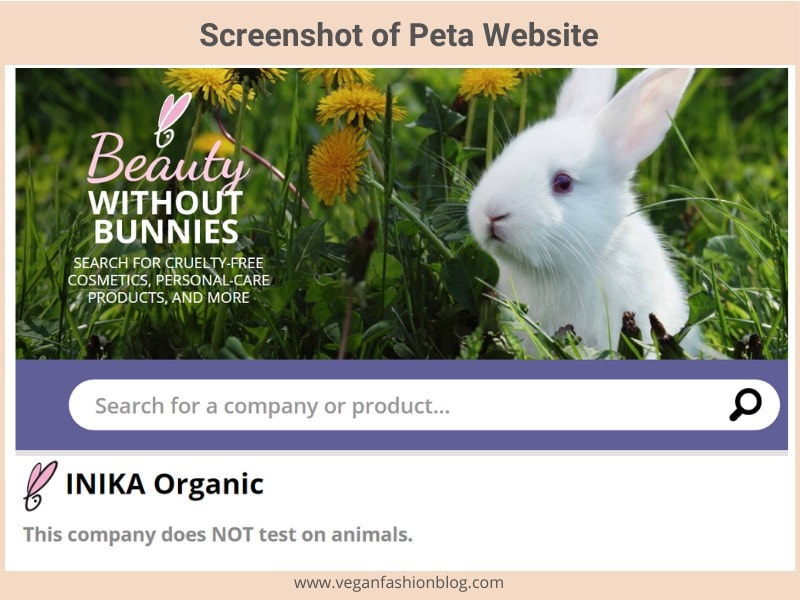 Does Inika have a Parent Company?
Yes, Inika is owned by Total Beauty Network as their parent company. It was launched in 2006 by Tony and Sharon Rechtman. Their company is known today as a successful global beauty company.
Total Beauty Network is also cruelty-free and promotes the production of healthy and ethical cosmetic products. Inika also believes in making healthy and quality products without harming animals.
Are Inika Products Vegan?
For a product to be considered vegan, all the ingredients used to make it should not be derived from animals. Sometimes a vegan product can also be cruelty-free.
Inika products are all 100 percent vegan; this means that none of the products contain ingredients made from animal by-products or the animals themselves.
They are also certified by the UK Vegan Society, one of the most well-known vegan certifications in the world. A company only receives its certification when their products contain no animal-based ingredients.
The following are some of the vegan products sold by Inika:
Face products
Matte and Flawless Foundation Set
Radiant Glow
Fresh and Flawless Foundation Set
Certified Organic Pure Perfection Primer
Certified Organic Matte Perfection Primer
Certified Organic Pure Primer with Hyaluronic Acid
Full Coverage Concealer
Certified Organic Perfection Concealer
Certified Organic BB Cream
Certified Organic Liquid Foundation with Hyaluronic Acid
Loose Mineral Foundation SPF25
Baked Mineral Foundation
Baked Contour Duo
Baked Mineral Bronzer – Sunbeam
Baked Mineral Bronzer – Sunkissed
Loose Mineral Bronzer
Loose Mineral Blush
Mineral Blusher Puff Pot (3g)
Baked Mineral Blush Duo – Burnt Peach
Baked Mineral Blush Duo – Pink Tickle
Certified Organic Lip and Cheek Cream
Certified Organic Light Reflect Cream
Limited Edition Liquid Glow Illuminisor
Baked Mineral Illuminisor
Certified Organic Cream Illuminisor Trio
Certified Organic Cream Illuminisor – Spice
Certified Organic Cream Illuminisor – Gold
Certified Organic Cream Illuminisor – Rose
Mineral Mattifying Powder
Certified Organic Makeup Remover
Lip products
Certified Organic Lip Pencil
Certified Organic Lip Glaze
Certified Organic Lip Tint
Lipstick Crayon
Certified Organic Vegan Lipstick
Limited Edition Vegan Lipstick
Certified Organic Lip Serum
Certified Organic Lip Balm
Mascara
The Mascara – Certified Organic
Bold Lash Vegan Mascara
Curvy Lash Vegan Mascara
Long Lash Vegan Mascara
Makeup Brushes
Flat Top Kabuki Brush
Foundation Brush
Kabuki Brush
Powder Brush
Sculptor Brush
Setting Brush
Cheek Topper Brush
Shadow Brush
Blending Brush
Brow Brush
Detail Brush
Pencil Sharpener
Pro Vegan Kabuki Brush with Case
Vegan Defining Angle Brush
Vegan Lip Brush
Vegan Crease Brush
Vegan Blending Brush
Vegan Contouring Angle Brush
Vegan Concealer Brush
Vegan Stippling Brush
Vegan Blush Brush
Vegan Fan Brush
Vegan Angle Brush
Vegan Shadow Brush
Professional Vegan Brush
Inika Organic is a proven and trusted cruelty-free and vegan company that offers high-quality products. They source their ingredients from natural and clean sources.
Inika does not test in animals or source their ingredients from them. They have also been certified by a number of well-known cruelty-free and vegan organizations.