Quick Answer: Is Innisfree Cruelty-free and Vegan?
Innisfree is not cruelty-free nor its 100% vegan. The K-beauty makeup brand pays third party companies and consents to animal testing regulations in its country of operation. The brand is also owned by AmorePacific Corporation, a parent company that tests on animals. Innisfree sells and has shops in mainland China, where animal testing is compulsory for all foreign cosmetics companies.
Innisfree is a South Korean cosmetics company that makes naturalism-oriented makeup and skincare products.
The brand's name was derived from "The Lake Isle of Innisfree," a poem by W.B. Yeats. Innisfree products are derived from ingredients from Jeju Island, a volcanic island city in South Korea.
Innisfree is owned by AmorePacific Corporation, a South Korean brand that tests on animals and sells in China.
Because of its relationship with AmorePacific, proximity to, and marketing operations in China, many of our readers would like to know whether Innisfree is cruelty-free and vegan.
We have done our research on the brand and its products. Keep reading to find out details on its status.
Is Innisfree Cruelty-Free?
To many cosmetics companies, being cruelty-free simply means not doing in-house testing. However, it is more than that.
We define cruelty-free companies as brands that satisfy the following criteria. To be cruelty-free, a company must not:
Test any of its products on animals during the product development, premarketing and postmarketing stages.
Pay suppliers, vendors, or any third party companies to test their products on animals.
Sell or produce in China mainland, a country that has strict animal testing laws.
Are Innisfree products tested on Animals?
Innisfree does tests on animals.
Although the brand recently announced that it has stopped in-house testing and other "unnecessary animal testing of cosmetics," the brand admits that it still tests on animals when they have no choice but to do so.
This applies to cases where its operating country makes animal testing a requirement.
Below is a screenshot of a reply from Innisfree when it's asked to explain its policy on animal testing.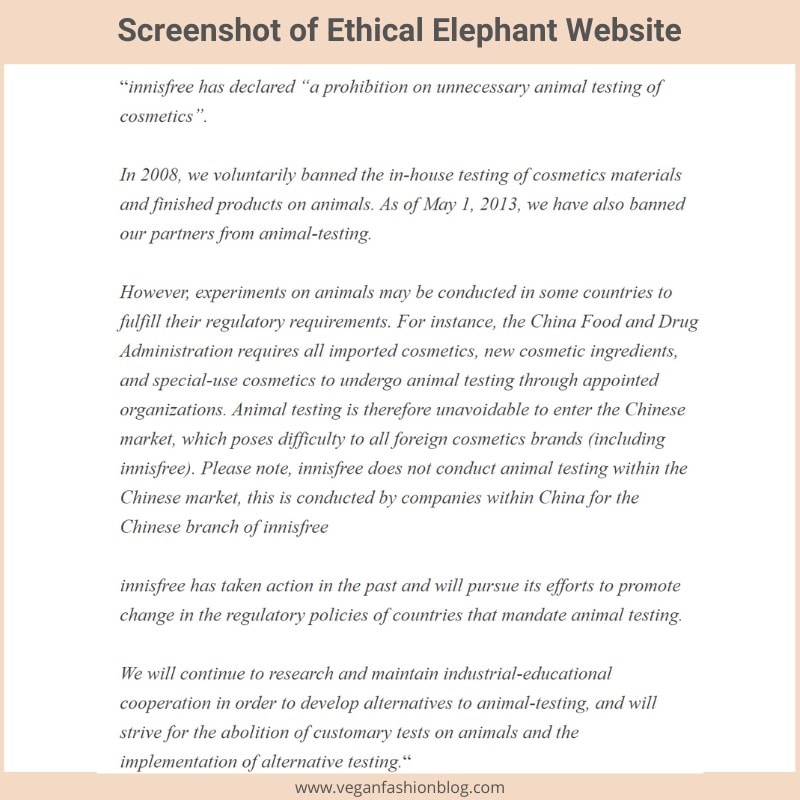 Do they test on Animals when required by Law?
Innisfree both uses third party testers and also tests on animals when its country of operation deems this.
As can be seen in the screenshot above, while Innisfree claims it doesn't test on animals, the brand says other companies authorized by the government do this on its behalf.
It is worth noting that giving consent to animal testing is a cardinal sin on its own. This applies the same consequences as for companies that do direct and in-house testing.
Are Innisfree products sold in China?
With its proximity to China and its focus on the Asian market, it is highly unlikely for Innisfree to take its eyes away from the profitable Chinese market, despite its animal testing regulations.
Innisfree sells in China and has more than 500 stores there, as of 2018, according to Alizia, an Alibaba retail news portal.

Although the country recently made changes to its animal testing regulations, animal experiments of products are still compulsory as of 2020 in China.
This regulation applies to all new and existing foreign cosmetics brands selling in physical stores in the country. However, the law doesn't apply to cross-border shipping; that is, products that can be bought online from foreign countries.
Does Innisfree have Cruelty-free Certifications?
Innisfree is not certified as cruelty-free by any animal rights organization. It is currently not certified by the Leaping Bunny, Cruelty-Free International, and PETA's Beauty Without Bunnies.
Is Innisfree's Parent Company Cruelty-free and Vegan?
Innisfree is owned by AmorePacific Corporation. AmorePacific is not cruelty-free or vegan. The brand sells in China and therefore tests on animals.
This, the brand, confirms in its animal testing policy statement in the screenshot below: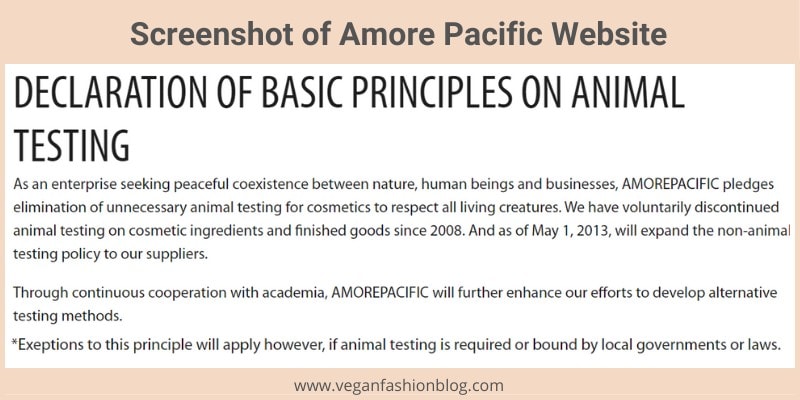 Is Innisfree Vegan?
It's bad enough that Innisfree is not cruelty-free. However, the brand is also not vegan and should be avoided by all animal lovers or advocates for the ethical treatment of animals.
To be regarded as vegan, Innisfree products must not contain any animal parts or derivatives. We have assessed the brand on these criteria.
We, however, found that many Innisfree products contain animal by-products. The brand itself confirmed that some of its collections contain animal ingredients.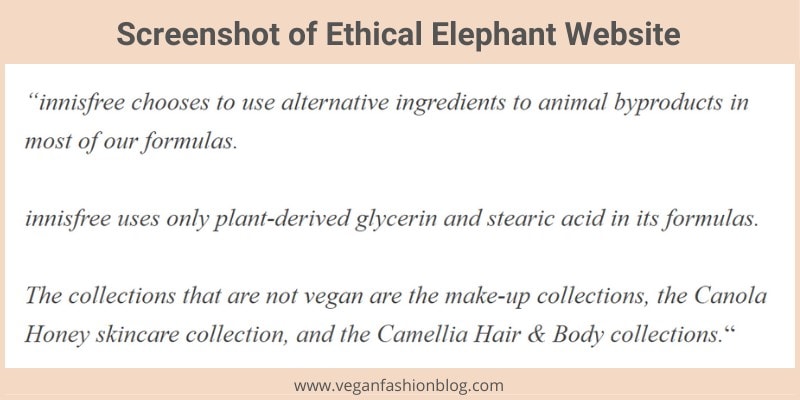 However, some of its products are vegetarian. These include products such as:
Lip care
Soft lip balm
Hydrating Lip Oil
Soft lip balm intensive moisture
My lip balm
Lip sleeping mask
My Lip Balm Party Trio
Jelly Balm Crayon
Creams
Jumbo Youth-Enriched Cream
Intensive hydrating cream
Youth-enriched cream
Brightening & pore-caring cream
Cica balm
Balancing cream
Youth-enriched gel cream
9 solutions cream
Nourishing cream
Intensive hydrating soft balm
Dewy glow tone-up cream
Youth-enriched rich cream
Emulsions
9 solutions emulsion
Moisture Plumping Emulsion
Youth-enriched emulsion
Dewy glow emulsion
Balancing emulsion
Firming energy emulsion
Moisturizing emulsion
Eye creams
Brightening & pore-caring eye cream
Time science eye cream
Youth-enriched eye cream
Intensive hydrating eye cream
Intensive hydrating eye roll-on
Summary
Innisfree is not a cruelty-free brand. The brand and its parent company, AmorePacific, test on animals and sell in China, where animal testing is required by law.
Innisfree has no cruelty-free certification, and some of its products in the makeup, skincare, and hair and body collections contain animal ingredients. This also makes the company a non-vegan brand.