Quick Answer: Is Jo Malone Cruelty-Free and Vegan?
Jo Malone is far from being cruelty-free. However, they have a line of vegan products. Jo Malone can't be considered cruelty-free for several reasons. One of which is because they sell in China, and you will discover the remaining reasons if you continue reading below.
Jo Malone is a luxury perfume brand that was founded in England in 1983. The brand was founded by Jo Malone, but It was acquired by Estee Lauder in 1999.
Their new owners have been able to extend their distribution chain from England to other parts of the world, especially Europe and Asia.
Some of their product lines include cologne, room scents, perfumes, and grooming items, such as body scrubs and shower gels.
Is Jo Malone Cruelty-Free?
There are a lot of criteria that make this brand not cruelty-free, no matter how hard they try. Even though they state on their website that they don't test on animals, they've made it clear that there are a few exceptions.
These exceptions refer to when they sell in countries where animal testing is required by law.
Also, Jo Malone sells its products in China and is not certified by any cruelty-free authority, including PETA and Leaping Bunny. To top it all off, the brand is owned by a parent company that tests on animals.
Taking a look at the facts laid out above, it's impossible to add Jo Malone to our list of cruelty-free brands. They've defaulted in several areas.
Are Jo Malone Products Tested On Animals?
Jo Malone has answered this question in their FAQ section, and here's the exact answer they gave: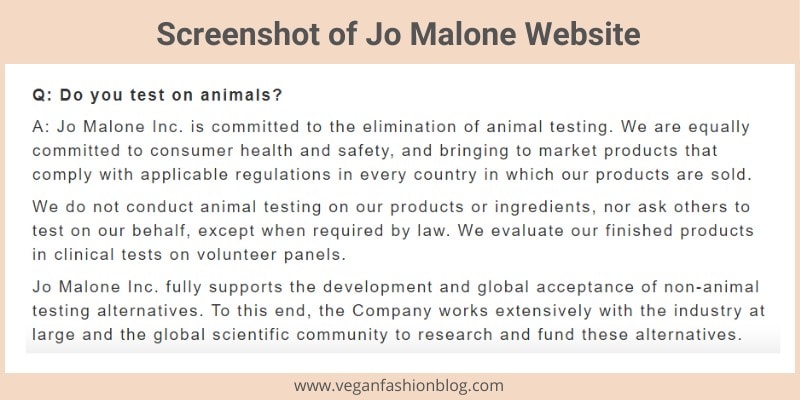 Do They Test On Animals When Required By Law?
The brand tests on animals when required by the health authority in the country they sell. This is clearly stated on their website.
Are Jo Malone Products Sold In China?
Earlier in 2020, Jo Malone was in the news for editing a video of their ambassador John Boyega and replacing him with a Chinese actor for their commercial that aired in China.
That wouldn't have been necessary if they do not sell in the area.
To prove to you that what we say is true, we researched and found their Chinese site. Here's a snippet of the page.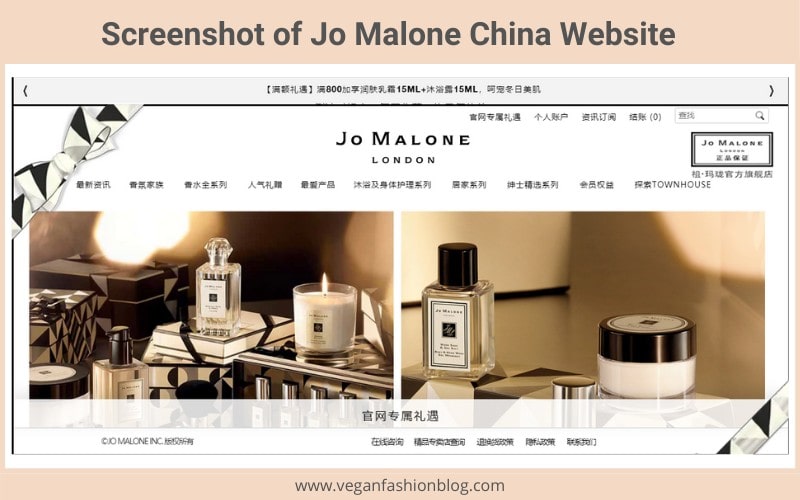 Besides that, the products are also available in several physical stores in the country, especially in mainland China, where animal testing is compulsory.
Does Jo Malone Have Cruelty-Free Certifications?
For a brand's cruelty-free claim to be taken seriously, they should be certified by PETA, Leaping Bunny, or Choose Cruelty-Free. Jo Malone hasn't been able to be featured on any of these lists.
On PETA's, they're listed as a brand to avoid.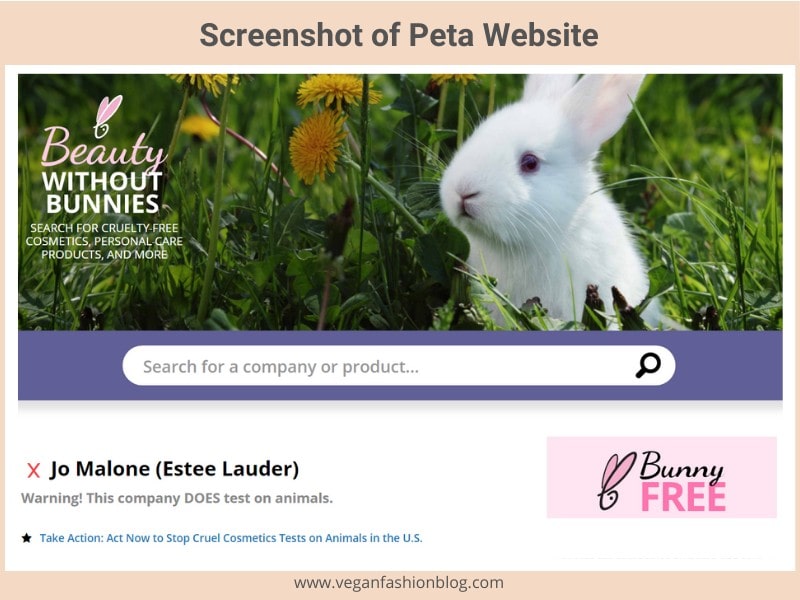 Is Jo Malone Owned By Another Company?
Jo Malone is a subsidiary of Estee Lauder, one of the most popular companies known for defaulting in their testing policy. 70% of their brands test their products on animals when required by law.
This is due to the company's policy of satisfying their customers everywhere.
Estee Lauder is featured on PETA's list of brands to avoid, but there's a glimpse of hope for lovers of the brand.
Estee Lauder recently announced that they will be lending their support to ending animal cruelty and are looking into a 100% cruelty-free approach across every brand by 2023.
Are Jo Malone Products Vegan?
Jo Malone sells perfumes with fragrances that are created from organic substances. They have fruit-dubbed collections like orange blossom, citrus, grapefruit, and cucumber.
They also have organic variants, such as wood sage and snowdrop. In terms of being vegan, we're not 100% certain, as the brand doesn't promote itself as vegan.
Also, they don't have a vegan policy and have failed to confirm if they use animal derivatives or not. They are also in the habit of withholding their ingredient list.
Summary
Every piece of information points to the fact that Jo Malone is 100% not cruelty-free.
Most brands under Estee Lauder adopt their testing policy and are passionate about distributing to every corner of the world, including areas with strict testing policies.