Quick Answer: Is Kopari Cruelty-Free and Vegan?
Yes, Kopari is cruelty-free, and this is because they do not test on animals. However, they're not 100% vegan because some of their products contain animal origin ingredients such as beeswax.
Kopari was launched in 2015 by the duo of Kiana Campbell and Gigi Goldman. The pair both collaborated to create a brand that offered a clean wave of coconut-powered products that moisturizes the skin.
The brand operates from La Jolla, California.
Kopari products were made from coconuts harvested from local farms in the Philippines and cold-pressed to derive several nutrients transformed into different products.
Kopari ingredients are organic and are sold in top retail stores in the country. This includes Ulta, Sephora, and Amazon.
Many of our readers have used Kopari products; hence more and more people are beginning to ask questions about the brand.
To avoid making mistakes or picking the wrong products, we created this guide to answer questions our readers have about the brand, especially in terms of animal testing.
Does Kopari use animal byproducts? Continue reading below to get more details.
Is Kopari Cruelty-Free?
Cruelty-free for us refers to a brand that complies with the following rules:
Doesn't test final products on animals: A brand that's considered cruelty-free should not test on animals or use suppliers who do. The testing includes both pre-market and post-market.
It doesn't sell in countries where animal testing is required by law. A brand that truly wants to remain cruelty-free will not sell in countries with compulsory animal-testing requirements.
The products should not be sold in China. China has a strict animal-testing law that makes it impossible for brands who sell in the area not to test on animals.
Are Kopari products tested on Animals?
Kopari does not carry out animal testing. They also refuse to sell in areas where animal testing is required by law. Their production process is friendly to these furry creatures.https://koparibeauty.com/pages/help

Do they Test on Animals when required by law? Or use a third Party?
No, Kopari doesn't support animal-testing in any form. This is the primary reason why they steer clear of areas with compulsory animal-testing policy.
You can pick up Kopari's products with full confidence knowing full well that it hasn't undergone any form of animal tests.
Are Kopari products sold in China?
No, Kopari does not sell in China. A vast majority of their products are sold in the UK and the US. They do their utmost to steer clear of countries with compulsory animal-testing law, which happens to be the case with China.
Brands can bypass the pre-market testing law in the area. However, post-market testing remains compulsory for foreign brands who sell in the country. At any point, the products will be submitted to the testing authorities.
We didn't find any of Kopari's products in any Chinese retail store. We also looked through some press releases, and at no point did Kopari announce that they're extending to the Chinese market.
Does Kopari have Cruelty-free Accreditations or Certifications?
The only grey area in Kopari's cruelty-free claim is the lack of certification from all three known cruelty-free authorities, including PETA and Leaping Bunny.
They were missing from PETA's database. This could be because of their short stay in the industry. They're also not a part of Leaping Bunny's Recommitment list released in 2020.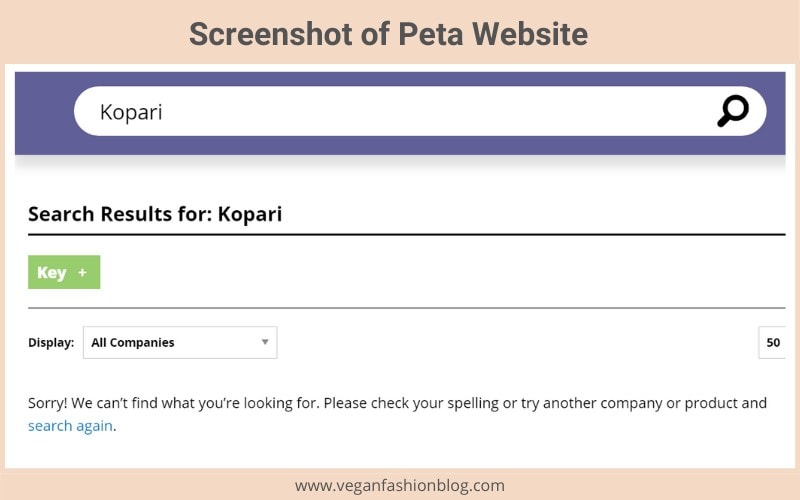 Is Kopari's Parent company Cruelty-free and Vegan?
Kopari doesn't have a parent company. The brand is owned by the duo of Kiana Campbell and Gigi Goldman. They've only been in the beauty space for 5 years.
However, they've witnessed fast growth, which signifies that a big company might come calling soon.
Is Kopari Vegan?
Cruelty-free and vegan are two different things. A brand can be cruelty-free but not vegan. When this happens, the only explanation is that the brand uses animal byproducts in its formulation.
In the case of Kopari, the brand is not vegan. A vast majority of their products contain animal origin materials.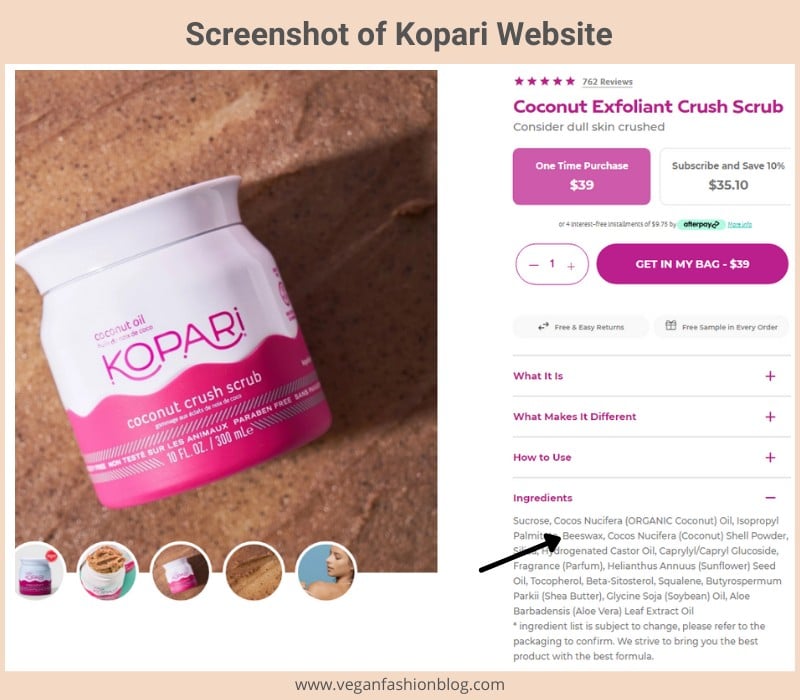 Half of their coconut body care line contains lanolin as well as beeswax. However, they do have a decent collection of vegan products. You will have to look closely at the ingredient list to fish them out.
At the time of writing this article, some of the listed vegan products include the following:
Kopari Vegan Skin and Bodycare
Coconut Body Glow
Coconut Body Milk
Coconut Body Oil
Coconut Cleansing Oil
Coconut Detox Mask
Coconut Lip Glossy
Coconut Lip Scrubby
Coconut Melt Wipes
Coconut Rose Toner
Coconut Shower Oil
Organic Coconut Melt
'Save Face' Oil
Starry Eye Balm
Sundaze Mineral Face Sunscreen
Kopari Vegan Personal Care
Coco Oil Pullers
Coconut Charcoal Toothpaste
Coconut Deodorant
Coconut Toothpaste
Coconut Toothpaste Duo
Love Melt
Kopari Vegan Sets & Bundles
Coconut TLC Kit
It's Personal Kit
Summary
Kopari products are powered by coconut and feature a host of natural ingredients. Their products can be picked up from Sephora, Ulta Beauty, Revolve, and Amazon.