Is Kylie Cosmetics Cruelty-Free and Vegan?
Kylie Cosmetics is one of the most disputed "self-proclaimed" cruelty-free brands on the market. They claim not to sell in China or test their products on animals, but they've failed to back their claims up with any certifications from PETA or Leaping Bunny. The brand isn't 100% vegan, either. This is because a couple of their products contain animal derivatives.
Kylie Cosmetics is a beauty brand founded by TV personality Kylie Jenner. The brand headquarters is in Oxnard, California, USA, and it was started in 2014.
The brand has an impressive collection of beauty items. With Kylie Cosmetics, you will never run out of options. Their product line consists of eyelashes, mascara, eye shadow palettes, lipstick, and blush.
Is Kylie Cosmetics Cruelty-Free?
It's difficult to believe a brand is cruelty-free without any form of certification from known cruelty-free authorities. That's the situation Kylie Cosmetics has found itself in.
It's even more difficult for them to convince customers otherwise, considering the fact that they're partly owned by Coty – a company that is not cruelty-free.
Rather than taking the public for their word, we came up with some criteria that help us identify a cruelty-free brand. These criteria state that a cruelty-free brand must NOT do the following:
Sell in countries where animal testing is required by law
Test their final products on animals
Source raw materials from suppliers who carry out animal testing
Kylie Cosmetics complied with these criteria, and we have no excuse not to add them to our list of cruelty-free brands.
Are Kylie Cosmetics Products Tested On Animals?
In an interview conducted in 2016, Kylie Jenner confirmed that Kylie Cosmetics doesn't test on animals.
However, Kylie Cosmetics has failed to put up an animal testing policy or inform consumers of the alternative testing method used.
We understand that most subsidiary brands adopt the same testing policy for their products as their parent company – in this case, Coty.
Thankfully, Coty carries out non-animal testing to determine the safety of their products.
The alternative testing method they use includes human volunteers and Nitro testing. Hence, we can assume that Kylie Cosmetics uses these alternatives, as well.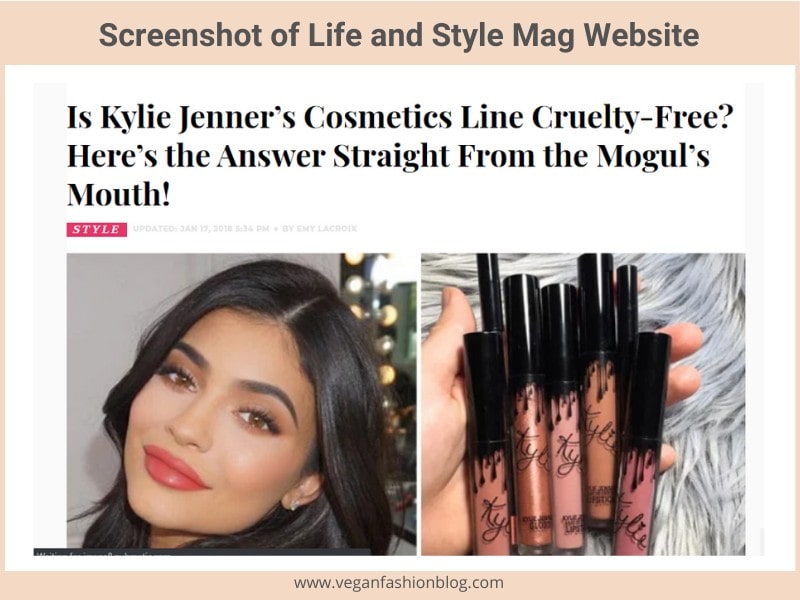 Do They Test On Animals When Required By Law?
Brands are only required to carry out compulsory testing when they sell in countries with strict animal testing laws, such as China.
Cosmetic brands who distribute around Europe are not compelled to comply with this law since European authorities deem it unnecessary.
Only brands that sell in China have to go through such an ordeal. Fortunately, Kylie Cosmetics doesn't sell in that country.
Are Kylie Cosmetics Products Sold In China?
Kylie Cosmetics does not sell its products in China. Its products are mainly distributed in the US and a few parts of Europe. They've managed to keep their products off the Chinese market despite their affiliation with Coty.
Does Kylie Cosmetics Have Cruelty-Free Certifications?
This is the gray area in their cruelty-free claim. Despite being a popular figure in the beauty world, Kylie Cosmetics is neither certified by PETA nor Leaping bunny.
They were missing from the database of each of these authorities, which would come as a shock to consumers.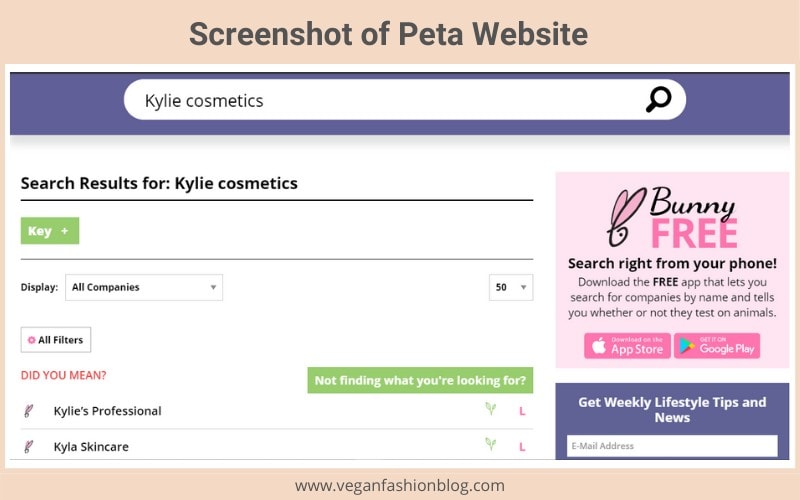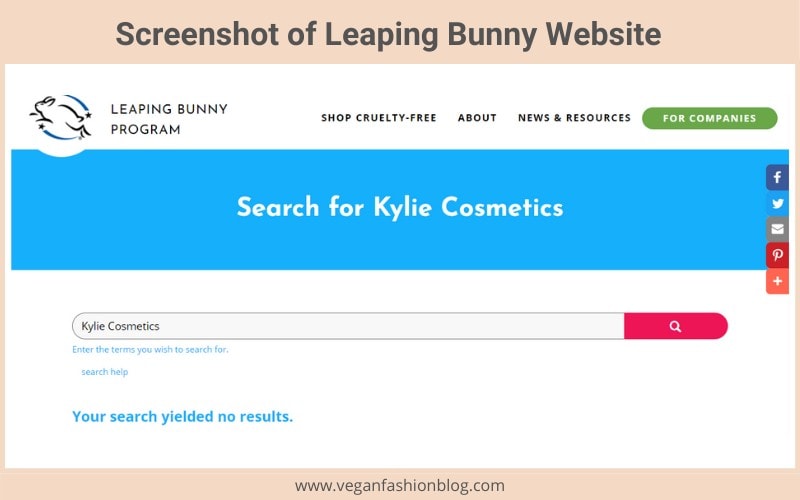 We understand that Coty is not a friend of any of the authorities mentioned above, but we've seen some brands who were able to get certified by Leaping Bunny despite their affiliation with a company that is not cruelty-free.
Is Kylie Cosmetics Owned By Another Company?
Coty Inc. owns 51% of Kylie Cosmetics. This was after their huge investment in the brand a few years ago. Ironically, Coty happens to be one of the brands that started the movement against animal testing in 1999.
While the company maintains that they don't test on animals, the majority of its subsidiaries are not cruelty-free. Coty is one of the largest producers of fragrance and owns several beauty brands.
For the record, Coty is not a friend of PETA or Leaping Bunny.
Are Kylie Cosmetics Products Vegan?
At no point has Kylie Cosmetics claimed to be a vegan brand. They do have a couple of listings that are vegan-friendly, but a huge number of their products contain animal derivatives, like beeswax, lanolin, and pearl powder.
Beeswax is derived from honeybees during their combing period. The extraction process for this substance puts a large colony of bees in danger.
Pearl powder, on the other hand, is extracted from an aquatic animal called mussels.
Aside from animal derivatives, a large number of Kylie Cosmetics products feature artificial ingredients.
If you will be picking a product from this brand, it pays to be able to differentiate their vegan line from their non-vegan line.
To save you the trouble of glancing through a series of pages, we've listed a short collection of Kylie Cosmetics products that are vegan below.
Lip gloss
So Cute
Literally
Poppin
Glitz
Posie
Koko K
Cupid
Glamour
Candy K
Lip blushes
Bikini Bod
Cherry On Top
I'm Blushing
Butterfly
Kyshadow single collection
Jack Frost
Jasper
Light Year
Pyrite
New Year, New Me
Matcha
Quartz
Hematite
Starfish
Sandy
Ma$e
Sunshine
Topaz
Goddess
Buzz Off
Slay
Sweet Like Honey
Party Time
Island Girl
Frosty
Summary
Kylie Cosmetics has a large catalog of cosmetic products. However, it's difficult to convince buyers of their cruelty-free status with no certifications.
They obviously have a large vegan-friendly selection, but the downside is that a lot of them feature artificial ingredients.