Is Living Proof Cruelty-Free and Vegan?
Living Proof is cruelty-free as they confirm that they do not test their finished products on animals. They also don't use suppliers who carry out animal testing. Their formulations are safe for the skin, as well as our furry friends. Not all of their products are vegan.
Living Proof is a US-based beauty brand founded by Robert Langer in 2005. The brand majors in hair care products that minimize frizzles, breakage, or tangling.
Living Proof has been acquired by Unilever, but the brand still retains its cruelty-free status.
Is Living Proof Cruelty-Free?
PETA categorizes Living Proof on their database as a brand that "does not test on animals". This is the only sort of confirmation most consumers need to believe such claims.
A certification from PETA indicates that the brand does not test on animals or patronize suppliers who test their raw materials on these furry creatures.
Secondly, such brands must not sell in a country such as China, where animal testing is required by law.
Since Living Proof complied with all of the above conditions, we see no reason why we shouldn't add them to our cruelty-free brand list.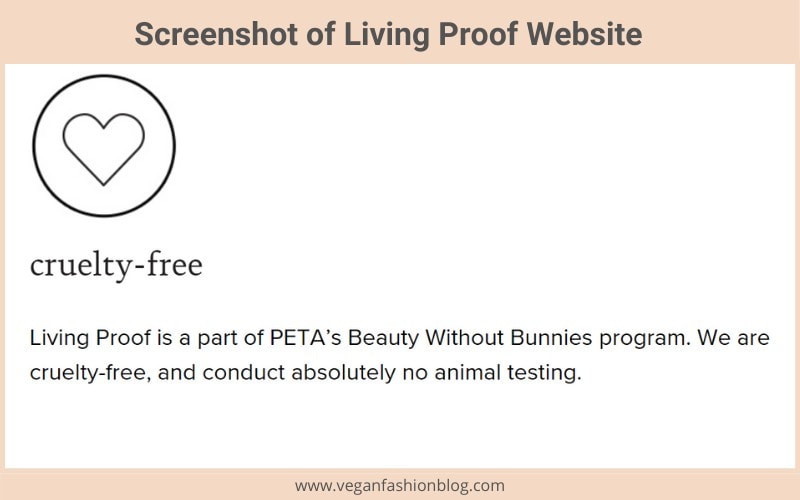 Are Living Proof Products Tested On Animals?
Living proof confirmed that they do not test on animals through email response to curious consumers.
Buyers had to go through this route to confirm their testing status after the brand failed to publish a testing policy on their site.
Do They Test On Animals When Required By Law?
Living Proof is not required to carry out animal testing by law. The strict testing law mainly applies to foreign brands who import their products into the Chinese market.
Those who sell outside China, especially in European stores, don't have to go through these procedures to get their products accepted into their market.
Are Living Proof Products Sold In China?
Living Proof doesn't sell in China. They're one of the few hair care brands that have not been enticed by the profit they could reap from the Chinese market.
Does Living Proof Have Cruelty-Free Certifications?
It's difficult for brands to convince consumers of their cruelty-free status with a vague statement like "we do not test our final products on animals".
A certification from a known cruelty-free authority is needed to back that claim up.
Living Proof has been able to do so with a certification from PETA. Their certification was issued while they were an independent brand. Unfortunately, they're not recognized by Leaping Bunny.
It seems Leaping Bunny is not quick to certify brands that are owned by a parent company that tests on animals.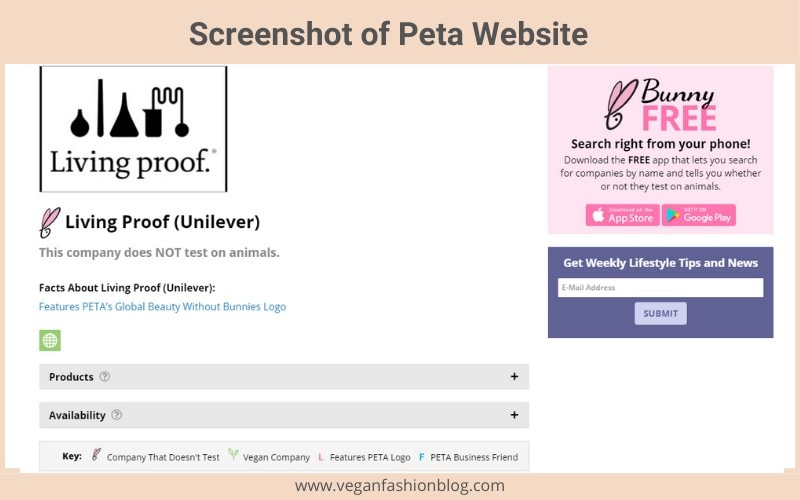 Is Living Proof Owned By Another Company?
Living Proof is another subsidiary of Unilever. The brand was acquired in 2016. We know that 80% of brands owned by this multinational company sell their products in China, and as such, they are not cruelty-free.
Living Proof is one of the few exceptions.
Aside from Living Proof, they also have other cruelty-free brands, including Tatcha, Dove, and Hourglass.
Are Living Proof Products Vegan?
Living Proof has some vegan lines, but a handful of their formulations contain animal derivatives. It's difficult to differentiate their vegan products from the non-vegan selection.
The only way to find out is to look through the ingredient list.
For the record, any of their products that contain either PEG-8 beeswax or lanolin are not vegan. This is because each of these ingredients is extracted from animals – honeybees and sheep, respectively.
Hence, if you're a vegan, you would want to steer clear of the likes of the Living Proof curl defining cream, style lab amp, curl detangling rinse, and their prime styler.
All of these products contain either beeswax or lanolin.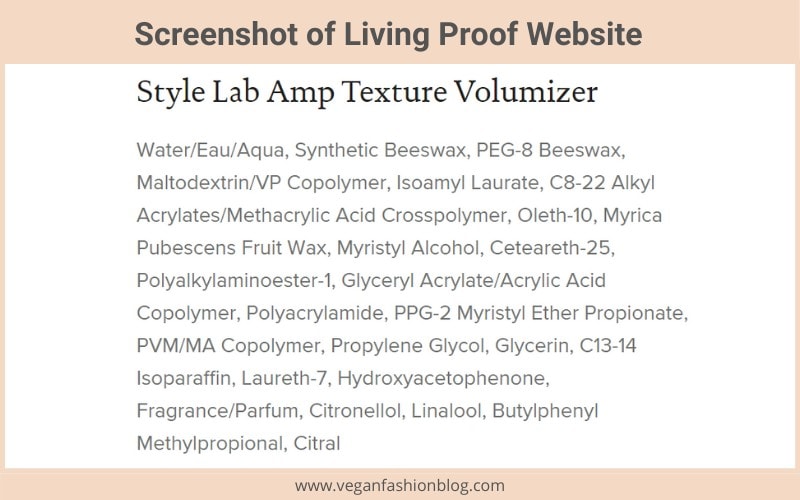 For a completely vegan approach, here are the products you should look at buying:
Perfect hair Day
Perfect hair Day (PhD) Shampoo
Perfect hair Day (PhD) Conditioner
Perfect hair Day (PhD) Triple Detox Shampoo
Perfect hair Day (PhD) Dry Shampoo
Perfect hair Day (PhD) In-Shower Styler
Perfect hair Day (PhD) Body Builder
Perfect hair Day (PhD) Heat Styling Spray
Perfect hair Day (PhD) Weightless Mask
No Frizz Care
No Frizz Shampoo
No Frizz Conditioner
No Frizz Vanishing Oil
No Frizz Leave-In Conditioner
No Frizz Nourishing Styling Cream
No Frizz Humidity Shield
No Frizz Instant De-Frizzer
No Frizz Intense Moisture Mask
Hair Restore Formula
Restore Shampoo
Restore Conditioner
Restore Perfecting Spray
Restore Instant Protection
Restore Smooth Blowout Concentrate
Restore Dry Scalp Treatment
Restore Repair Mask
Color Care Range
Color Care Shampoo
Color Care Conditioner
Color Care Whipped Glaze – Light Color
Care Whipped Glaze – Dark
Style Lab Collection
Style Lab Prime Style Extender
Style Lab Flex Hairspray
Style Lab Texture Mist
Style Lab Control Hairspray
Style Lab Blowout
Style Lab Forming Paste
Summary
Living Proof has strived to minimize the use of toxic chemicals in its production. None of their formulations contain phthalates or parabens.
While they admit that their products do contain animal derivatives, they're looking at extending the number of vegan products in their collection.