Is Lush Cruelty-Free and Vegan?
Lush is 100% cruelty-free. They've upheld this policy since their launch in 1995 and have never defaulted. They do have vegan-friendly lines, but not all of their products are free from animal derivatives. Continue reading below as we go into full detail about their cruelty-free and vegan status.
Lush Cosmetics was founded in 1995 by the duo of Liz Weir and Mark Constantine. The brand's product line includes bath bombs, shower gels, body lotions, and soaps.
The majority of their products are handmade and have a vegan line. The company sells in 49 countries worldwide aside from its country of origin – France.
This includes the UK, United States, Canada, Germany, Croatia, and Spain.
Is Lush Cruelty-Free?
To answer that question, you will have to hear it from the horse's mouth, and here's what Lush has to say concerning that: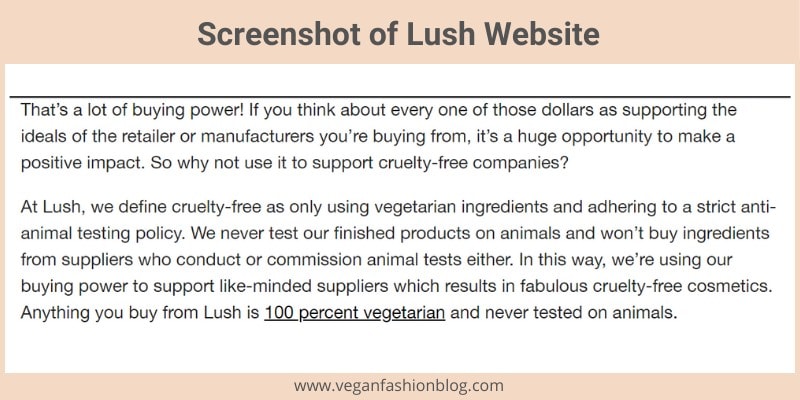 We can confirm that this is not just a mere claim, as the brand adopted this policy from day one of their production. To put any uncertainty to bed, they also have a seal of approval from PETA.
Are Lush Products Tested On Animals?
The brand is clear about their policies when it comes to animal testing. They have met every requirement we've set for a cruelty-free brand – most importantly, the one that said no animal testing should be carried out.
In addition to this, they don't use suppliers that carry out animal testing in any form, nor do they sell in countries where animal testing is required by law.
Most importantly, PETA considers them as a brand that does not test on animals.
Do They Test On Animals When Required By Law?
The brand doesn't sell in places where animal testing is required by law. They've stuck to a cruelty-free path since launching in 1995 and have done their best to steer clear of markets that will compromise that.
Fortunately, they only manufacture in Europe, and European cosmetic authorities do not deem animal testing necessary for this brand.
Are Lush Products Sold In China?
Lush has provided very few details about their activities in other countries, but they don't sell in any physical stores in China.
We found this out from a response they gave a customer who inquired about this in the comment session. Here's a snippet of the response.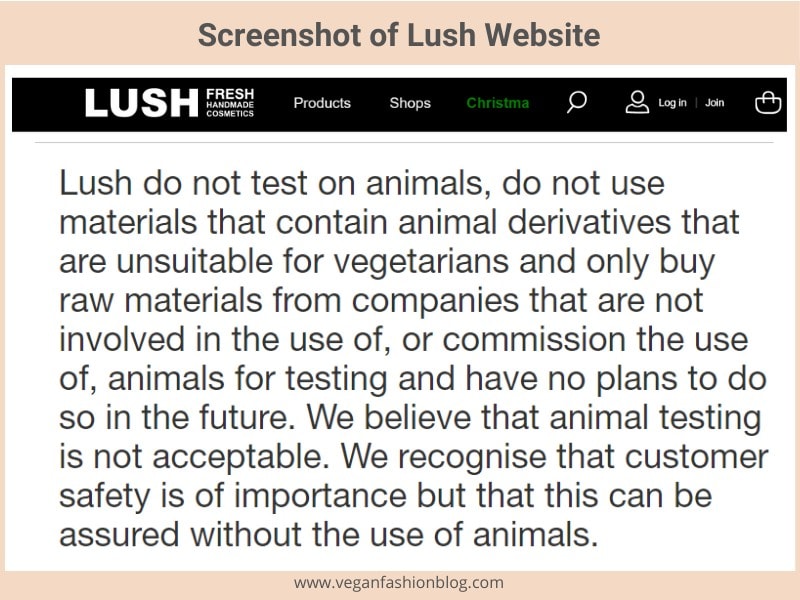 Does Lush Have Cruelty-Free Certifications?
Lush is certified by PETA and is featured on their database as a brand that does not "test on animals". However, they are not certified by Cruelty-Free International – Leaping Bunny.
They claim the reason for that is because their testing policy is more strict than that of Leaping Bunny.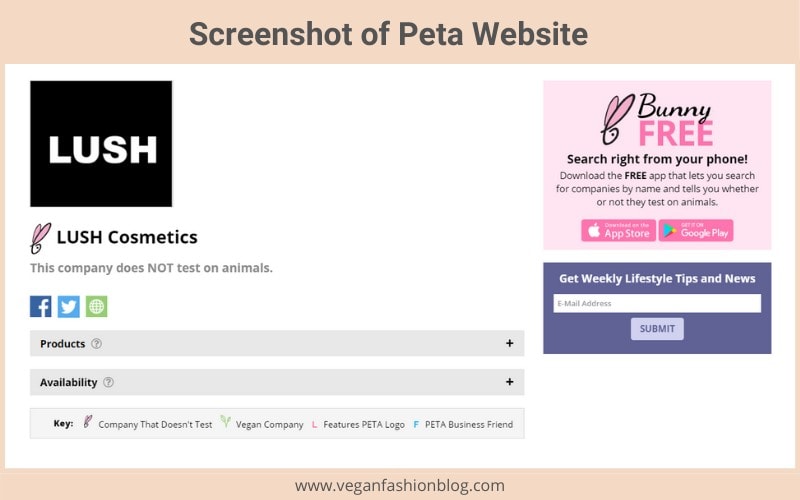 Is Lush Owned By Another Company?
Lush doesn't have a parent company. The brand is managed by its founder Mike Constantine, and their cruelty-free ways are due to his influence.
He stuck by this policy even while he worked with other brands before launching his own.
Are Lush Products Vegan?
Lush is not 100% vegan. The brand does have an eye for details and is quick to give customers the information they need to make the right choice, though.
Lush states in their FAQ section that 80% of their products are animal-friendly, while the rest feature beeswax, lanolin, and honey.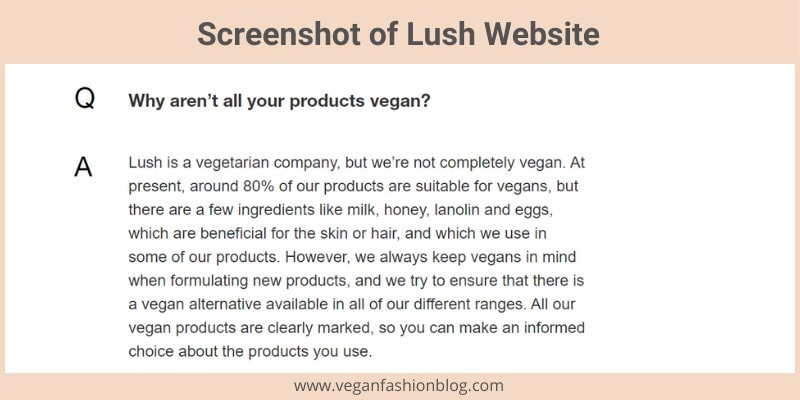 They also advise users to do their research before picking up any item after simply looking up the ingredient list.
This should be done because they've failed to attach a vegan icon to differentiate those items from their non-vegan line.
Below is a list of their vegan products:
Handmade Vegan Bestsellers
Intergalactic bath bomb
Butterball bath bomb
Snow fairy bath bomb
Shoot for the stars bath bomb
Sex bomb bath bomb
Winter garden bath bomb
Twilight bath bomb
I want a hippopotamus for Christmas bath bomb
Snowman dreaming bath bomb
Sleepy body lotion
Dream cream body lotion
Sleepy shower gel
Cup 'O coffee face and body mask
Rehab shampoo
Holly Golightly wonderball 3 bath gift bomb
Rose jam shower gel
Snow fairy shower gel
Charity pot shower lotion
Angels on bare skin face and body cleanser
Buffy body butter
Summary
Lush has been cruelty-free since day one. They don't carry out any form of testing, but they do use animal derivatives in their production.
To make sure you don't end up making the wrong pick, we advise you to go through the ingredient list of each product to certify that it doesn't contain animal derivatives.