Quick Answer: Is Make-up Revolution Cruelty-Free and Vegan?
Yes, Make-up Revolution is cruelty-free, but only 75% of their products are vegan. Even though they don't test on animals, they use animal byproducts like beeswax in their production process
Make-up Revolution was launched in 2014 by Adam Minto. The brand is committed to providing a wide variety of beauty options accessible to everyone all over the world.
Their product line is affordable and adopts a unisex approach. Makeup Revolution headquarters is in London, UK.
Their catalog consists of foundation, concealer, eyeshadow palettes, and lipstick. If you are curious about the cruelty-free and vegan status of this revolutionary brand, you will find your answers in this guide as you keep reading below.
Is Make-up Revolution Cruelty-Free?
Cruelty-free for us refers to a brand that complies with the following rules:
Don't carry out animal testing in any form or use suppliers who test their raw materials on animals.
They don't sell in countries where animal testing is required by law or use third-parties to test their products.
Keep their products off the Chinese market.
Looking at the checklist above, we can confirm that Make-up Revolution is cruelty-free.
Are Make-up Revolution products tested on animals?
Make-up Revolution does not carry out animal testing. They promote themselves as a cruelty-free brand. Their parent company maintains that every of their subsidiaries is certified cruelty-free by PETA.
Do they test on animals when required by law? Or use a third party?
No, Make-up Revolution is not compelled to test on animals even when required by law. Post-market testing only applies to brands who import their products into countries with strict testing laws such as China.
Make-up Revolution distributes in Europe and America. The authorities in these areas don't make animal testing compulsory for cosmetic products.
Are Make-up Revolution products sold in China?
No, Make-up Revolution doesn't sell in China. However, there are rumors in the media that some of their products are manufactured in the area.
While we haven't confirmed this, if that turns out to be true, it still doesn't mean they're not cruelty-free.
This is because only products imported into the country are made to undergo compulsory post-market testing. Those manufactured in the country don't have to go through it.
With that being said, we can confirm that their products are not sold in stores in the area. They're primarily distributed in the UK, US, and major cities in Europe.
They also ship to some parts of Africa, including South Africa and Nigeria.
Does Make-up Revolution have cruelty-free accreditations or certifications?
Makeup Revolution is a subsidiary of Revolution Beauty, and the company is certified cruelty-free by PETA. They sport the global Beauty without Bunnies logo.
On the other hand, they're not featured on Leaping Bunny's database of cruelty-free brands.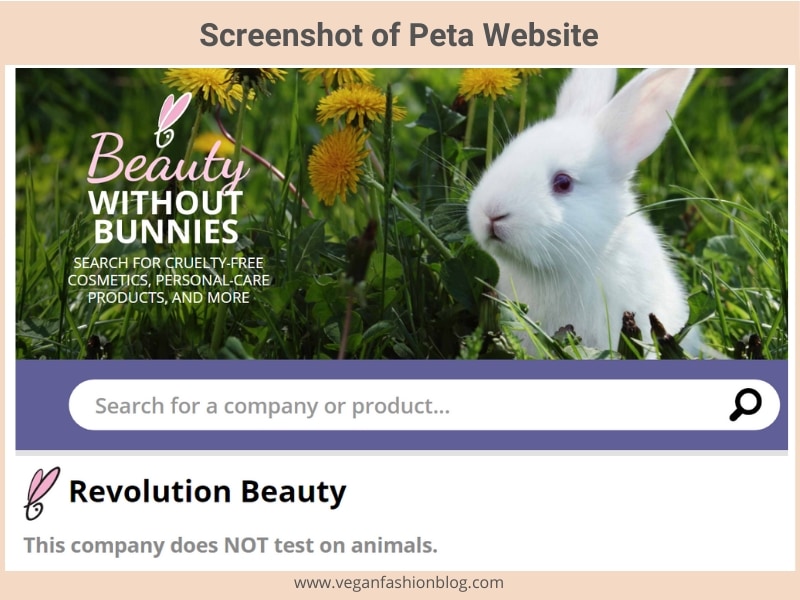 Is Make-up Revolution's parent company Cruelty-free and Vegan?
Make-up Revolution was originally founded by TAM Beauty, a company that deals in makeup items. The company was founded by Adam Minto.
The irony is that TAM Beauty rebranded to Revolution Beauty Limited following a series of bankruptcy claims in 2019.
Make-up Revolution isn't the only brand they own. Their subsidiaries include Revolution PRO, Revolution Skincare, and IHeart Revolution. All their brands don't indulge in animal testing.
Is Make-up Revolution Vegan?
A brand that's considered vegan must not use animal-origin ingredients in its formulation. If we're to go with the trend, Make-up Revolution should be vegan since most cruelty-free brands also adopt a 100% vegan approach.
Unfortunately, we can't say the same with Make-up Revolution. Only 75% of its product line is vegan.
Fortunately, most of their products also come with an ingredient list that allows you to cross-check what each product is made of.

The brand adopts a speedy production process that allows them to produce new products every week. Presently, their catalog contains over a thousand products, and we can't possibly list out all their vegan lines here.
However, we've done our best to list out their best sellers.
Vegan Concealers
Makeup Revolution Conceal & Define Concealer
Concealing Wand – Light
Concealing Wand – Warm Medium
Fast Base Concealer
Conceal Kit – Medium Dark
Brightening and Tightening Under Eye Concealing Wand
Makeup Revolution Conceal & Define Infinite Longwear Concealer (5ml)
XX Revolution ConcealXX Super FiXX Concealer
Brushes
Ultra Metals Go Contouring
Marble Eye Brush Set
Wild Animal Courage Brush Set
Wild Animal Fierce Brush Set
Precision Contour Set
Highlight & Finish Set
Conceal & Define Brush Set
New Neutrals Brush Set
Sprinkles Brush Set
Lipstick
Powder Matte Lipstick
Supreme Matte Lip Pigment
Revolution X Sebile Get Noticed Matte Liquid Lipstick
Iconic Matte Revolution Lipstick – Diamond Life
Iconic Matte Revolution Lipstick – Chauffeur
Rose Gold Lipstick – Diamond Life
Diamond Lustre Crystal Lipstick
Revolution Pro Hydra Matte Liquid Lipstick
Satin Kiss Lipstick
I Heart Revolution Tasty Avocado Lipstick
Summary
Make-up Revolution updates their product line weekly. This means they provide more vegan options for vegans all over the world. Honestly, you have little to worry about with his brand.
They have different varieties that you will never have a reason to look at their non-vegan options.