Quick Answer: Is Mario Badescu Cruelty-Free and Vegan?
Mario Badescu's cruelty-free status is still unverified, although they claim not to use suppliers who test on animals or fund animal tests through third parties. The brand is, however, not certified by any cruelty-free authority, including PETA. Unfortunately, not all of their products are vegan, as some of them contain animal derivatives.
Mario Badescu is an American skincare brand that was founded in 1967. The brand headquarters is in New York City, and it was founded by Romanian skincare specialist – Mario Badescu.
The brand is popular around Europe and provides quality skincare options for consumers.
Each of their products is infused with botanical elements that deliver quick results. Mario Badescu claims they've been cruelty-free since day one and remain so to this day.
Their vegan status, however, remains a gray area, and we will feed you with more details as you continue reading below.
Is Mario Badescu Cruelty-Free?
For a company and its products to truly be considered cruelty-free, they need to meet these three criteria:
The brand's products should not be tested on animals.
Its products should not be tested on animals even when required by law.
The company's products should not be sold in China.
Does Mario Badescu Test Its Products On Animals?
Mario Badescu insists that they do not perform animal testing anywhere in the world. They also claim not to use suppliers who test on animals, nor do they pay third parties to carry out the tests on their behalf.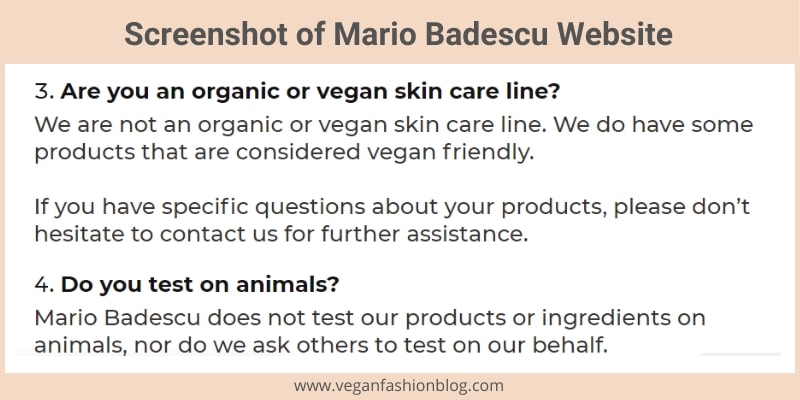 Does Mario Badescu Test Its Products On Animals Even When Required By Law?
Mario Badescu doesn't use third parties to test their products. The company is committed to a 100% cruelty-free way, and as such, they avoid countries with strict animal testing requirements.
This happens to be the situation with brands that sell in China.
Does Mario Badescu Distribute Its Products In China?
Mario Badescu doesn't sell in China, nor do they manufacture their products in the area.
The brand has kicked against animal testing since it was launched and stays away from markets where they have to submit their products for animal testing.
Despite the demand for cosmetic products in the Chinese market, Mario Badescu decided not to follow in the footsteps of other brands who neglect their principles for profits.
Is Mario Badescu PETA-Accredited?
One way to help eliminate any doubt surrounding a brand's cruelty-free claim is if they're accredited by known cruelty-free authorities.
Even though every move indicates that Mario Badescu doesn't carry out animal testing, they've not been able to obtain a certification from PETA and Leaping Bunny.
This is a surprise, because they've been in business since 1967. The only explanation for this is because they haven't taken part in both PETA and Leaping Bunny's cruelty-free program.
Is Mario Badescu Owned By a Parent Company?
Mario Badescu is a privately-owned brand. They are not owned by any multinational corporations.
Is Mario Badescu Vegan-Friendly?
For a company and its products to be considered vegan-friendly, they must abstain from using animal derivatives. The usual suspects include lanolin, honey, and beeswax.
A certification from a vegan authority is also a boost, and it's even more believable if the brand's products sport a vegan logo.
These are the requirements that should be met by a brand before they're considered vegan. Mario Badescu provided answers about their vegan status in a portion of their FAQ section, and it goes like this:
"We are not an organic or vegan skincare line. We do have some products that are considered vegan-friendly. If you have specific questions about your products, please don't hesitate to contact us for further assistance."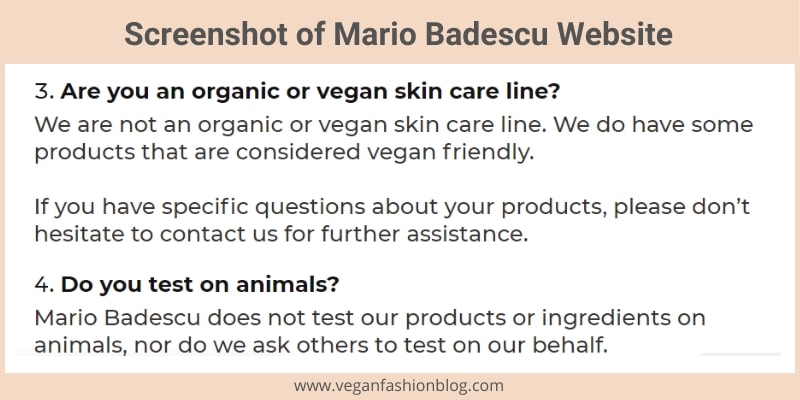 Do Mario Badescu Products Contain Any Animal Parts Or Anything Derived From Animals?
Mario Badescu does not have a vegan session on their page. However, going through the ingredient list published under most of their products, they appear to be vegan-friendly.
A vast majority of the products are free from lanolin, beeswax, and carmine.
You will find a lot of vegan products under categories like dryness, moisturizer, regimen, and concerns. Some of the examples include:
Buttermilk moisturizer (moisturizer)
Drying lotion (dryness)
Enzyme cleaning gel (regimen)
Peptide renewal cream (concern)
You can shop for their vegan products by searching through categories like "regimen" – or "concerns" – on Mario Badescu's official website.
Summary
Taking a look at Mario Badescu's production process, you can tell that they meet every requirement set for a cruelty-free brand.
Not only do they avoid the Chinese market, but they also went a step further to cut off suppliers who test on animals from their supply team.
While they have good intentions, it's difficult to take cosmetic brands for their words these days. The best way to put every doubt to bed is for the brand to obtain a certification from either PETA or Leaping Bunny.