Is Milani Cruelty-Free and Vegan?
Milani is a cruelty-free brand that believes that beauty shouldn't come at a cost to animals' welfare. The brand doesn't test on animals. Its suppliers, partnering parties, and parent company, Gryphon Investors, don't test on animals, neither does the brand sell in countries where animal testing is required. Milani is duly certified by PETA and Leaping Bunny. The brand has vegan products, but not all are vegan.
Milani is a leading cosmetics company that makes its products in the US and Italy.
Headquartered in Los Angeles, the company was established in 2001, and it makes cosmetics products for women with different skin tones and beauty goals.
Milani Cosmetics includes two different brands: Milani and Jordana.
In 2018, a private equity firm, Gryphon Investors, announced the acquisition of the two brands after it bought the majority stake in Milani Cosmetics.
Gryphon Investors are not known as an animal-testing brand. However, they are typically an investment-oriented brand.
Is Milani Cruelty-Free?
According to our findings, Milani is completely cruelty-free. But how did we come to this conclusion? To be cruelty-free, a brand must meet a set of criteria that we use as a checklist.
What does this checklist entail? To be cruelty-free, a brand must not do the following:
Test its final products or formulations during or after production processes on animals
Fund third-party companies to do the above on its behalf
Produce or sell its products in-store in countries where animal testing is mandatory by law
Taking the above points into consideration, we can confirm that Milani is 100% cruelty-free, although it uses some animal formulations in some of its products.
As confirmed by the company on its website, Milani is a cruelty-free company and vows to continue to be a friend of those with furs, fins, and feathers.
The company doesn't sell in China and is accredited by internationally recognized animal welfare organizations.

Are Milani products tested on animals?
No, Milani, its parent company, and suppliers do not test on animals. As confirmed by Milani (in the screenshot above), the brand doesn't conduct tests on animals.
Being cruelty-free has to do with not testing on animals, not paying third parties to do that, and not selling in countries that require animal testing for foreign companies.
Do they test on animals when the law requires this?
Again, Milani doesn't sell to China or any country where the law requires animal testing. China, for example, offers a huge opportunity for foreign cosmetics companies.
The country's unorthodox law on compulsory animal testing is why the company, like many others, is keeping out of China, as it would not like to sacrifice good production ethics for profit.
Are Milani products sold in China?
Unfortunately, users who are currently based in China will not be able to buy Milani products due to the current regulations.
This is because of China's compulsory animal testing requirement for foreign companies.
Milani sees animal testing as cruel and an infringement of the welfare of animals, regardless of whether they're those with feathers, furs, or fins.
Milani ships internationally, but not to all countries, and this exemption includes China.
Does Milani have cruelty-free certifications?
Yes, Milani doesn't only say they are cruelty-free. They also have certifications to prove this. Milani is certified by the program of the People for the Ethical Treatment of Animals, Beauty Without Bunnies.
For those who are not familiar with PETA, it is a leading nonprofit animal rights organization. It's a certifying organization for thousands of brands worldwide.
And its program, Beauty Without Bunnies, helps consumers find out if a company does animal testing or not.
A quick check on the Beauty Without Bunnies website shows that Milani is indeed listed as a brand that doesn't do animal testing.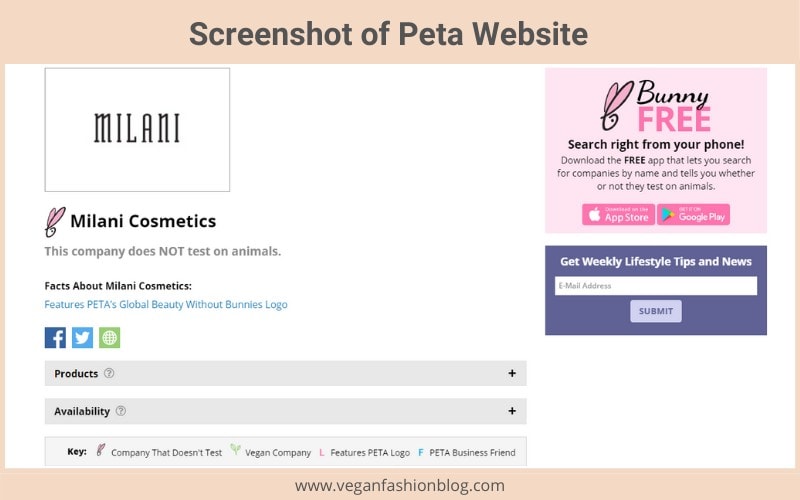 Also, each product from the company features the Beauty Without Bunnies' rabbit logo, a seal of approval from PETA.
All brands certified with PETA have agreements in place to be cruelty-free and not to do animal testing anytime in the future.
Additionally, Milani is also certified and listed by the Leaping Bunny Program, another trusted cruelty-free certification for brands of cosmetics, personal care products, and more.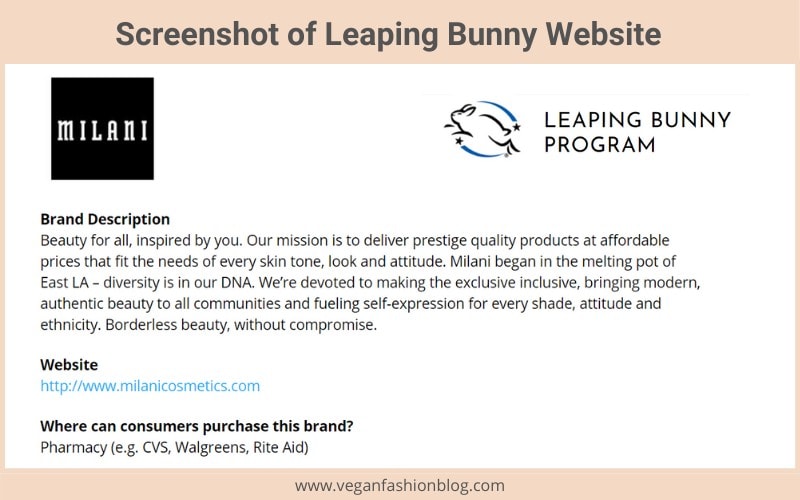 Is Milani Owned by another company?
Yes, Milani is owned by Gryphon Investors. The equity firm bought a majority stake in Milani and Jordana in 2018. Gryphon Investors is an investment-oriented company and doesn't do animal testing.
Is Milani Products Vegan?
No. As confirmed by Leaping Bunny and the brand itself, Milani products are not completely vegan. Some of its products contain animal derivatives such as beeswax, lanolin, and carmine.
However, according to the brand, Milani has more than 50 products that are completely vegan, containing no animal formulations or byproducts.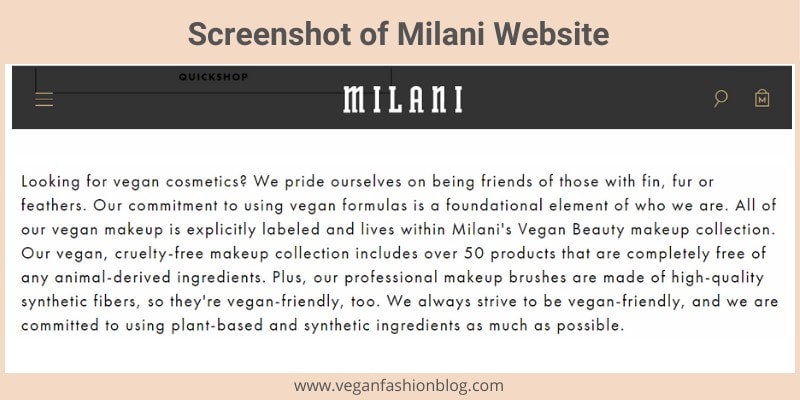 Some of Milani's vegan products are:
Amore Matte Lip Creme
Baked Blush
Bronzer XL
Brow & Eye Highlighters
Brow Shaping Clear Wax
Concealer Compact
Eye Liner Pencil
Eyeshadow Primer
Highlighter Duo
Illuminating Face Powder
Intense Bronze Glow
Length in Seconds
Ludicrous Lip Gloss
Mineral Compact Makeup
Precision Brow Pencil
Summary
In summary, Milani is a cruelty-free brand that doesn't test on animals. A few of its products contain animal derivatives, but there are some vegan products in its catalog.
The brand doesn't sell in countries where it's required to do animal testing.
Also, its products are certified by the Beauty Without Bunnies and Leaping Bunny. So, they are one of the best brands for products made without testing them on animals.