Quick Answer: Is Milk Makeup Cruelty-Free and Vegan?
Yes! Milk Makeup is cruelty-free and is certified by Leaping Bunny. It is also 100% vegan. None of the ingredients, formulations, or finished goods from this brand are tested on animals anywhere on the planet. Their products are also not found in any other country that requires animal testing by law.
Milk Makeup is a hugely popular beauty brand. It was launched in February 2016 and was founded by Mazdack Rassi, COO Dian Ruth, creative director Georgie Greville, and Zanna Roberts Rassi.
All the aspects of the company are developed at Milk Studios in downtown New York.
The brand is focused on providing top-notch beauty products. Presently, the brand's portfolio includes foundations, blur sticks, and different types of cosmetics.
A lot of our readers have asked if Milk Makeup is cruelty-free and vegan. We have analyzed the brand and its products in detail.
Is Milk Makeup cruelty-free and vegan? Keep reading to find out the details.
Is Milk Makeup Cruelty-Free?
There are several brands in the industry that claim to be cruelty-free, even though research has proven these claims to be false. Milk Makeup has given out plenty of information about its cruelty-free and vegan process.
To ensure that this brand is being honest, we came up with a checklist to see if the brand meets the requirements. For Milk Makeup to be cruelty-free, it must meet every one of these requirements.
None of the products should be tested on animals.
They should not test on any animals, even if the law requires them to do so.
The products should not be sold in China.
We investigated Milk Makeup and discovered that the brand meets all the criteria. Furthermore, there are certifications to back up each of these claims.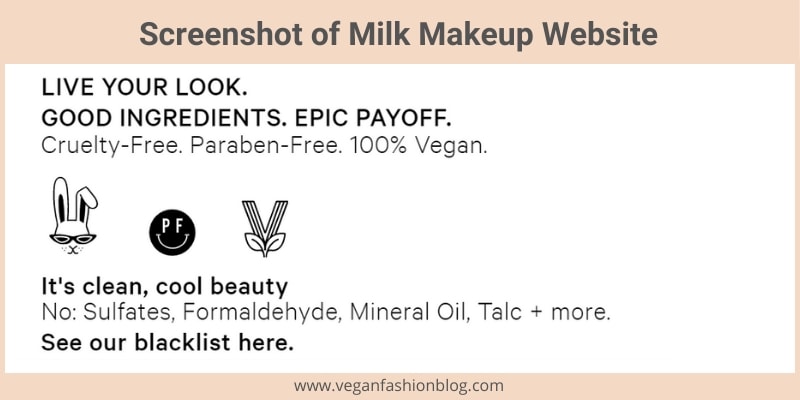 Are Milk Makeup Products Tested On Animals?
The answer is NO! Milk Makeup does not, in any way, shape, or form, test their products on animals.
All products from the company come with the Leaping Bunny certification, which is the gold standard for cruelty-free certifications.
This certification shows that Milk Makeup products are free of animal testing across every stage of product development – from the composition to the formulation and the finished products on the shelf.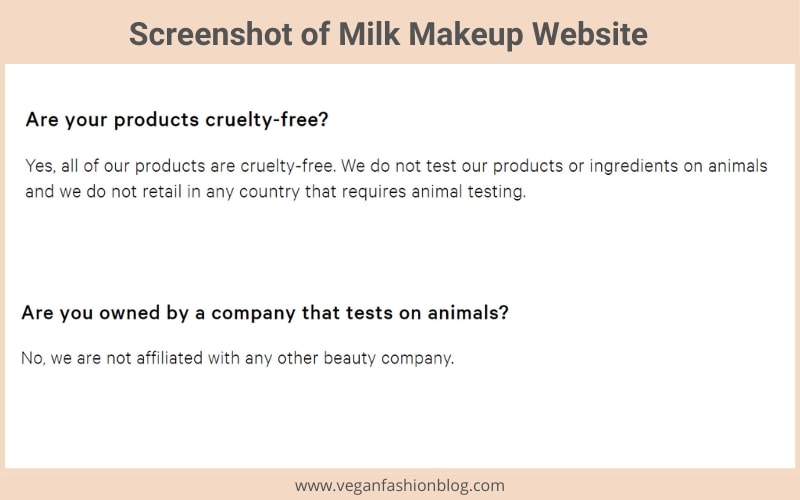 Do They Test Animals When Required By Law?
There are some countries, like China, that conduct compulsory animal tests on every cosmetic product imported into the country.
Aside from that, such governments can carry out animal testing of products straight from the shelf.
In keeping with their commitment to produce cruelty-free and vegan products, Milk Makeup does not test any of its products or ingredients on animals.
Furthermore, the brand does not sell its products in any country that carries out this mandatory animal testing, such as China.
Since they do not sell in such countries and do not test on animals even when required by law, Milk Makeup products are certainly cruelty-free.
Are Milk Makeup Products Sold In China?
No! Milk Makeup will never retail or sell their products in China. Their products are not available in the Chinese market, and most of the products from the brand are sold on their official websites or Sephora.
The company doesn't have any store in China and is not available on any Chinese online retail portals.
Therefore, Milk Makeup doesn't finance any form of animal testing anywhere in the world.
Does Milk Makeup Have Cruelty-Free Accreditation Certifications?
Milk Makeup is officially Bunny certified. This certification is issued only to brands that are free of animal testing at all stages of product development.
Is Milk Makeup Owned By Another Company?
No. Milk Makeup is not owned by or affiliated with any other beauty company.

Is Milk Makeup Vegan?
A vegan product is one that does not contain any form of animal ingredients or even animal-derived ingredients.
Although the name 'Milk Makeup' might imply that there is some milk or milk derivatives in the products, that is not the case. All the products from the brand are vegan.
Thus, you will not find oils, musks, fats, and other animal-derived ingredients in any of the products from Milk Makeup.
Aside from these, Milk Makeup also has an extensive list of the ingredients avoided in the creation of their products on their "Blacklist".
Some of the vegan products from the brand include:
Cooling Water
Kush Fiber Brow Gel
Kush High Volume Mascara
Hydro Grip Primer
Matte Bronzer
Flex Concealer
Lip + Cheek
Flex Foundation Stick
Tattoo Stamp
Sunshine Oil
Mini Lip Color in C.R.E.A.M.
Summary
The coolest thing in beauty is to use vegan, animal cruelty-free products, and that is what Milk Makeup is offering. All of their products, from the ingredients to the formulation, are animal cruelty-free.