Quick Answer: Is Mitchum Cruelty-Free and Vegan?
Mitchum isn't a cruelty-Free brand, and neither are they 100% vegan. They finance testing on their products when required to do so by law. Their products are distributed worldwide and are indifferent to the fight against animal cruelty. They neither have a cruelty-free policy nor certification from known authorities.
Mitchum is another subsidiary of Revlon. The brand is based in the US and was acquired by its present parent company in the '60s.
Mitchum majors in personal care products like roll-on, deodorants well as antiperspirants. Their products offer 24-48 hours of protection and are free from artificial fragrance.
Is Mitchum Cruelty-Free?
Most cruelty-free brands have an animal testing policy on their website. 40% of the time, it isn't accurate, but this is done to make it easier for consumers to have an idea about their production process.
Mitchum has failed to do so, and their connection with Revlon is already a big clue that they're not cruelty-free.
In most cases, brands under a parent company adopt their parent company's policy. This is to say, a huge chunk of Revlon's policy also applies to Mitchum.
For this reason, we can't consider them as cruelty-free since their parent company heavily carries out tests on animals.
Revlon used to give authorities such as PETA the impression that they do not test on animals after announcing in 2014 that they were taking their products off the Chinese market.
Since then, they've backtracked on that, and they still sell in the country to this day. They've since been added to PETA's list of brands to avoid.
Are Mitchum products tested on animals?
Mitchum is a subsidiary of Revlon, and as such, some of Revlon's policies also rub off on them. Mitchum doesn't have any testing policy on their site, and there's no time they've claimed to be cruelty or none cruelty-free.
They're passive to this course.
However, since they sell in China, the probability that they test on animals is up to 90%. However, some reports have suggested that they don't carry out the testing on their own; rather, they hire people to do so on their behalf.
Do they test animals when required by the law?
There's no point selling in a country if you're not ready to comply with their rules. Countries like China enacted a strict testing law to regulate the activities of foreign brands in the country.
The testing is done to ensure that imported products are safe for consumption.
By this effect, a brand that sells in China submits its products for animal testing before they're allowed into the marketplace. The only brand that has been able to evade their strict testing law is Aussie.
The reason is that they produce their products domestically in the country.
Are Mitchum products sold in China?
Mitchum products are sold in China. The majority of their body sprays and antiperspirants are available for sale in physical and online stores.
We saw a handful of them listed on sites like Made in China, Aliexpress, and China desert cart.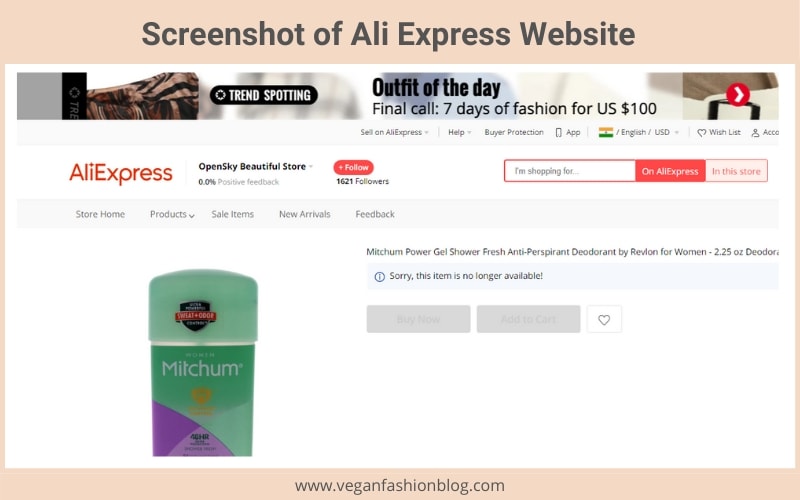 So far, Mitchum has failed to specify where they distribute to. Their page said they distribute worldwide. Hence, China isn't left out of the equation.
Does Mitchum have cruelty-free certifications?
Mitchum doesn't have any cruelty-free certification. They're listed in PETA's list of brands who conduct animal tests. We assume this is because of their connection with Revlon, who, by every indication, isn't a friend of PETA.
On the other hand, if you consider the fact that they sell in China, there's a valid reason why they don't deserve to be on the list of cruelty-free brands.
PETA isn't the only cruelty-free authority that has snubbed them. They've also failed to get any approval from Leaping Bunny.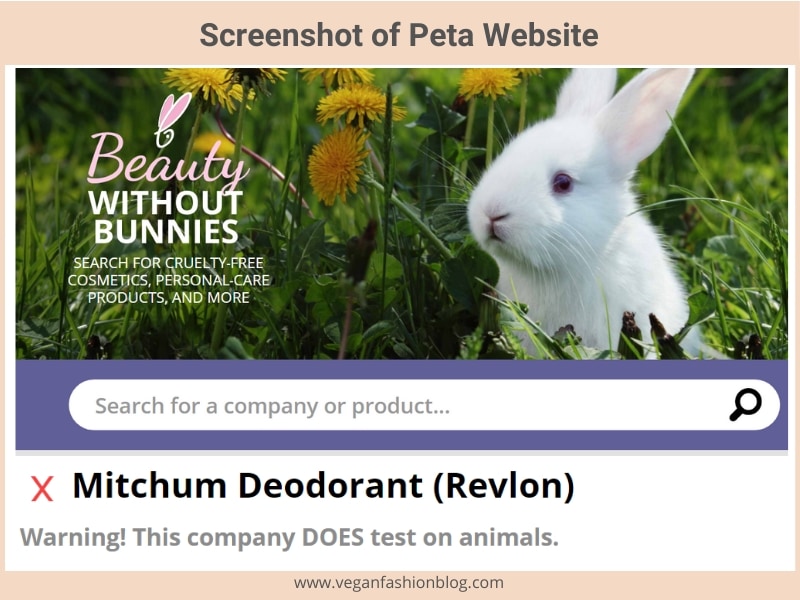 Is Mitchum Owned by another company?
Mitchum is not an independent company. The brand is owned by Revlon, one of the top manufacturers of cosmetics products in the world.
The company has been found wanting on several occasions for its animal testing policy.
Is Mitchum Products Vegan?
Mitchum is not 100% vegan. Some of their products contain animal derivatives.
One impressive feature about their products is that they don't contain offensive fragrances that will make you stink a few minutes after applying.
It does a decent job of keeping your underarm dry for 24 hours, depending on the variant you go for.
So far, the only product they have that comes close to "vegan" is the "Mitchum advanced antiperspirant gel". It provides a 48 hours drying effect.
The product is free from animal derivatives and does not contain artificial fragrance.
Summary
It's always difficult to trust a brand with no clear testing policy. The issue with Mitchum is that they've failed to clarify their stance and have let Revlon's policy rub off on them.