Quick Answer: Is No7 Cruelty-Free and Vegan?
No7 is added to our "inconclusive" list of cruelty-free brands. This is because the brand claims to be cruelty-free but have not been able to get a certification from PETA or Leaping Bunny. Also, they're owned by a company that tests on animals. In terms of vegan, they're not. Some of their formulations do contain animal derivatives. Continue reading below as we aim to make their cruelty and vegan status clearer.
No7 is an American skincare brand founded in 1935. This company is one of the oldest manufacturers of anti-aging products in the world and is one of the original skincare brands founded by Boots.
The brand has undergone a series of rebranding since it was launched, but they've stuck to their mission of creating an affordable skincare range.
The No7 catalog is filled with anti-aging serum, face mask, moisturizer, and anything for conditions like dark circles or wrinkling.
Is No7 Cruelty-Free?
Well, No7 claim not to test on animals or use suppliers who carry out animal testing. For all their claims, they still do not have a certification from Leaping Bunny or PETA.
Another factor that puts their claims in doubt is that they're owned by a parent company, Boots, with so many subsidiaries that test their products on animals.
Also, No7 do sell in China but claim that they were able to bypass the testing law because their products are not sold in physical stores; instead, they are listed on an online platform called Tmall global.
Listing on this site allows people to consume their products without them ever needing to test them.
Well, without a certification of any sort, it's unlikely that their claim will be believed by the most skeptical of all buyers. We're wary of brands that sell in China but still claim to be cruelty-free.
For this reason, we label their cruelty-free status as "uncertain".
Are No7 products tested on Animals?
Well, No7 said they do not test on animals anywhere in the world.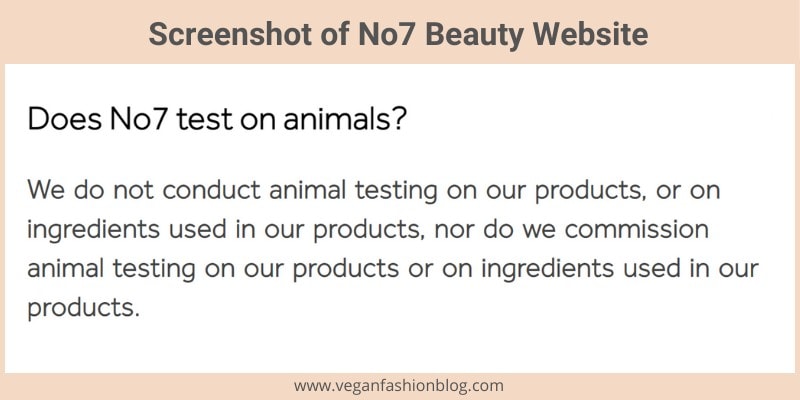 Do they test Animals when required by the Law?
No7 said they do not test on animals when required by law. They're aware of the strict resting law in China and were able to bypass it by not selling in any physical store in the area.
Listing their products only on Tmall, they were able to avoid the testing law in the area.
Are No7 products sold in China?
To answer this question, we will like you to hear from the horse's mouth, and here's what the brand has to say about their cruelty status.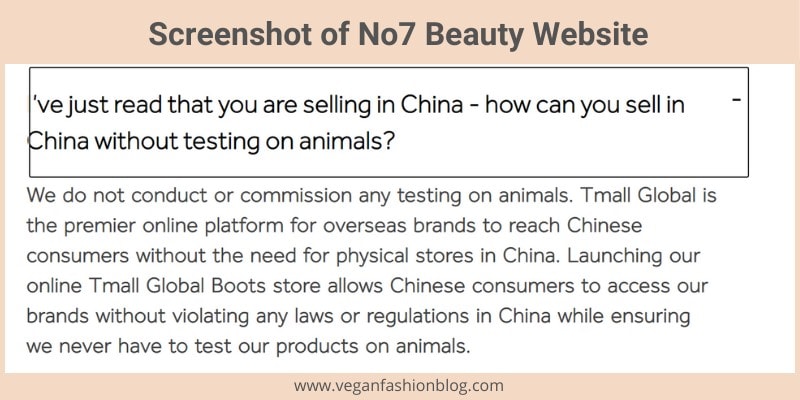 This confirms that they sell in the area although they do so via an online portal.
Does No7 have Cruelty Free Certifications?
About Leaping Bunny'scertification, No7 stated that the reason why they've not been able to acquire it is that they've long been committed to their cruelty-free ways even before Leaping Bunny's certification surfaced.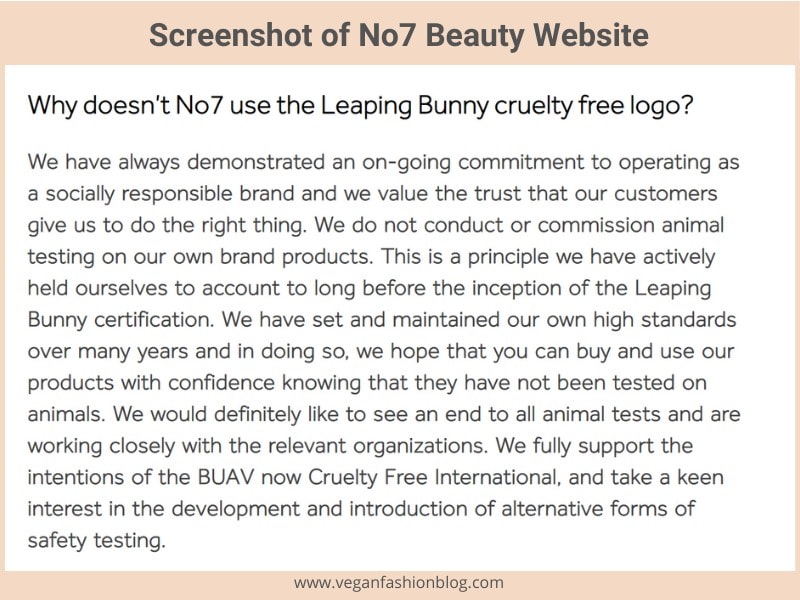 For now, they do not have a single cruelty-free certification and are not on PETA's database.

Is No7 Owned by another Company?
No7 is owned by Boots. Boots is a large company that has several subsidiary beauty brands.
Many brands under this company do carry out animal testing, but Boots also indicated that their policies do not automatically rub off on other brands under them.
Every brand is allowed to have its own policy, and they can choose not to test on animals.
Is No7 Products Vegan?
No7 doesn't claim to be vegan. A number of their products feature animal-origin ingredients. They do publish a comprehensive ingredient list for each product on their website and the packaging as well.
We can confirm that some of them contain beeswax, lanolin, silk powder, and carmine. They say the only process where animals are harmed is when carmine is extracted.
Well, that's another fact that's hard to swallow considering that the extraction process of beeswax from honey and lanolin from sheep do pose a lot of harm to the respective creature.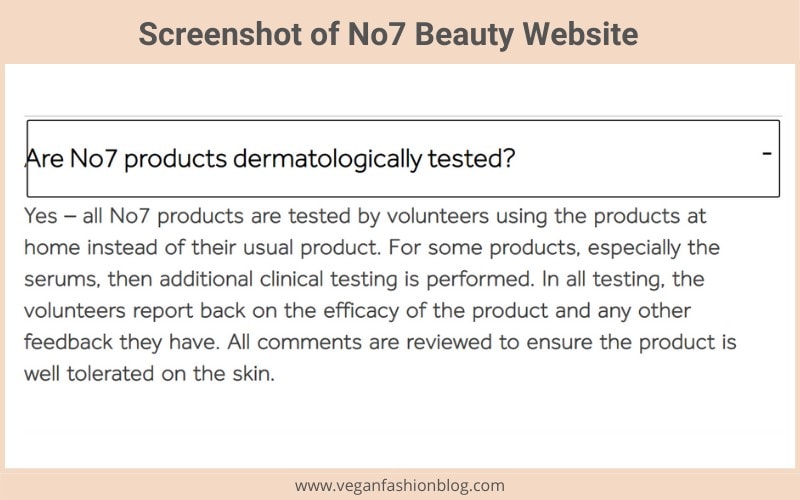 Summary
Well, we're not 100% sure about No7's cruelty-free status. Without any form of certification, there will always be doubts. Their reason for not obtaining Leaping Bunny's certification has been received with a pinch of salt.
There are several brands that were long committed to a cruelty-free approach before the inception of Leaping Bunny and still went the extra mile to obtain their certification.
We love that they're transparent in their practices. Admitting to buyers that their product does contain animal derivatives does save vegans from making the wrong pick.