Quick Answer: Is Nu Skin Cruelty-Free and Vegan?
Nu Skin is not a cruelty-free brand. This American brand tests its skincare products on animals and sells its products in China, where all foreign cosmetics and body care companies are required to test on animals before their products are made available for the public. The brand is also not vegan.
Nu Skin is a brand that was started by Blake Roney, Sandie Tillotson, Steve Lund, and Nedra Roney in 1984 in Proto, Utah, where the brand currently has its headquarters.
Nu Skin makes personal care and dietary supplements. It is owned by the Nu Skin Enterprise, a business that also owns Pharmanex. Unfortunately, Nu Skin Enterprise tests on animals and sells in mainland China.
Many of our readers are wanting to know the cruelty-free status of Nu Skin. Is it on the side of customers who want cruelty-free products or government authorities who want products tested on animals?
In this article, we will analyze the brand in detail.
Is Nu Skin Cruelty-Free?
To be cruelty-free, a few practices must be avoided to keep animals and humans out of harm's way. Animal cruelty in product manufacturing involves poor ethical treatment of animals.
For example, this includes using them for direct, unnecessary tests that science has confirmed are unreliable and inefficient.
Products whose safety levels are assessed through animal testing are proven to be 90% unsafe and often fail human trials.
This is why many countries – except for a few – have phased out animal testing. However, a few countries, such as China, still have animal testing laws in place.
To help you avoid products made in conditions of cruelty to animals, we came up with a three-criterion checklist to determine which brands are truly cruelty-free. To be cruelty-free, a brand must:
Not tested on animals in any form and at any stage of product development, both pre-market and post-market.
Not pay third-party companies to test on its behalf.
Not sell in countries where animal testing is required by law.
Nu Skin claims it doesn't test on animals except for situations where the local government requires that it does so.
Are Nu Skin Products Tested On Animals?
Nu Skin tests its products on animals through companies authorized by the Chinese authorities. According to the brand, "it's necessary to perform animal testing on certain supplements in a few countries".
The brand also confirms that it tests its final products on animals, too.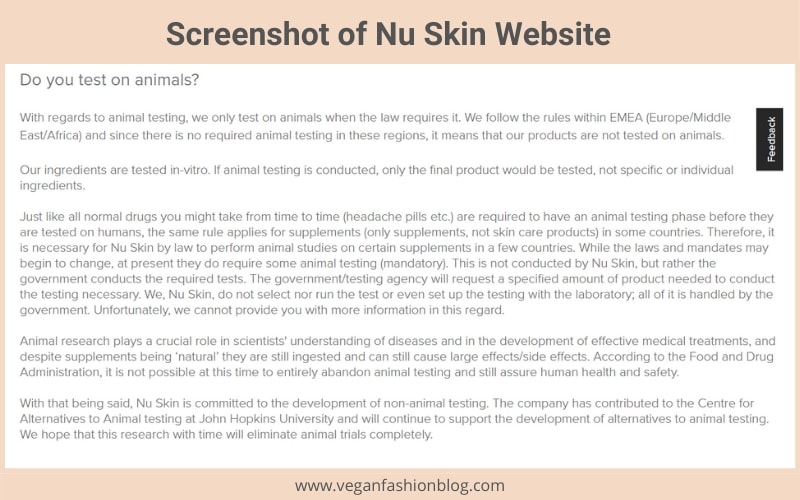 Do They Test On Animals When Required By Law?
In their animal-testing policy statement in the screenshot above, Nu Skin admits to testing on animals when the law requires it in that region. Nu Skin consents to animal-testing regulations.
Remember, to qualify as a cruelty-free brand, the company must not sell in countries where animal testing is required by law.
For many international cosmetics companies like Nu Skin International, there is common knowledge that entering the Chinese market means agreeing to test on animals.
By default, this means losing its cruelty-free certification or ending the chance of having this in the future.
However, Nu Skin appears to care more about profit than it cares about animals and the planet.
Are Nu Skin Products Sold In China?
Nu Skin products are sold in mainland China. The brand sells its products in stores in many Chinese cities, which means the country's law on animal testing remains binding on the company.
Nu Skin not only has stores in China, but it has also been expanding its market there over the years.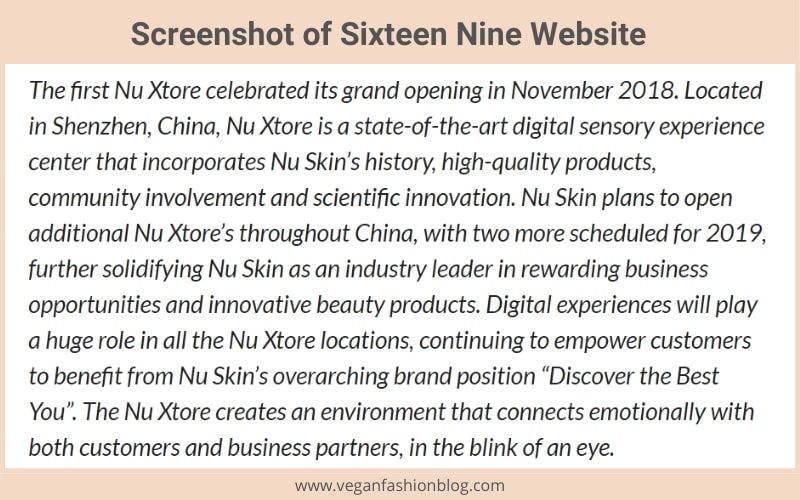 In the year ending 2019, the brand recorded its highest amount of revenue in Greater China, according to data from Statista.

Does Nu Skin Have Cruelty-Free Certifications?
Nu Skin has no cruelty-free certification. It's not certified by PETA, Leaping Bunny, or Cruelty-Free International. PETA currently puts a disclaimer on its site that claims that Nu Skin does tests on animals and should be avoided.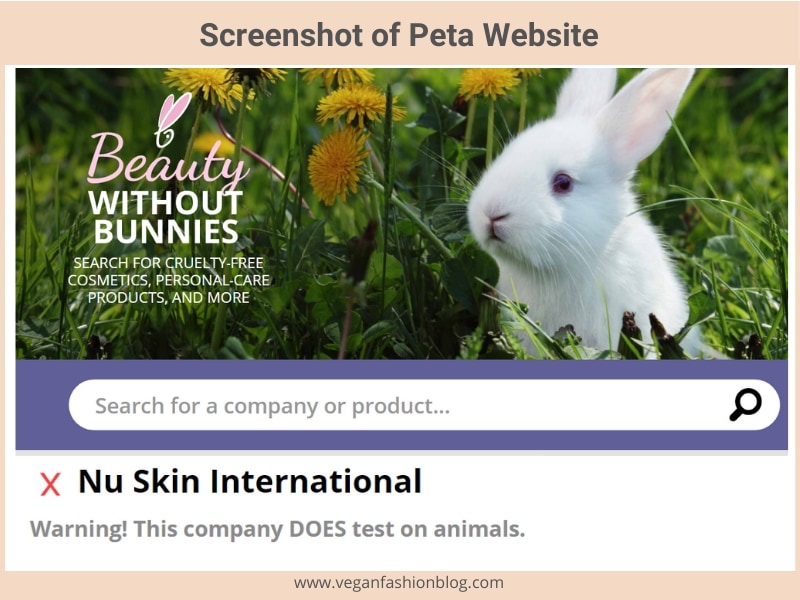 Is Nu Skin's Parent Company Cruelty-Free and Vegan?
Nu Skin is owned by Nu Skin Enterprise, a brand that is not cruelty-free. The brand sells in China and, therefore, tests on animals. It owns Nu Skin and Pharmanex, both of which test on animals.
Is Nu Skin Vegan?
Nu Skin is not only testing on animals, but its products also contain animal ingredients. The brand confirms on its website that its products are not suitable for vegans.

We also analyzed more than 50 products that are made by Nu Skin, and we couldn't find a single vegan product.
Most of its skincare products contain animal parts and ingredients, such as glycerin, porcine, Cera alba/beeswax, bovine, and gelatine.
Summary
Nu Skin is not a cruelty-free brand. The brand sells in mainland China, has no cruelty-free certification, and is not accredited by PETA, Leaping Bunny, or other leading organizations.