Quick Answer: Is NudeStix Cruelty-free and Vegan?
Yes, the NudeStix brand is cruelty-free. The brand also offers vegan products. They do not test out the effects of their products on animals. NudeStix also does not sell its products in countries that require brands to abide by the principles of animal-testing.
NudeStix is a cosmetic brand that uses highly natural ingredients like shea butter that are free of alcohol and rich with essential oils.
The products also have a lovely fragrance and a texture that hides the fine lines, wrinkles, and enlarged pores on your face.
There are no parabens, glutens, or other chemicals included in the products.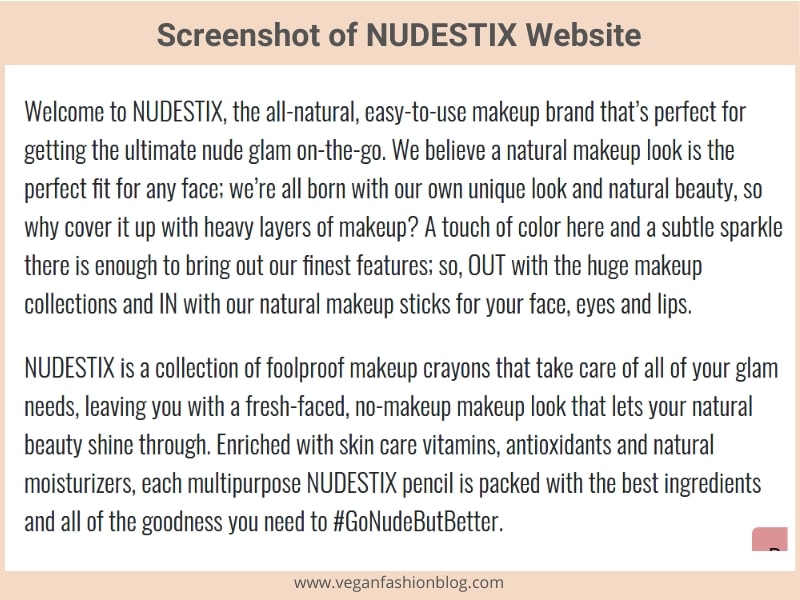 The brand, a cosmetic brand, was founded by three sisters, Ally, Taylor, and Jenny Frankel, in 2014. They were spurred by their grandmother, who sold shea butter at the market.
The headquarters is based in the USA. NudeStix is an independent brand that does not have a parent company.
A lot of our readers have asked if the NudeStix brand is cruelty-free or vegan. To give helpful answers, we observed the brand closely alongside its products following some in-depth research.
So, is NudeStix cruelty-free? Keep reading to find out.
Is NudeStix cruelty-free?
Yes, the NudeStix brand is cruelty-free. The following points must be met by a brand before it is accepted as cruelty-free.
The brand must not apply formulations or ingredients used for its products on animals.
They must not try out the effectiveness of their products on animals, even if it is a policy laid down by the law.
The products must not make their products available in China.
Are NudeStix's products tested on animals?
No, the products of the NudeStix brand are not applied or tested on animals. Animals have a right to live, and this brand concurs with that sentiment.
So, in a bid to stop animal-testing, the brand works with human volunteers instead or some other safe media.
Does NudeStix test its products on animals even when the law requires them to or through third parties?
Animal testing is a situation in which brands test their products and samples on animals to know the kind of adverse effects it could have on human beings.
Because of reasons tied to safety, some countries do these tests on animals instead of humans. However, NudeStix has a discipline to not sell in countries that require the animal-testing policy.
Does NudeStix sell its products in China?
No, NudeStix does not sell its products in China. If they were to sell there, they'd have to meet their demands by testing on animals, which is totally against what they stand for.
Does NudeStix have cruelty-free accreditations?
The brand is certified by the PETA agency.
PETA is an agency that most brands sign with to prove that they are cruelty-free.
This way, customers know that they do not abuse the rights of animals by testing the formulations of their products on them, nor will they ever do so.
So, in line with this, the brand's products bear the conspicuous logo of the PETA agency.
NudeStix signed this document and, after a thorough check by PETA, was granted the certification.
Does NudeStix have a parent company?
No, the brand does not have a parent company as it is independent.
Are NudeStix's products vegan?
To answer this question, we will check out the meaning of the vegan term. Vegans are persons that abstain from anything sourced from animals, and they are pretty strict with it.
They prefer formulations made from plants. NudeStix abides with their policy, so their products are a hundred percent vegan.
Does NudeStix have vegan certifications?
Yes, NudeStix has a vegan certification. Vegan brands are referred to in that manner because they employ a hundred percent natural ingredients in the formulation of their products.
Since the NudeStix brand does not also use animal-sourced ingredients in its production cycle, it was certified as vegan by the Leaping Bunny association.
Here are a few examples of vegan products made by NudeStix:
Nudies Bronze (Face)
Magnetic luminous eye color (Eyes).
You will also find their other vegan products on this site https://www.nudestix.com/
Summary
The NudeStix brand is a cosmetic and beauty brand that helps its customers to achieve natural beauty. It makes products for the eyes, lips, and face.
With great additives like anti-oxidants and skin care vitamins, the customers can be sure of getting the promised beauty and natural looks. The brand is both vegan and cruelty-free.