Is Palmers Cruelty-Free and Vegan?
While their policy states that Palmer's products are not tested on animals whatsoever, Palmer's products are being sold in China, where the law requires animal testing. Any brand calling themselves cruelty-free should not sell to countries mandating animal testing on cosmetic products, such as China. Thus, this makes Palmers not a 100% cruelty-free brand. They are not 100% vegan, but do have vegan product range.
Palmers celebrated their 160 years in business this year. Founded in 1840, it's among the longest standing beauty companies in the US with a lengthy history of quality products.
It has evolved to be a trusted brand in many households globally for its real sustainability and the use of ethically sourced ingredients.
Palmers is owned by the parent company E. T Browne Co, Inc., which is well known for being the first company in America to launch full-body care made of pure cocoa.
The E.T Browne Drug company has been in ownership of a single-family since the 19th century. The company has been headquartered in New Jersey for more than 50 years now.
Many of our readers have been asking whether Palmers Cosmetics are 100% cruelty-free and vegan. We have analyzed the brand in detail and have the results.
Is Palmers cruelty-free and vegan? Keep reading to find out.
Is Palmers Cruelty-Free?
For a cosmetic company to be cruelty-free, it means that they do not test their products on animals even where the law mandates it. Below is the criteria they should follow. We will analyze them one by one.
The brand's products and ingredients should not be tested on animals before and after the production process. They should not test on animals even when required by the law.
This applies when selling to countries where they require cosmetics to be tested on animals before entering the market.
The products should not be sold in China.
These are discussed below.
Are Palmers Products Tested on Animals?
Here is a statement from the Palmer's animal testing policy.

There have been many protests and campaigns against China's animal testing policies, but Palmers continues to subject their products to animal testing in mainland China.
Note that any company can claim to be cruelty-free when they are not because what law is there to stop them? Palmers have disputed this in their policy, saying they don't allow testing of their products on animals.
This is juxtaposed by the fact that their products are still stocked on the shelves in China.
Also, even if Palmers does not test the products on animals themselves, they allow third party affiliates to do the tests, so they gain access to the rewarding Chinese cosmetic market.
Do They Test on Animals When Required by the law? Or using the third party?
The animal testing policy on their website says that they do not do animal tests, but this statement contradicts China's animal testing policies.
If the brand stocks in China, it means that they test on animals when required by the law.
Are Palmers Products Sold in China?
Recently, the Chinese laws on routine post-market testing have changed but are still subject to animal testing if customers raise complaints. Also, pre-market laws still apply.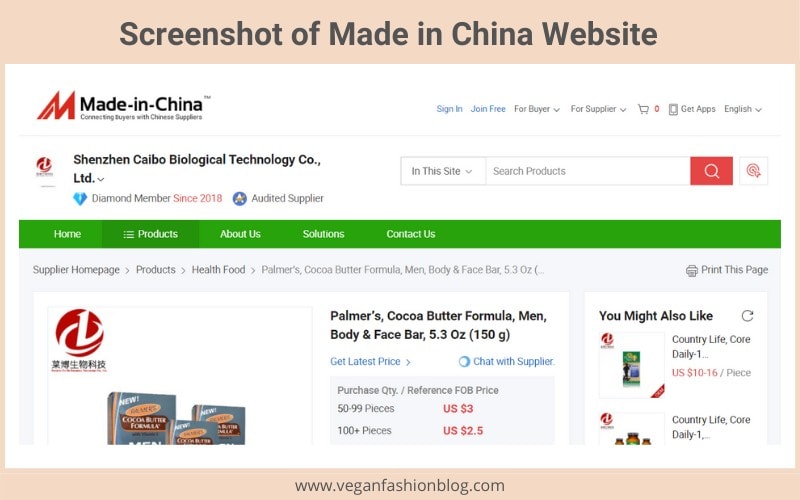 So, does Palmers still sell in China? Yes, Palmer's products are still found in Chinese cosmetic stores. It means that Palmers is not a 100% cruelty-free brand as previously thought.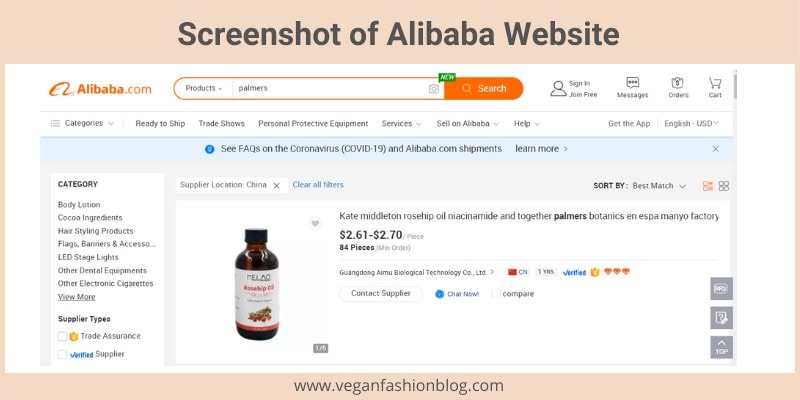 Does Palmers have Cruelty-free Accreditations and Certifications?
Palmer's policy has it that their ingredients are ethically and sustainably sourced, and are certified by the Rainforest Alliance. They are also a member of the World Cocoa Foundation.
However, regardless of the company sourcing its ingredients from natural plant products and having whole cocoa butter products, it still hasn't received certification from globally known accreditation companies like PETA, Leaping Bunny, and Choose Cruelty-Free.
Does Palmer's Have a Parent Company?
Palmer's does have a parent company, E.T Browne Drug Co, which has been family owned since the mid-19th century. The parent company does not test on animals on behalf of Palmers.
However, this statement seems to contrast their marketing strategies, as they sell to South East Asia, who in turn sell to Chinese suppliers where animal testing is mandatory by the law.
Is Palmers Vegan?
To be vegan means that none of your products' ingredients should be sourced from animals or any animal by-products.
Palmers Cosmetics have some vegan products, while others have animal-sourced ingredients. For this reason, we can't say Palmer's is a 100% vegan company.
Here is a list of vegan products from Palmers:
Palmer's Coconut Oil Formula Body Oil
Palmer's Cocoa Butter Formula Men Lotion
Palmer's Cocoa Butter Formula Moisturizing Lotion
Palmer's Skin Success Anti-Dark Spot Fade Cream
Palmers Cocoa Butter Formula Cocoa Jar
Palmer's Cocoa Butter Moisturizing Soap Bar
Palmer's Cocoa Butter Formula Magic Cream
Palmer's Coconut Oil Formula Body Oil
PALMER'S Cocoa Butter Formula Men Fragrance Body Wash 400ml Bottle
PALMER'S Cocoa Butter Formula Skin Therapy Oil Rosehip
Summary
You now know which Palmer's products to go for if you are vegan. Palmers is a well-established brand, selling in more than 80 countries, so it's no doubt that they offer excellent quality.
Nevertheless, change has to be done regarding animal testing where the law requires it, to brand Palmer's company 100% cruelty-free.