Is Paul Mitchell Cruelty-free and Vegan?
Yes. Paul Mitchell is a cruelty-free brand. The company stands out among others in the industry as one of the first cosmetics companies to pledge to be animal testing and cruelty-free. It is certified by PETA and has vegan certifications as well. They are also 100% vegan.
Paul Mitchell is an American manufacturer of hair care products. It is a reputable company that is dedicated to making the highest quality professional hair care available.
This company is the first professional beauty company to stand up against animal testing and is committed to caring for the planet in all its manufacturing processes.
Its headquarters was formerly located in Beverly Hills, California, but the world headquarters now lie in Century City, California, and there are operational facilities in Santa Clarita, California.
A lot of our readers have asked if Paul Mitchell is cruelty-free and vegan. We have analyzed the brand and its products in detail.
Is Paul Mitchell cruelty-free and vegan? Keep reading to find out the details.
Is Paul Mitchell Cruelty-free?
For Paul Mitchell to be cruelty-free, it needs to satisfy these criteria, which we will analyze one by one:
None of the products should be tested on animals
They should not test on animals even when required by law
The products should not be sold in China
Are Paul Mitchell products tested on Animals?
No. They are not. The company refuses to test any of its products on animals. All products from the company are free of animal testing. The certifications that prove this will be provided later in this post.
Overall, from the composition to the formulation and finished product, no animal testing occurs.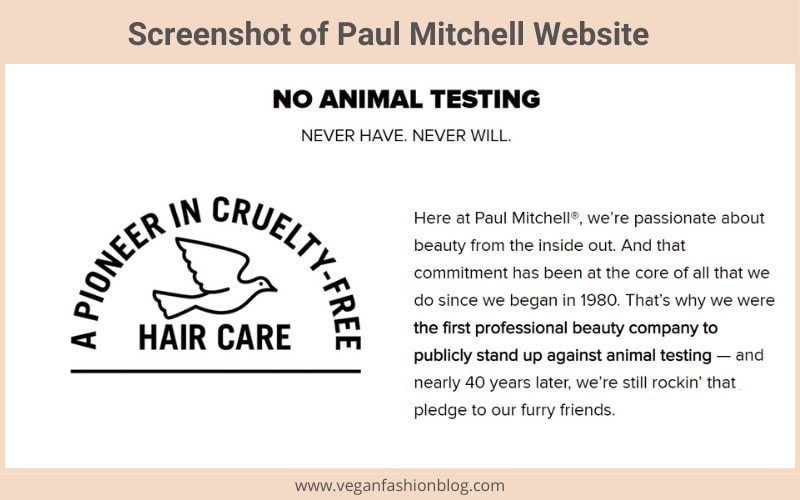 Do they Test on animals when required by Law? Or use a third party?
No. Paul Mitchell doesn't use third parties to test on animals from any part of the world, and they do not abide by any law that requires that they carry out animal testing.
Are Paul Mitchell Products sold in China?
Yes. But doesn't that mean that they are not cruelty-free? For most brands, selling in China would mean that the products sold are tested on animals.
The Chinese government makes it legally required for all beauty and cosmetics products sold in the country to be tested on animals. However, Paul Mitchell is an exception.
Although they sell in China, they do not carry out animal testing.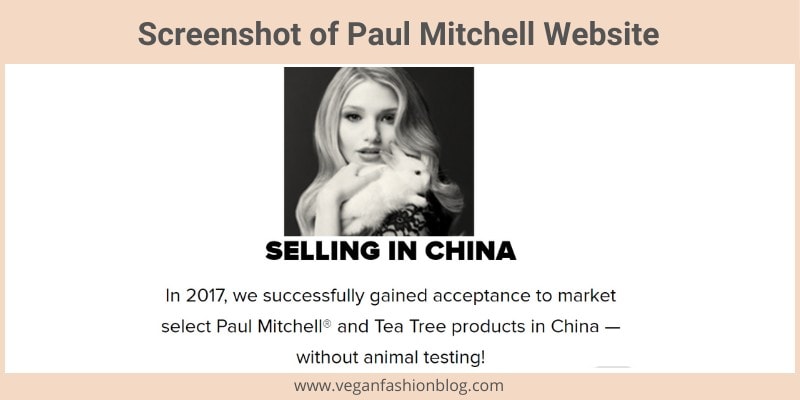 Therefore, the company is able to operate out of China while maintaining the mandate not to test on any animals at all.
Does Paul Mitchell have Cruelty-Free Accreditations or Certifications?
Yes they do. In fact, the company has a long history with PETA. In 1980, the company became the first beauty company to publicly stand up against animal testing, and more than 4 decades later, they still continue with that pledge.
The brand is certified by PETA which is the standard for cruelty-free certification.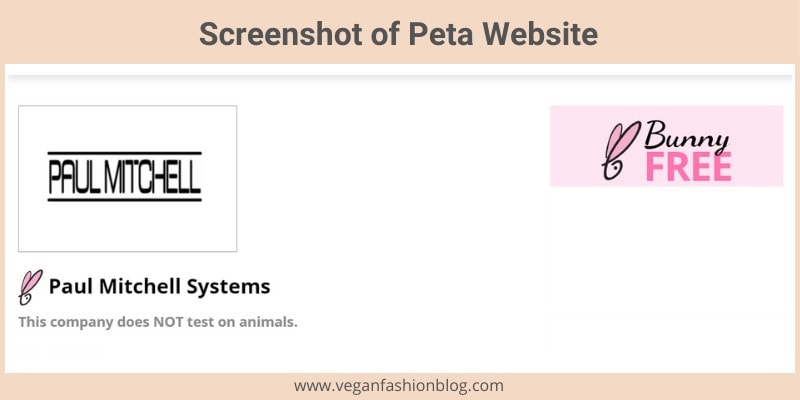 PETA has the "Beauty without Bunnies" program that certifies cruelty-free companies. This certification shows that Paul Mitchell products are free of animal testing across every single stage of product development.
Is Paul Mitchell owned by a Parent Company?
No, it is not owned by a parent company. Although it has been around for quite some time, it has never been acquired by a bigger conglomerate.
Therefore, the brand can freely call the shots, including determining to be a cruelty-free and vegan brand.
Is Paul Mitchell Vegan?
To be a vegan brand, Paul Mitchell products must not contain any animal derivatives or animal by-products. We have analysed this brand and we are free to tell you that it is a 100% vegan company.
This means that all of the products from the company are free from animal by-products.
All Paul Mitchell Professional Hair Color products are not tested on animals and do not contain any animal-derived ingredients.
Instead, they use plant-based ingredients that are great for your hair – like cottonseed oil, rice protein, and sunflower extract (more on these below!) – Or synthetic ingredients instead.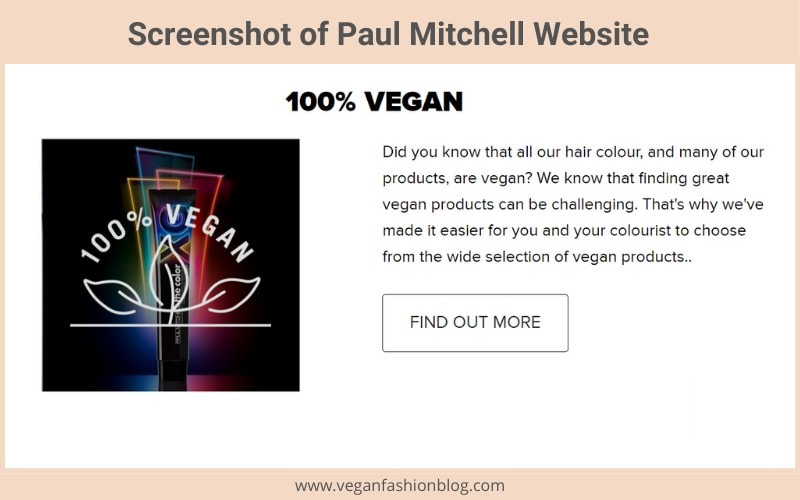 The vegan products sold by the brand include:
Hair Color
Color XG
The Demi
Inkworks
Pop XG
Crema XG
Tea Tree
Tea Tree Special
Lavender Mint
Tea Tree Special Color
Lemon Sage
Scalp Care
Awapuhi Wild Ginger
MVRCK
Skin + Beard Lotion
Shave Cream
Skin Tonic
Beard Oil
Grooming Cream
Grooming Spray
Cooling Aftershave
Dry Paste
Original Pomade
Mitch
Heavy Hitter
Double Hitter
Steady Grip
Hardwired
Construction Paste
Barber's Classic
Clean Cut
Matterial
Reformer
MARULAOIL
Replenishing and Treatment Collection
MARULAOIL Light Collection
Styling Collection
Summary
Paul Mitchell is a fantastic brand with a rich history of caring for the environment and championing cruelty-free and 100% vegan products.