Is Peter Thomas Roth Cruelty-Free and Vegan?
Peter Thomas Roth is not cruelty-free. Their products and ingredients are subjected to animal testing. The company also sells in China, where state laws require animal testing. Their policy claims of not testing their formulas on animals, but it isn't verifiable that all their raw materials suppliers do not carry out animal tests. They are not 100% vegan, but have some vegan products.
Peter Thomas Roth got the inspiration to found his own beauty company from his Hungarian parents and family. His family owned and operated twin-spa resorts in Hungary.
Peter founded the company in 1993 and is headquartered in New York. It started as a means to combat the unending mud and minerals present in Hungarian natural springs, which often led to acne.
Peter also had an interest in anti-aging products, which led to the desire to gather the best tools and ingredients to make anti-acne and anti-aging tools altogether.
While still recognizing old-fashioned therapies, Peter Thomas Roth currently uses innovative and modern ingredients to better the formulas that blend with the 21st century's Hungarian philosophies.
Is Peter Thomas Roth Cruelty-free?
For a company to be called cruelty-free, it needs to have accreditations from recognized certification companies like PETA and Leaping Bunny. They also have to follow the following criteria, which we will analyze one by one.
None of the products and ingredients from the company should be tested on animals
The products and ingredients should not test on animals even when required by the law.
The products should not be sold in China.
Are Peter Thomas Roth's Products Tested on Animals?
On their website, Peter Thomas Roth's animal testing policy confirms that their products have in the past undergone animal testing and that the company sells in China.
Since the company sells in China, they cannot confirm that none of its raw materials and products are tested on animals.
Therefore, Peter Thomas Roth cannot be called a cruelty-free brand.
Here is a screenshot of their animal testing policy.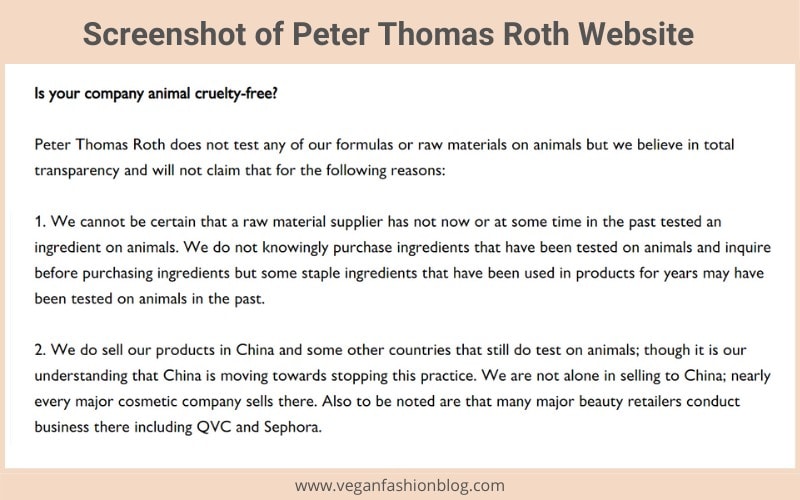 The policy confirms their ties with China and other countries that do test on animals.
Do They Test on Animals When Required By the Law? Or Using a Third Party?
Peter Thomas Roth sells in China at the Sephora Stores. It means their products are tested on animals when the law requires it.
A statement from their animal testing policy goes:
"We cannot be certain that a raw material supplier has not now or at some time in the past tested an ingredient on animals. We do not knowingly purchase ingredients that have been tested on animals and inquire before purchasing ingredients but some staple ingredients that have been used in products for years may have been tested on animals in the past."
By saying that they "do not knowingly" purchase ingredients that have been tested on animals and that they "cannot be certain that a raw material or supplier currently or in the past has tested their ingredients on animals," it's clear that suppliers for their products could be testing on animals.
Are Peter Thomas Roth Products Sold in China?
The company has admitted to selling their products in China.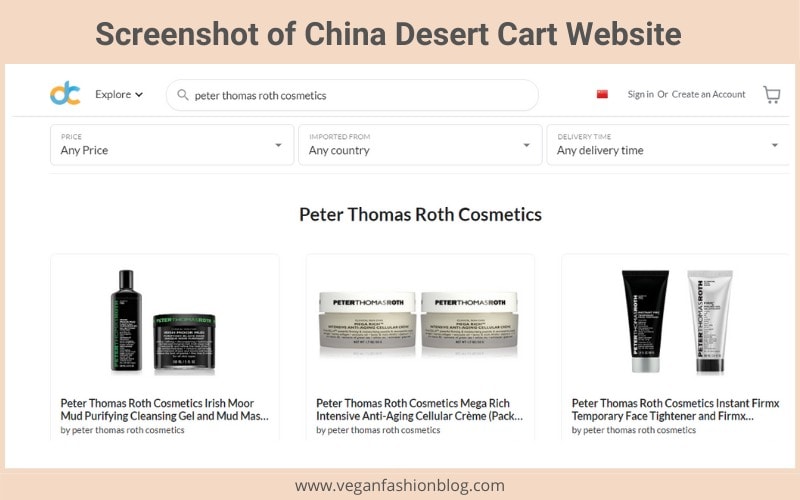 Although there were amendments to Chinese post-market testing laws, there is mandatory animal testing on all brands in the country when customer complaints arise.
The company, therefore, has to consent to pay to have their products undergo animal testing in China.
Does Peter Thomas Roth have Cruelty-free Accreditations and Certifications?
No accreditation company has certified Peter Thomas Roth as a cruelty-free company yet. Here is a disclaimer from PETA.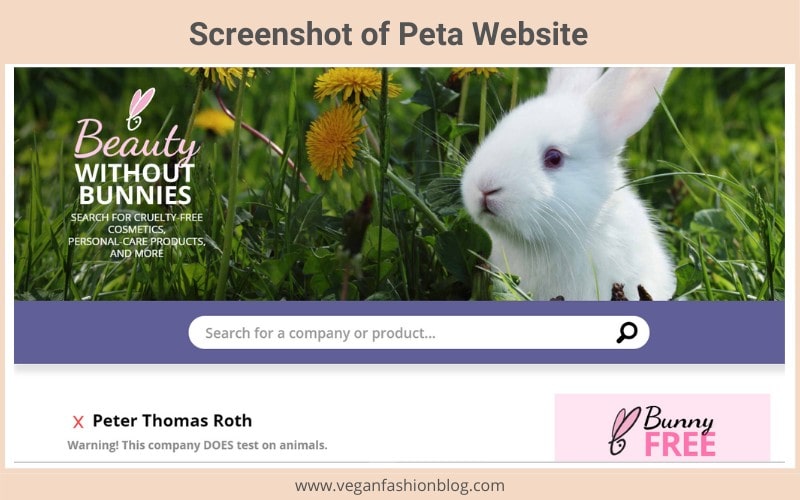 Is Peter Thomas Roth Owned by another Company?
No. Peter Thomas Roth is not owned by a parent company that tests on animals on its behalf.
Is Peter Thomas Roth Vegan?
To be vegan means that your products should not have sourced their ingredients from animal ingredients or by-products.
Since Peter Thomas Roth does tests on animals, we shouldn't consider their manufactured products to be 100% vegan. Yes, they have some vegan products, but some have animal-sourced ingredients.
Below is a list of Vegan products manufactured by Peter Thomas Roth beauty company.
Sunscreens
Instant Mineral SPF 30
Instant Mineral SPF 45
Oily Problem Skin Instant Mineral SPF 30 Uber-Dry Sunscreen SPF 30
Acne Treatment
Blemish Buster Kit
Blemish Buffing Beads
Blemish Buffing Beads Body Wash
Conditioning Tonic
Summary
Although Peter Thomas Roth does not carry out animal tests on themselves, they may be allowing Chinese authorities to carry out the tests so they can sell to the Chinese market.
Most cruelty-free brands choose not to sell in China due to their animal testing laws. Peter Thomas Roth has not complied with that.
Plus, by choosing to sell in China, the company may be having their products tested on animals, which excludes them from the world's cruelty-free companies list.