Quick Answer: Is Sally Hansen Cruelty-Free and Vegan?
No, Sally Hansen is not cruelty-free and vegan. The company does not explicitly claim to be cruelty-free. Instead, it offers bogus wording that can be construed to mean that the company either carries out animal testing itself or lets others carry it out for them. With this in mind, we cannot in good faith declare Sally Hansen to be 100% vegan, either.
Sally Hansen is an American beauty brand that was founded in 1946 by Sally Hansen herself.
Since then, the brand has become a household name, famous for its dedication to making innovatively formulated, affordable beauty products for women.
Launched with just two nail products, including the iconic 'Hard As Nails', the award-winning brand now has over 300 shades and is distributed in over 55 countries worldwide.
It is the number one nail brand in the US. It doesn't just provide nail beauty options, though, as it also offers nail care, sunless tanning, hair removal, and beauty tools.
Many of our readers have asked us whether or not Sally Hansen is cruelty-free and vegan. We have analyzed the company and its products in detail.
Is Sally Hansen cruelty-free and vegan? Keep reading to find out the details.
Is Sally Hansen Cruelty-Free?
To be cruelty-free means different things to different people. For us, a cruelty-free brand is a brand that satisfies these three criteria, which we will analyze one by one.
None of the brand's products should be tested on animals. Neither the company nor its suppliers should test on animals at any product development stage, whether pre-market or post-market.
They should not test on animals even when required by law. Even if there is a legal requirement for animal testing, it still must not do so, nor should it pay a third party to test on its behalf.
The brand's products should not be sold in China. The company must not sell its products in mainland China or any other country that enforces animal testing.
Are Sally Hansen Products Tested On Animals?
The company doesn't disclose whether it tests its products on animals. A thorough investigation of the company's official website uncovered a mention of an animal-testing policy in the FAQ section.
However, the wording is bogus and does not indicate whether the company itself carries out testing on animals.
The brand says "At Coty, we do not test our products on animals and are committed to ending animal testing across our industry.
All our products are safe and have been developed, manufactured and packaged in compliance with the laws, regulations and guidelines that are applicable in each country in which they are sold."
Now, this is tricky language. Note that the answer doesn't say that Sally Hansen doesn't test. Instead, they mention only their parent company, 'Coty'.
Therefore, it is possible for Sally Hansen to carry out animal testing.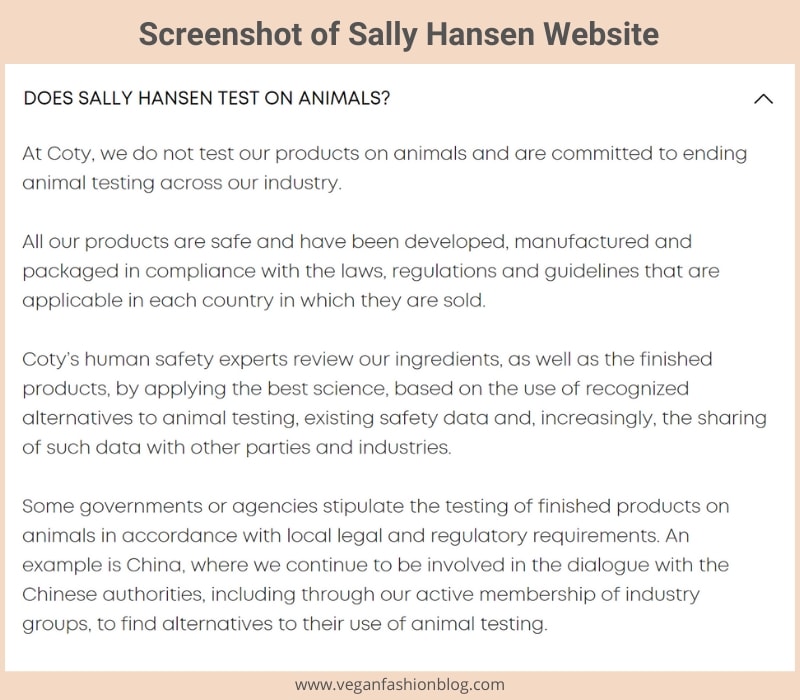 Do They Test On Animals When Required By Law? Or Use a Third Party?
Yes, the company tests on animals when it is required by law.

Are Sally Hansen Products Sold In China?
Yes. As stated on their website, they sell their products in China. Why is this important?
Chinese authorities require foreign brands that are sold in stores in China to test their products and even their ingredients on animals.
Since Sally Hansen chooses to sell its products in China, they cannot be considered cruelty-free.
Does Sally Hansen Have Cruelty-Free Accreditations Or Certifications?
No. The brand does not have any certifications that show whether it is cruelty-free. It is neither certified by PETA, Leaping Bunny, or other organizations that show whether the company is cruelty-free or not.
Is Sally Hansen's Parent Company Cruelty-Free?
Sally Hansen is owned by Coty. Coty owns several brands, many of which are not cruelty-free. The company's animal-testing policy is seen in the screenshot below.

As you can see, the parent company only has a partnership with Cruelty Free International, with only one of their brands able to achieve Leaping Bunny certification.
The company itself does not have any certifications from the regulatory body.
Coty also retails in China. Therefore, it is not a cruelty-free company.
Is Sally Hansen Vegan?
For a brand to be viewed as vegan, it must be able to verify its cruelty-free status and ensure that its products, ingredients, and formulations are not tested on animals during any stage of product development and manufacturing.
Also, their products must not contain any animal-derived ingredients or by-products.
We have studied the products from the brand and discovered that many of their products are not vegan. However, the brand has a line of nail polish that doesn't use any animal ingredients.
This is the Good. Kind. Pure line.
Summary
Sally Hansen might use fancy wording, but it is not a cruelty-free or 100% vegan brand.