Is Sephora Brand Cruelty-free and Vegan?
Sephora is a non-cruelty-free brand that operates in countries where animal testing is compulsory for foreign companies. Although Sephora claims it only tests its products in animals when the law requires it, the multinational company has many brands under its ownership that test on animals and sell in China. Not all its products are vegan, but some are.
Sephora is a multinational chain of stores specializing in cosmetics, fragrances, personal care, hair care, and beauty tools. The brand has more than 3,000 brands featuring in its stores, and it has its private skincare brand.
Since 1997, it has belonged to the French luxury conglomerate LMVH, which runs several department stores. LVMH itself isn't cruelty-free and vegan.
However, in recent years, they have acquired dozens of skincare companies which are. Its stores are in approximately 35 countries around the world.
Is Sephora Cruelty-Free?
It should be mentioned that Sephora has its beauty line that does not meet the requirements to be called cruelty free because they sell in the Chinese market. Yet they advertise it as if it were.
To be considered a cruelty-free company, brands must have demonstrated that:
Their final products, as well as the ingredients they use in their products, are not tested on animals.
The practices of its suppliers or third parties do not include such tests.
The brand does not sell any of its products within the Chinese territory or anywhere animal testing is required by law.
In view of the checklist above, we've concluded that the make-up company is NOT cruelty-free.
The label operates in China and tests on our furry friends, a fact which the Beauty Without Bunnies also confirmed.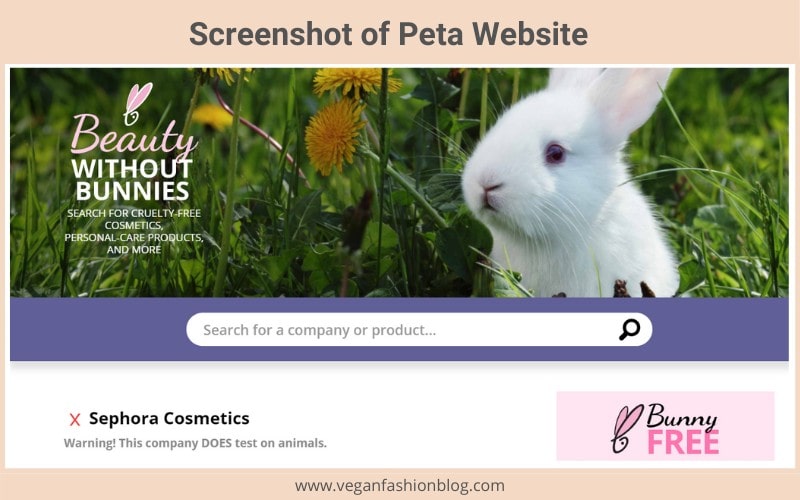 Are Sephora Products tested on Animals?
According to information gathered from different sites such as Leaping Bunny, PETA, official pages and statements of the brand, as well as blogs that specialize in the subject, Sephora conducts tests on animals.
Do they Test on Animals when the Law Requires this?
Sephora states that it does not test on animals unless required by law. However, all of its products are being sold in China, a place where testing on animals is required by law.
Have it in mind that to be cruelty-free, a brand must not have any of its final products tested on animals. During all stages of formulation, its products must not be tested on animals either in its facilities or in third-party laboratories.
Are Sephora products sold in China?
Yes, Sephora products are sold in China, a country where post-market testing is required before a product can be passed for human use.
Information that Sephora, as a private individual brand, sells its products on the Chinese market is there for everyone to see. Yes, Sephora sells in China, as can be seen on the website:
Sephora operates approximately 1,900 stores in 29 countries worldwide, with an expanding base of over 200 stores across the Asia Pacific region including Australia, China, Singapore, Malaysia, Thailand, Indonesia & India.
Does Sephora have Cruelty-Free Certifications?
Sephora is just one of the brands whose products cannot have the rabbit logo of any top cruelty-free certifying brand. It has no certification from Leaping Bunny or PETA.
It is included in PETA's database of "Companies That Do Test on Animals." However, two-thirds of companies owned by Sephora are cruelty-free.
Is Sephora Owned by another Company?
Sephora is owned by LVMH, a French company that sells fashion, beauty products, among others, in its department stores.
While LVMH, the parent company tests on animals, Sephora itself also tests on animals, and so do many brands owned by Sephora.
These include companies such as Antonym, Anastasia Beverly Hills, Amika, Alpyn Beauty, and Adwoa beauty.
Are Sephora products Vegan?
Sephora is not a completely vegan brand. However, alternatively, it owns 100% vegan brands such as Aether Beauty, Bite Beauty, COVER FX, FARSÁLI, IGK, KVD Vegan Beauty, LXMI, and Makeup Eraser.
Sephora doesn't have a list of vegan products but below are a few of the brand's completely vegan products::
Epic Curl Vegan Eyes Lash Primer
Cake Pencil Eyeliner
Ultra Ink Liner
#70 Pomade Brow Brush
Kitten Mini Shade + Light Contour Duo
#75 Powder Brow Brush
Lock-It Edge Foundation Brush
Go Big or Go Home Vegan False Lashes & Glue
Edge of Reality Fully Recyclable Eyeshadow Palette
Lock-It Concealer Crème
Lock-it Powder Foundation
Kitten Mini: Cake Pencil Eyeliner
Lock-It Concealer
Studded Kiss Creme Lipstick
Summary
Sephora is not a cruelty-free and completely vegan brand, even though it owns many cruelty-free and vegan brands. Some of Sephora's products contain animal ingredients.
The company, its parent company, as well as it's subsidiary companies, test on animals.
The brand sells in mainland China where animal testing is required by law. However, it only tests on animals when the authorities require this.
Sephora has no cruelty free certification from the leading organizations such as the Leaping Bunny or PETA's Beauty Without Bunnies.
There are no more excuses not to buy cruelty-free! You can consider other brands that are cruelty-free so you can make-up without guilt.