Is Shiseido Cruelty-free and Vegan?
No, Shiseido tests on animals and is therefore not cruelty-free. Shiseido is a multinational skincare company whose products are not entirely vegan. The brand does have a few vegan products but is not 100% vegan.
Established in Japan in 1872, Shiseido is a large multinational company. It develops, produces, and markets anti-aging skincare products, skin brightening products, including makeups and fragrances.
The 148-year old brand got itself listed as a company that does animal testing when it allowed NARS Cosmetics, which was acquired in 2000, to enter the Chinese market, a cardinal sin for the cruelty-free market.
However, Shiseido owns two brands, Buxom and Bare Escentuals, which are individually considered cruelty-free.
Is Shiseido Cruelty-Free?
The cruelty-free tag is something that is not officially regulated.
That is, any company can lay claims to being cruelty-free while, on the contrary, it tests animals in the closet, or it sells in markets where animal testing is a must.
So, how do we classify brands as cruelty-free? To be considered cruelty-free, a brand must meet the following criteria:
It must not test its products on animals in any form
It must not sell in markets where animal testing is compulsory, as are provided in the countries' laws
It must not pay third parties or suppliers to test its products, ingredients, or byproducts on animals
However, being an Asian brand, Shiseido values the Chinese market and its profits more than it holds good ethics, responsibility, and commitment to natural resources sustainability.
The brand not only tests on animals; it also owns other companies that do these tests.
According to the brand, it does animal testing when this "is essential to assure the safety of cosmetics in some countries."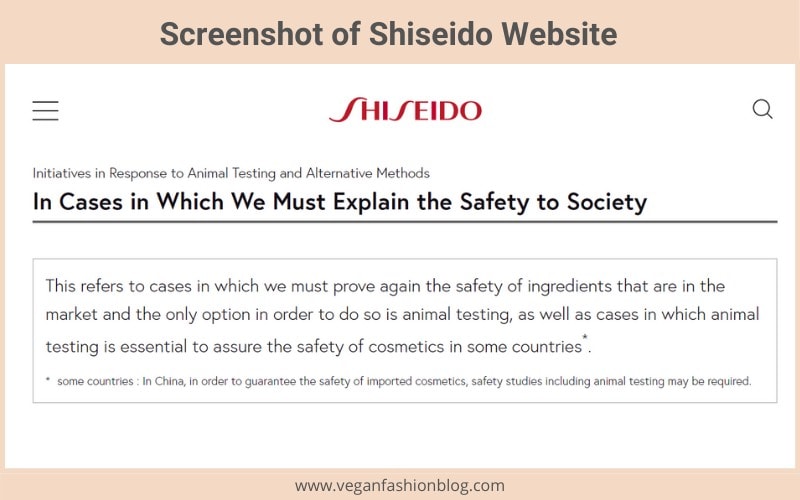 Are Shiseido products Tested on Animals?
Unfortunately, resorting to animal testing is the only way Shiseido can guarantee some of its operating countries that its products are safe for humans. This is explained in its animal testing policy.
According to PETA's Beauty Without Bunnies, the brand does animal testing and is not cruelty-free.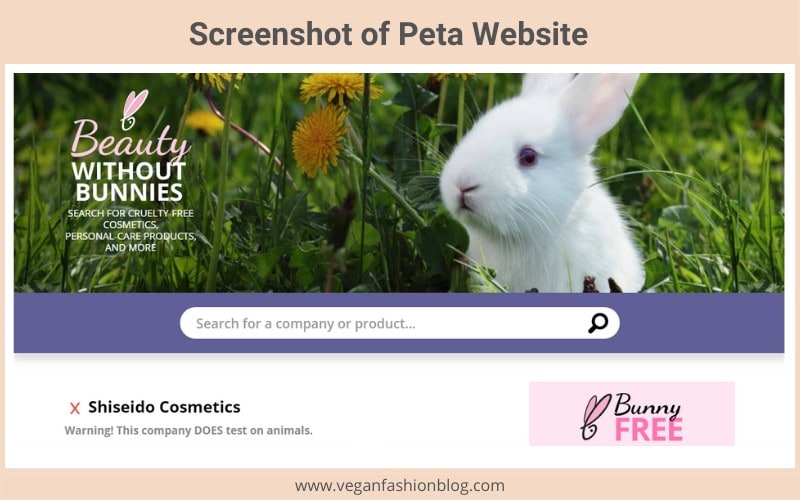 Do they test on Animals when the Law requires this?
In countries like China, to guarantee that products of foreign companies are safe for its citizens, laws are in place which forces these companies to try out their products on animals.
Back to the question, yes, Shiseido admits it tries out its products on animals when authorities ask it to.
Testing products on animals is not only unsafe for the latter; this method is also inefficient as there are now better alternatives.
Are Shiseido products sold in China?
Shiseido products are sold in China, a country where post-market testing is a requirement. Shiseido not only gives its product samples to Chinese authorities for animal testing.
They also have research facilities in China, the USA, France, and Thailand, where they test their ingredients on animals themselves.
Also, being a multinational company, it owns dozens of companies that test on animals. Among its chain of cosmetics brands, only Buxom and Bare Minerals don't test on animals.
However, these companies will likely go the way of NARS cosmetics and Shiseido brands to ditch their cruelty-free status and market in China.
Nonetheless, today, what these cruelty-free companies make in revenue ends up in Shiseido, where the funds are used to finance animal testing research.
Does Shiseido have Cruelty-Free Certifications?
Impossibly not! Shiseido is the last brand that can get the rabbit logo from any top cruelty-free certifying brand. It has no PETA or Leaping Bunny certification and is listed on PETA's database of "Companies That Do Test on Animals."
Is Shiseido Owned by another Company?
No, Shiseido is not owned by another company.
The company is currently run by President and CEO Masahiko Uotani. Although it is not owned by a parent company, it's a parent company to many brands on the market, many of which are not cruelty-free.
Are Shiseido products Vegan?
Shiseido is not a vegan brand. While the brand has completely vegan products, some of its products contain animal ingredients such as glycerol.
Shiseido doesn't have a catalog of vegan products, but here are a few of its products which contain no animal ingredients:
Shiseido Twin Pack Senka Perfect Whip
Shiseido Benefiance Extra Creamy Cleansing Foam
Benefiance by Shiseido Wrinkle Smoothing Day Cream
Shiseido Makeup Palette – 10g
Shiseido Veiled Rouge Long-Wearing Lipstick
Shiseido Perfect Rouge – OR418 Day Lily 4g/0.14oz
Summary
Shiseido is not a cruelty-free or completely vegan brand. Many of Shiseido's products contain animal derivatives, and the brand and its subsidiaries test on animals.
The brand sells in China, where animal testing is required by law. It's not owned by a parent company, but it has a chain of companies, most of which are not cruelty-free.