Quick Answer: Is Soap & Glory Cruelty-Free and Vegan?
Soap & Glory's cruelty-free claims are unverified. Though they claim not to test on animals, they do admit that there's a possibility that some of their raw materials undergo animal testing by their suppliers. Fortunately, the majority of their products are free from animal byproducts. This makes them vegan-friendly.
Soap & Glory was started in 2006 by Marcia Kilgore. The company is based in London, England, and it remains one of the most popular cosmetic brands in the area.
While their roots began in soap production, they've extended their catalog to skincare items like lotion, bath bombs, scrubs, face wipes, exfoliators, and shower gels.
Despite their popularity and strong customer base, most of our readers are still in the dark about their cruelty-free status. This article aims to answer every question you have about the brand and its testing policy.
Is Soap & Glory Cruelty-Free?
We have a checklist for qualifying a cruelty-free brand. Any brand considered to be cruelty-free must meet the following requirements set by cruelty-free authorities.
The brand must not test products on animals or use third parties to do so.
Its products must not be sold in China.
The products must not be sold where animal testing is required by law.
Are Soap & Glory Products Tested On Animals?
Soap & Glory's transparency in terms of animal testing is quite commendable.
While they admit that they don't test on animals themselves, they reveal that there's a possibility that the suppliers they use test one or two of their formulations on animals.
"At Soap & Glory, we do not test our formulations on animals, however, we can't say that each and every ingredient that goes into them has not, historically, been cleared for human use by animal testing.

We hope this answers your question."

For us, this puts a strain on their cruelty-free claims, as no cruelty-free brand must test on animals or use suppliers who do. For this reason, we're not confident in adding them to our list of cruelty-free brands.
Do They Test Animals When Required By Law?
No, they don't test on animals even when required by law. Soap & Glory does not distribute to markets with a strict testing policy. They're aware of the risks involved.
The company adopts an alternative animal testing method that involves using human volunteers to test the safety of their products.
Are Soap & Glory Products Sold In China?
Soap & Glory products are not sold in China. Their main chain of distribution is centralized in the UK and a few parts of Europe.
Their international distributors are present in Kuwait, Saudi Arabia, the Republic of Ireland, Norway, and the USA.
The brand's products are not registered on any Chinese retail portal. They're also absent from Sephora's Chinese site.
Is Soap & Glory Accredited By PETA?
Soap & Glory has not gained any form of certification from any cruelty-free authority. A search carried out on PETA's site and Leaping Bunny's database brought no search results.
This further puts a dent in their claim and would obviously reel customers out.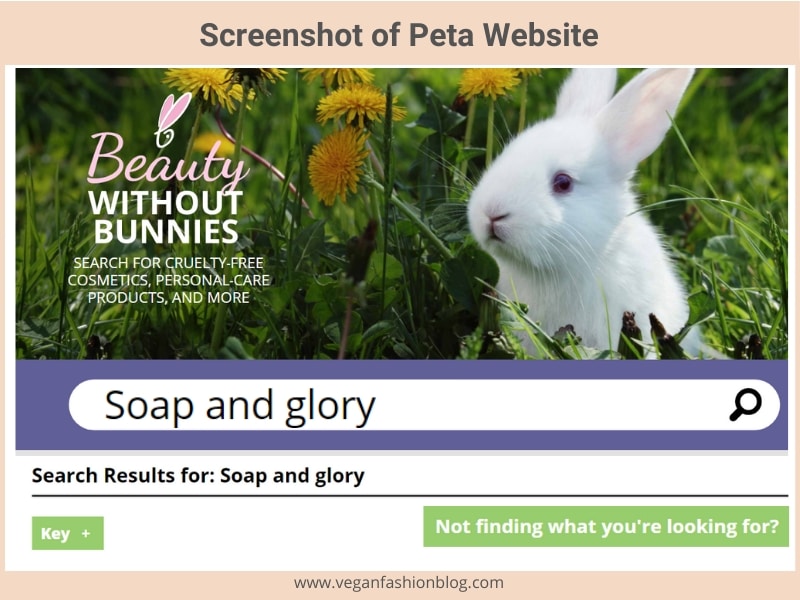 Is Soap & Glory Owned By Another Company?
Soap & Glory is not an independent brand. The brand was started 14 years ago by Marcia Kilgore but was sold to Alliance Boots in 2014. The name Alliance Boots might not ring a bell to some people.
However, they've since been merged with Walgreens and are now rebranded as Walgreens Boots Alliance.
Are Soap & Glory Products Vegan?
A vegan brand is one that does not use any animal by-products in its formulations. This means their products must be free from the likes of lanolin, carmine, honey, and beeswax.
It's even better if the brand has a certification from a vegan authority. This will allow them to feature a vegan logo on the packaging of their item.
Do Soap & Glory Products Contain Animal Derivatives?
Soap & Glory does not self-promote as a vegan brand. They don't have any vegan certification, nor do their products sport a vegan seal. Therefore, it's very likely that some of their products contain animal derivatives.
They've made it difficult to separate their vegan-friendly line from their non-vegan line. This is because they've failed to create a separate category for each of them.
The only way you can tell is by cross-checking the ingredient lists.
A few products under the body moisturizer, hair styling, lipstick, and tanning categories are free from animal byproducts. Some of the examples include:
A drop in the lotion lightweight body lotion (body moisturizer)
Glow job (tanning)
Control sleek (styling)
Spetaculips matte-allic (lipstick)
You can shop for each of these items on Soap & Glory's official website – https://www.soapandglory.com/products/ and on Ulta Beauty – https://www.ulta.com/brand/soap-glory
Summary
We admire Soap & Glory's transparency. This is commendable in an era where brands are fond of withholding vital information from consumers.
Apart from letting buyers know that they can't guarantee that none of their suppliers test on animals, they also went the extra mile to publish a comprehensive list of what each item is made of.
However, if they're to gain buyers' trust, they would have to obtain a cruelty-free certification from PETA or Leaping Bunny.