Is Stila Cruelty-Free and Vegan?
Stila broke a lot of hearts in 2013 when they announced that they're not cruelty-free and carry out tests on animals when required by law. Fast forward to 2016, and the brand became cruelty-free once again. They took their products off the Chinese market and also stopped using suppliers who test on animals. Stila isn't 100% vegan because they use animal-derivatives.
Stila is a luxury cosmetic brand founded by Jeanine Lobell in 1994. The brand headquarters is in Boulevard, California, USA.
The brand is popular for its excellent range of beauty items, including eye shadow pallets, lipstick, mascara, and eyeliner.
Stila was acquired by Estee Lauder in 1999 but has since been acquired by another parent company called Patriarch Partner.
Is Stila Cruelty-Free?
Stila is 100% cruelty-free in 2020. The brand announced in 2016 that they would be pulling their entire product catalog off the Chinese market.
This is an indication that they will no longer have to comply with Chinese testing laws, which compels them to carry out post-market testing.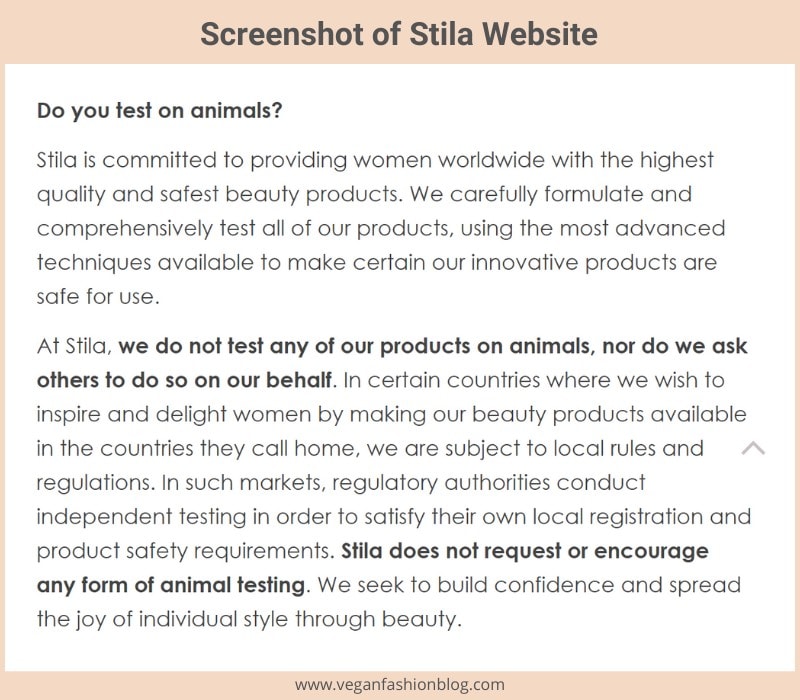 The announcement put an end to their 6-years long partnership with the country. For this reason, we're glad to announce that Stila has since adopted a manufacturing practice that doesn't put any risk of danger to our furry friends.
Presently, Stila doesn't carry out testing anywhere in the world. They also don't use suppliers who test their raw materials on animals. They've retracted from submitting their products for post-market testing.
They've since earned a spot on PETA's list and have managed to convince both their customers and PETA that they no longer test on animals.
Are Stila products tested on Animals?
Stila products were tested on animals from 2013 to 2016 when they sold their products in China. However, they've recently put an end to such practice.
The brand doesn't carry out testing on animals anymore, and they ensure their new suppliers don't test their formulation on them as well.
Do they test Animals when required by the Law?
No, Stila no longer sells in areas with a strict testing policy.
These products are not tested on animals anywhere. They've also recently updated their testing policy, and it states that they don't sell in countries where they have to test by law.
Are Stila products sold in China?
Their products are no longer sold in China. Their products were offered for sale in the city when they were under Estee Lauder and Sun Capital Partners Inc.
They pulled their products off the Chinese market in 2016 and haven't looked back since then.
Does Stila have cruelty free Certifications?
Stila got certified by PETA shortly after pulling their products off the Chinese market. Their products now feature the Global Beauty without Bunnies logo.
They've made a tremendous effort to ensure they keep to a safe practice that doesn't endanger animals.
Unfortunately, they haven't been confirmed as cruelty-free by Leaping Bunny just yet. We hope that's in process.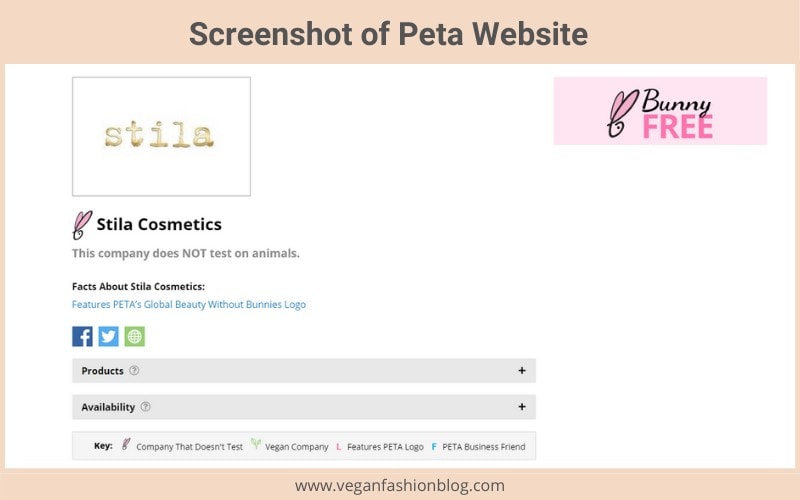 Is Stila Owned by another Company?
Stila has a long chain of ownership. The brand was originally founded by Jeanine Lobell and operated under the name Stila Corps.
However, in 1999, Estee Lauder came calling, and they had to relinquish ownership to the multinational company. Under Estee Lauder, they were able to spread their wings to 13 countries.
In 2006, Estee Lauder sold the brand to Sun Capital Partners, Inc, who resold them to Patriarch Partners in 2009. Presently, Patriarch Partners is the owner of this cosmetic brand.
Is Stila Products Vegan?
There's a common mistake most consumers make when it comes to cruelty-free and vegan. The general belief is that a brand that's cruelty-free automatically becomes vegan. Well, that's a blunder.
If a company is branded as "cruelty-free", it simply means the brand doesn't test on animals while one that has the "vegan" label doesn't use animal-derivatives in their formulation.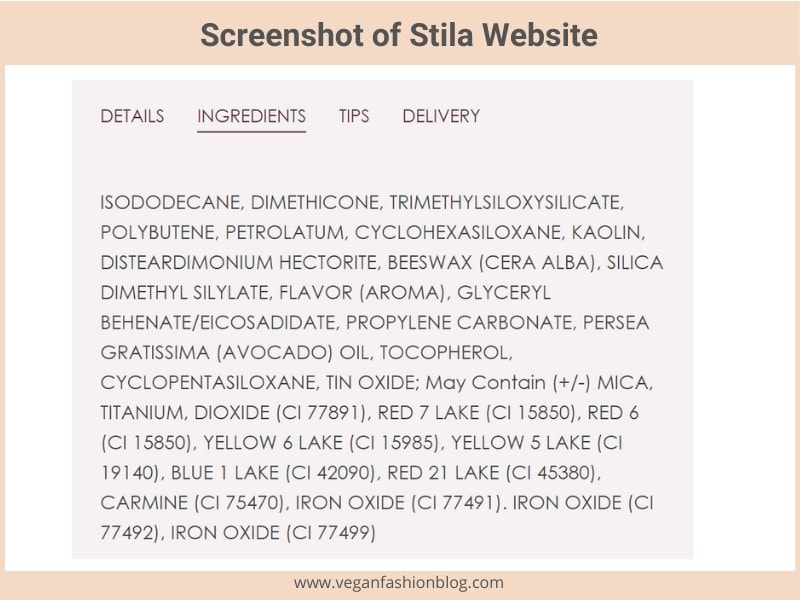 In summary, a cruelty-free brand can be non-vegan and vice versa. In the case of Stila, they do not test on animals, but none of their products are considered vegan.
We discovered that most of their products contain animal derivatives such as carmine, beeswax and lanolin.
For instance, their foundation line featured some ingredients whose sources are in question. The same applies to their mascara and bronzer.
All contain ingredients that are likely to be either plant or animal-based. With no clarification from the brand, we can't declare them vegan.
Summary
Is Stila a certified cruelty-free brand? Yes. Can you trust them not to carry out animal testing? Yes, but they may not be the best option for you if you're all about the vegan lifestyle.
This is because they use many animal derivatives, which harm our furry friends and put your skin at risk. Their lipstick is a less risky option for vegans, but we do not have confidence in their bronzer and foundation.